News
Who Is Birdmann? The Die-Hard Eagles Fan Behind the Feathered Mask
One fateful thrift-store purchase created what might just be the Eagles' secret weapon.
---
It takes dedication to go to (nearly) every Eagles game. It takes a lot of dedication to go in full costume, complete with eagle mask. But Port Richmond native Joey Niemic — or Birdmann, as he is known — is no ordinary fan.
You've probably seen him on TV during games — he always makes his way to the front of his section — or perhaps in the parking lot before the game each week. A feathered man-bird complete with a beak and custom jersey announcing his alter-ego: Birdmann. The jersey was a recent upgrade, but that was after the legend had been born. We caught up with Niemic, the man inside the costume, to get his origin story and find out what comes next.
Like so many superheroes before him, Birdmann was born of fate. Niemic entered a Goodwill thrift store in Deptford, New Jersey, two years ago to get his son a costume for his school play. Hanging in the store was the eagle costume, its yellow plastic beak gleaming under the fluorescent lights. "It clicked. I was like 'Man, what can I do with that?'" He had plans to travel to Denver that week to see the Eagles play on the road, so he bought the costume (and a front-row ticket to the game) and the rest is history.
"Fans loved it," he says. What's not to love? It's a giant eagle who drinks beer out of his beak.
"Ever since then, I made it a thing," Niemic continues. "I got the Birdmann custom jersey now, and I go to every game — I've been to almost every game this year." That includes road games, and if the Eagles win this weekend to make it to the Super Bowl, he's planning on flying out to Arizona.
His secret to getting front-row tickets every time? "I usually wait two hours before the game — tickets start dropping in price." Though on the rare occasions in which he had to settle for second- or third-row seats, his costume has gained enough cachet that he makes his own luck. "Usually the people sitting in Row One, they want me to come up there with them so they can try and get on TV."
So how does a six-foot-tall eagle make it into the Linc? "I'll take my suitcase in the car with me, I'll go down early in the morning, I'll go tailgate. … The minute I hit that parking lot, I jump out the car, I get changed and then I'm Birdmann from then on out." He makes the rounds amongst tailgates in the lots, partying with fans and making GoPro videos to document each game day. "And when it's time to go in the game, just walk in the game with the costume, and they let me go right through," he explains.
While watching an entire football game through the eyeholes of an eagle head is not ideal — "I can see 70 percent out the mask," he says — Niemic keeps the costume on the whole time. With great power comes great responsibility.
By the way, the two Eagles games Birdmann missed this season? Their game in Washington on November 14th, and their home game vs. the Cowboys on Christmas Eve. The Eagles lost both games. It's entirely possible that Birdmann is the Eagles' secret weapon.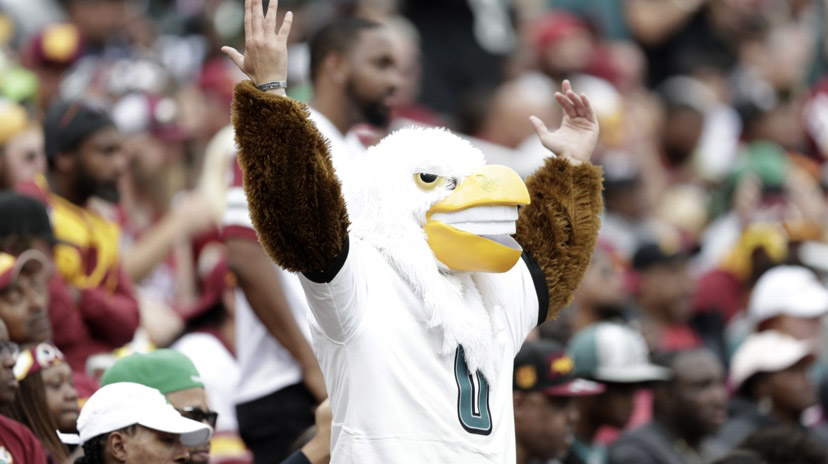 As for the future, Niemic hopes to upgrade his entire Birdmann costume (it's been through a lot at this point) and to hire a local costume designer to help. So, if anyone in the Philly theater community is reading this, slide into his DMs and make it happen.
---
---