Guides
It's Trout Season! Here's How to Enjoy Fishing In Pennsylvania
No, you don't need any fancy equipment. In some cases, you don't even need a fishing license.
---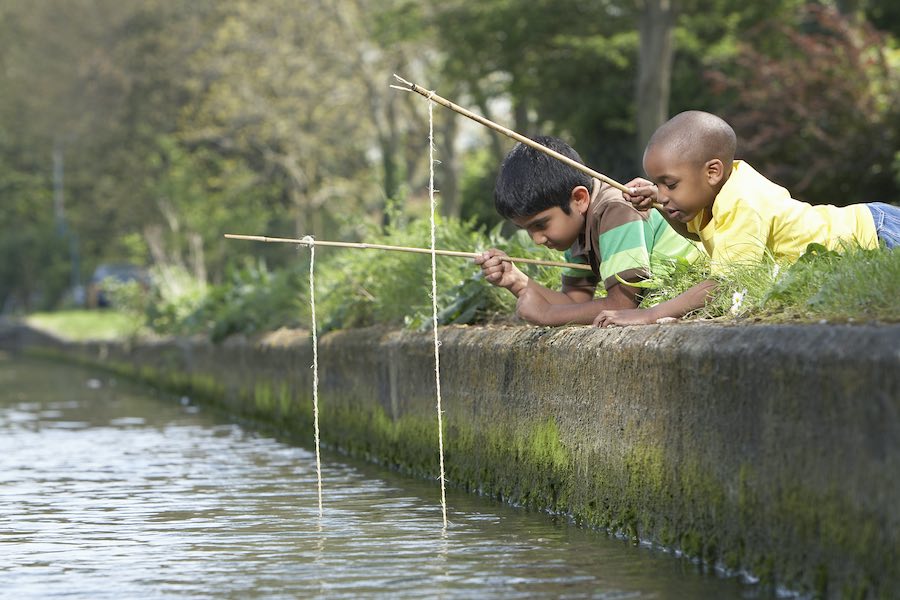 Pennsylvania trout season officially kicks off on Saturday, April 3rd. But on Saturday, March 27th, the kids have a special day just for them. Plus, some private lakes and ponds that are stocked are hosting events where you don't need a fishing license. All the details you need are right here.
Isn't trout-fishing something you do far, far away from Philadelphia?
Not at all. While there are almost certainly more anglers per capita in Pennsylvania counties that are far from Philadelphia (and the fishing at Pennsylvania state parks is excellent!), plenty of people enjoy the sport in Philadelphia and all the counties surrounding it.
What's this special day for the kids all about?
On Saturday, March 27th, the state hosts a mentored youth trout-fishing day for those under the age of 16. It starts at 8 a.m. and runs through 7:30 p.m. All participants must be accompanied by a person 16 or older who has a valid Pennsylvania fishing license.
My kid is three. Too young?
The state says that all youth participants "should be capable of fishing on their own, with limited assistance from mentor." Use your own judgment, but this is really intended for a child who is comfortable baiting their own hook and casting without your assistance.
Does my kid need a fishing license to participate?
Anybody under the age of 16 needs either a mentored youth permit or a voluntary youth fishing license from the state. You can get either online in a matter of minutes using this site. You'll get a PDF that you can print.
The youth permit is free. The voluntary youth fishing license will set you back a whopping $2.97. Now, I know you're probably wondering why on earth you would buy something for $2.97 when you don't need it. The answer is that for every voluntary youth fishing license purchased, the state gets $5 from the federal government to use for youth education and outreach.
You can also get the required paperwork at a variety of stores in the Philadelphia area. Click on your county for a list:
You'll find that many of these locations are stores that also sell lots of fishing gear, so you could take care of it all in one trip.
How do I get an adult fishing license?
You can visit the same website or stores. The standard Pennsylvania fishing license is $22.97. If you plan on catching and eating trout, you'll also need a trout permit. That's an additional $9.97 for the year.
Can my kid keep any trout caught on the mentored trout-fishing day?
Each participant can keep two trout, and they have to be at least seven inches long. Bring a measuring tape. After all, you'll want to report an accurate measurement when you tell all your Instagram friends about the giant fish your kid caught. RIGHT? Note that you can't keep any trout on mentored trout-fishing day if you're 16 or older. This day is for the kids.
So when does the regular season start for all of us grown-ups?
Regular trout season in Pennsylvania opens on Saturday, April 3rd, at 8 a.m. Once that happens, you can fish for trout 24 hours a day until the season ends.
Can I keep and eat all the trout I want?
Just the same as on the mentored trout-fishing day, the minimum length for keepers is seven inches. You can keep five trout per calendar day through the end of the regular season, which closes on Labor Day, and then three trout per calendar day through the end of the extended season, which closes on December 31st.
Where do we go to catch all these trout?
The state stocks numerous bodies of water throughout the state, including many in and around Philadelphia. You can view the big list here. The local spots include portions of the Wissahickon Creek, Pennypack Creek, Darby Creek and Ridley Creek, just to name a few.
Note that some locations have special regulations. Check the bottom half of this page for these rules, but most of the places you'd fish around Philly don't have any unique restrictions.
Do I need fancy equipment to go trout-fishing?
There are some people who will tell you the only "right" way to catch a trout is fly-fishing, which requires special equipment and technique. But we've caught plenty of trout using "regular" fishing rods—generally, we use a six-foot-long ultra-light rod with six-pound monofilament. In fact, my daughter once caught a trout with a fishing rod she made out of a stick from the woods and a piece of string (like the kids pictured at the top of this article).
What bait should I use to catch trout?
You can read thousands of words about the best bait for trout. Or you can just find some worms in the dirt (or buy them at a bait shop). Stick worm on hook. Stick hook in water. Catch fish. Of course, I'm grossly oversimplifying, but many experienced anglers grossly overcomplicate. Find your comfortable place in the middle.
For lures, most people will suggest small crankbaits and spinners, with a lure size of a 32nd of an ounce to an eighth of an ounce.
OMG: I caught a big trout. How do I clean it so I can cook and eat it?
I'm just going to refer you to YouTube for that. There are countless videos. But it's not a particularly hard fish to clean if you follow the steps. Make sure you have a really sharp knife. And a place to chuck fish guts.
Is trout good to eat?
In the opinion of my family, it's one of the best fish to eat. And in the opinion of dietitians, it's one of the best fish for you. Don't go ruining your catch by trying to gussy it up. This is the freshest fish you'll probably ever eat. It doesn't need much. Some lemon. Some butter. Mmmmm.
Wait. This is Philly. Is it even safe to eat fish from these waters?
Lots of people have been eating local trout for many years. And, fortunately, state scientists actually compile annual consumption advisories based on fish species and locations:
Pennsylvania Fish Consumption Advisories by philly victor on Scribd
Even though my family feels comfortable eating fish out of Philly waters, we definitely aren't doing so five nights a week. Moderation.
What if I don't want to bother with a fishing license and all that? I just want to give it a shot and see if I like it.
There are some local lakes and ponds that offer you this opportunity.
We always have a lot of fun at the Best of Philly-winning pond at Linvilla. It's usually $9.99 per participant; if you want to take a fish you catch home, they charge you $5.99 for smaller fish and $15.99 for larger ones. (That's the price per fish, not the price per pound.) There's a bait vending machine on the premises. And even if you don't catch a fish (though you probably will — they keep it really well-stocked), there are always those Linvilla apple cider donuts to enjoy on the car ride home.
Good luck!
---
---