2019 Mayoral Debate Takeaways: The Primary Finally Gets Interesting
Here's what you need to know about the race's only televised debate — which, at times, devolved into heated (and entertaining) bickering.
---
We've got one week until the municipal primary, Philly, and the election's biggest race is just heating up.
The city's three Democratic mayoral candidates — incumbent Jim Kenney, state Sen. Anthony Williams and former city controller Alan Butkovitz — duked it out on stage on Monday night in the race's first and only televised debate.
The trio battled in front of cameras and a small, invitation-only audience in the Comcast Technology Center. The event, which was hosted by NBC10, Telemundo 62, the Inquirer and AARP, is available to stream on NBC10.com. It was one of only two debates that Kenney attended alongside Williams and Butkovitz — and the challengers were ready to spar.
Here are our main takeaways from the debate, which was moderated by NBC10 anchor Jim Rosenfield. Sandra Shea and Iris Delgado of the Inquirer and Telemundo 62 were panelists.
Kenney's competitors came out fighting — and didn't pull any punches
Butkovitz and Williams have debated several times sans Kenney (who said he's been busy with mayoral duties), and both have criticized him repeatedly for not showing up. This time, they weren't holding anything back. The duo seemed to view the event as their sole chance to one-up the mayor in a high-profile setting. At one point, Williams paused mid-debate to thank everyone for showing up, including, pointedly, Kenney.
All three candidates appeared profusely nervous when the event kicked off. But the challengers gained more confidence with each question, seizing every opportunity to attack the mayor's record — and at times losing sight of the major issues at hand to bicker over peripheral topics. (More on that later.)
Butkovitz and Williams blamed Kenney for the city's rising homicide rate, claiming the mayor's administration isn't doing enough to prevent gun violence. Offering solutions, Butkovitz has said he would ramp up the police force, while Williams promised to create a state of emergency against violence. Both candidates said the mayor's five-year anti-gun violence plan, The Philadelphia Roadmap to Safer Communities, isn't effective.
After moderator Rosenfield asked if Kenney if he was satisfied with the pace of his administration's anti-gun violence plan, Kenney said he was "never satisfied with the pace of government, because it moves slowly at every level."
"But we are making sure that we're putting the resources in that are necessary to address this problem," Kenney said. "It's been about three months [since it was implemented], so I don't think you can judge this program after three months."
The candidates disagreed on all but two issues
The most notable of the two was immigration: All three competitors said they support Philadelphia's status as a sanctuary city. In addition, the candidates agreed that the city needs to combat traffic congestion and prioritize safer streets.
Kenney, who appeared relieved, joked that he was "happy to see we agree on something. I didn't know if that was going to happen tonight."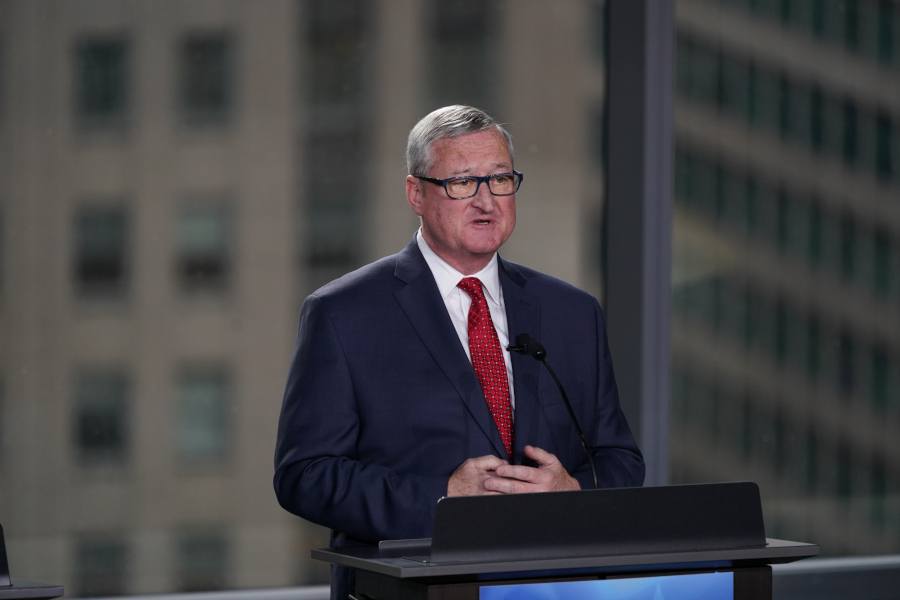 Otherwise, Butkovitz and Williams attempted to distance themselves from Kenney on several important issues. That included safe injection sites, which neither of the challengers supports (but Kenney sees as a potentially viable option), as well as Kenney's signature accomplishment: the sweetened beverage tax. Both Butkovitz and Williams have said they would repeal it. Neither has provided details regarding a steady revenue stream to replace funding for the programs the tax supports, including pre-K, recreation centers and parks.
Butkovitz's fiery attitude helped Williams
As former city controller, Butkovitz had some damning statistics at the ready (involving schools, police and more), and he didn't skip any opportunities to use them against Kenney. In fact, Butkovitz weaved apparent shortcomings of the Kenney administration into almost all of his answers, and on multiple occasions he linked the mayor to indicted IBEW local 98 leader John "Johnny Doc" Dougherty.
At one point, a heated Butkovitz shot back after panelist Shea asked him to focus less on Kenney and more on his own positions.
"I understand where your positions are, Sandy, and how you feel about this race, but I'd like to explain my own answer," he said, prompting an audibly surprised response from the audience.
At times, Kenney clearly felt moved to defend his record and engage with Butkovitz, leading to a few petty exchanges.
"I can't just stand here and listen to this," Kenney said during one of his answers, after he paused to address something Butkovitz had said earlier in the debate.
The heat between the other two candidates made it easy for Williams to look good. At one point, the state senator broke up a quibble between the duo to state, "I'm Anthony Hardy Williams, and I'm running for mayor."
Williams is a different candidate this time around
The state senator appeared far more driven than when he first ran for mayor in 2015 (and lost to Kenney in the primary). During the debate, Williams provided details on ambitious plans to combat various issues, like crime and the poverty rate (which he said he would aim to halve over an eight-year period).
Asked by journalists after the debate how his strategy has changed since the last mayoral race, Williams said he has attempted to present himself in a "much more composed manner."
Plus, he said, he's making more of an effort to "know the substance of what people care about … and do a better job of projecting that to the public."
For the most part, Kenney also attempted to stay calm — and highlight progress
Aside from his quibbles with Butkovitz, Kenney seemed dedicated to presenting himself as the most reasonable candidate. He worked to highlight his major advantages over his competitors: his experience and his administration's progress on key issues.
At times, his tactics worked in his favor (like when he spoke about his commitment to education).
In other ways, though, Kenney's confidence in his first term might have worked against him, especially when he addressed major issues that some voters still think need serious attention (including crime and poverty) by choosing to state only what his administration has already done to combat them — and not attempting to rally voters behind plans for the future.
At one point, Shea asked Kenney what he had to say to "voters who think they're worse off or that nothing has changed under your administration."
"I don't agree with that," Kenney said. "I think that we've tackled really serious problems in this city, and they're difficult problems, and we're continuing to fight every day to make lives better in this city."
---
---