Here's How Quickly the Streets Department Is Spiffing Philly Up
A before-and-after report on the 60 tons of trash from the Eagles parade.
---
We're not sure how many ecstatic fans flooded the city for the Eagles parade on Thursday.
Some are confident that the celebration brought close to 2 million people to the city – more than the 2015 papal visit or the 2008 Phillies World Series parade. Others say not even a million people attended. (Which seems like a pretty low estimate to us.)
The city hasn't released an official count. A spokesman for the mayor said the Office of Emergency Management, which typically calculates crowd size, was instead "focused on its primary task of ensuring safety," during the massive, at-times-wild event. Either way, one thing's for sure: The people who came and partied left behind a lot of trash.
After the party… pic.twitter.com/0JeORjKbqh

— Dann Cuellar (@DannCuellar) February 8, 2018
After the event wrapped up around 3 p.m., the Benjamin Franklin Parkway might have looked like a bigger dump than it ever has. Eakins Oval pretty much became a giant trash-filled mud pit. The stoops and sidewalks along South Broad Street, where fans partied all morning, were littered with rainbow confetti, empty cases of Pabst Blue Ribbon, Dunkin Donuts to-go cups, hand-warmer wrappers and Chickie's and Pete's cheese dip. Scrawny sidewalk tree branches were decorated not with string lights, but with Bud Light and Yuengling cans glinting in the afternoon sun.
It was both disturbing and beautiful, if in a slightly off-putting way. The city wanted – the city deserved, per Jason Kelce, – a party. Naturally, no one wanted to worry about cleaning up. The city's streets department told the Inquirer that fans left behind 60 tons of garbage. That's one ton more than what was discarded after the 2008 Phillies World Series Parade, and 44 tons more than the 2015 papal visit, according to the newspaper.
Needless to say, sanitation crews had quite the task on their hands. As soon as the parade slowed on Thursday, they got to work, sweeping south to north along Broad Street and tending to the Benjamin Franklin Parkway overnight. They're the celebration's unsung heroes.
There's still a little work to be done, sure. But we've thrown together a few before and after shots to give you an idea of just how big of a task they had to tackle.
From this photo of Eakins Oval, taken at 3:30 p.m. on Thursday:
After the parade…. pic.twitter.com/H4oqdvHGCK

— Adam Schefter (@AdamSchefter) February 8, 2018
To this photo, taken Friday morning, as crews continued their cleanup:
Trash cans along the Benjamin Franklin Parkway, from 2 p.m. on Thursday to Friday morning:
Noon on Thursday in South Philly, compared to the same street on Friday morning:
A crosswalk in South Philly:
Not far from the Dolphin Tavern, seen around noon on Thursday: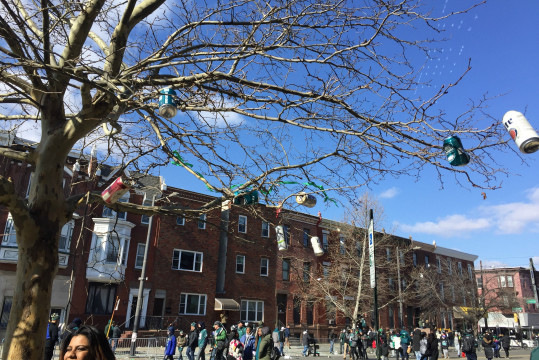 Same tree on Friday morning. Only two cans left!
---
---