Activist Cheri Honkala's Campaign for State Rep. Has Raised More Than $30K
The only problem? Her name isn't on the ballot.
---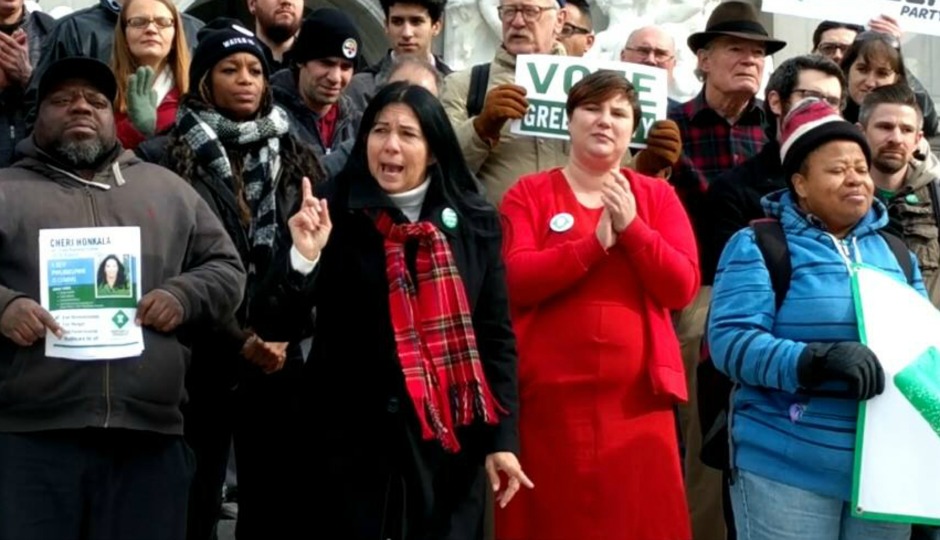 Activist Cheri Honkala has raised more than $30 thousand in her campaign for State Representative for the 197th District – but her name isn't on the ballot.
Honkala, a Green Party candidate and co-founder of the Poor People's Economic Human Rights Campaign, is seeking the seat of embattled former State Rep. Leslie Acosta, who resigned six months after pleading guilty to a federal felony charge in March 2016. A special election is slated for March 21st.
Here's the deal: The Green Party didn't file Honkala's nomination papers by the January 30th deadline – so Honkala was left off the ballot. She petitioned a Commonwealth Judge to order the Pennsylvania Department of State to put her name on the ballot, claiming that a Green Party representative and a state employee had miscommunicated about the filing process – but Judge Wesley Oler Jr. rejected the petition this afternoon.
Sam Stretton, an attorney for the Honkala campaign, said he plans to appeal the judge's decision and take the case to the Supreme Court of Pennsylvania.
The 197th District, one of the poorest in Pennsylvania, includes parts of Feltonville, Hunting Park, Glenwood, Fairhill and North Square. Honkala, who is well-known amongst progressive activists for her grassroots outreach and advocacy, has said that she will pursue a write-in campaign if her name is not added to the ballot, which currently includes Democratic candidate Frederick Ramirez and Republican candidate Lucinda Little.
Mike Dennis, one of Honkala's campaign managers, said the judge's decision goes "against the democratic values of voter choice and freedom of speech."
Fellow campaign manager YahNé Ndgo said Honkala will campaign no matter what – and that her fundraising is proof of her support from residents.
"Cheri has long been working as an advocate and demonstrating her commitment to the issues that are important to people around social justice, economic justice, protecting the planet, her fight against homelessness," Ndgo said. "A lot of people are disenchanted with politics as usual across the country. People are ready for something different. We need grassroots individuals in our offices, and Cheri embodies that."
The campaign has raised more than $28 thousand through its website alone – and Dennis said they've received an additional few thousand dollars worth of checks and in-person donations. The funds are worth noting, especially considering the fact that the campaign doesn't accept corporate donations and has only been fundraising for about two weeks.
Honkala garnered support from former Green Party presidential candidate Jill Stein as well as Stein's 2016 vice-presidential pick, Ajamu Baraka. Honkala was Stein's running mate in 2012.
This is what Cheri has been doing for years. She is kind of servant of the people that we need. https://t.co/Bm7mNBuADs

— Ajamu Baraka (@ajamubaraka) February 14, 2017
Even if Honkala were to get her name on the ballot (which is unlikely at this point), it's extremely rare for states to elect third-party representatives. A few states have selected independent congressmen, but almost all of the country's current third-party representatives belong to Vermont's Progressive Party.
If it were to happen in Pennsylvania though, it would likely happen in Philly – considering the city's notable increase in independent and third-party voters. Maybe next time – if the third party's fast enough.
Follow @ClaireSasko on Twitter.
---
---