The Best Thing That Happened This Week: Lisa Nutter Went Wheeling and Dealing in Cuba
Philly's former First Lady hit the velodrome in Havana and took a few laps in full PHL biker regalia — the epitome of cool.
---

Then-mayor Michael Nutter took some grief a few years back when he and his wife, Lisa, jetted off to Paris with no advance notice on what was described as a "trade mission" but which just happened to include watching the Tour de France. While there, they also inspected the Parisian bike-sharing system, as prep for the launching of Philly's own Indego. Curious minds wondered: What's with the sudden interest in bikes?
Had we been devotees of Bicycling magazine or Bicycle Retailer and Industry News — or, for that matter, of the velodrome up in Trexlertown — we would have known that Lisa Nutter is a USA Cycling Masters Track medalist who helped lure the 2015 Women's Road World Cup to Philly. (Her hobby also might explain that weird brief plan to plop a velodrome in FDR Park.) Which is how the Nutters happened to be visiting their daughter Olivia, who's studying abroad in Cuba this semester, in Havana in the very same week that POTUS and FLOTUS were there. Lisa, who's an ambassador for the Fuji bike brand, brought with her four new racing models for the Cuban national team, which just inked a five-year sponsorship deal with Fuji's Northeast Philly-based parent company. She took a few laps in their velodrome and posed with pro cyclist Arlenis Sierra in full biker regalia — the epitome of cool.
Follow @SandyHingston on Twitter.
---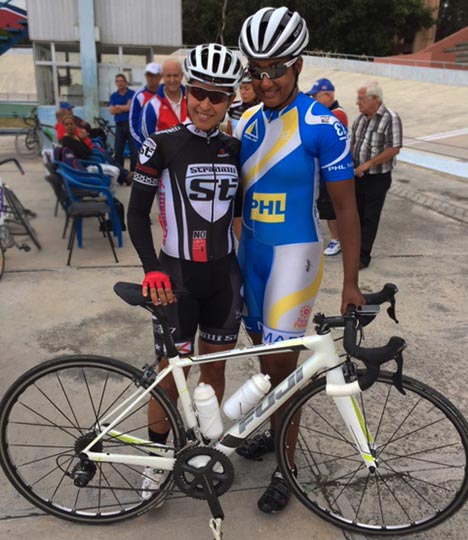 ---
---
---