PHOTOS: Mayor Nutter Helps Raise New Philadelphia LGBT Rainbow Flag This Morning
---
There were a variety of emotions this morning as members from Philadelphia government and the LGBT community met outside of City Hall to raise the City's brand new LGBT rainbow flag for the first time.
In some regard, it was an event of remembrance for the late Gloria Casarez, the City's first Director of LGBT Affairs, who was extremely passionate about the flag raising ceremony and carried out the tradition for five years. This year is the first year Ms. Casarez is not present for the celebration of the LGBT community after her untimely death due to cancer.
However, Ms. Casarez would be proud of the festivities this morning and early afternoon: Nellie Fitzpatrick, who serves as Philadelphia's new Director of LGBT Affairs, lead the ceremony, with special remarks from Mayor Michael Nutter and Rue Landau, the Executive Director of Philadelphia Commission of Human Relations. Members of a LGBT military color guard assisted in raising the new rainbow flag while the Philadelphia Gay Men's Chorus provided song.
A special emphasis was placed on the transgender community, especially in light of yesterday's Philly Trans March and the recent murder of Kiesha Jenkins. As Mayor Nutter provided his commentary, he made a passionate reference to Emma Lazarus, saying "Until we are all free, we are none of us free."
The flag raising was the start of a day-long series of LGBT events, including a Gloria Casarez mural dedication and OutFest throughout the Philadelphia Gayborhood.
---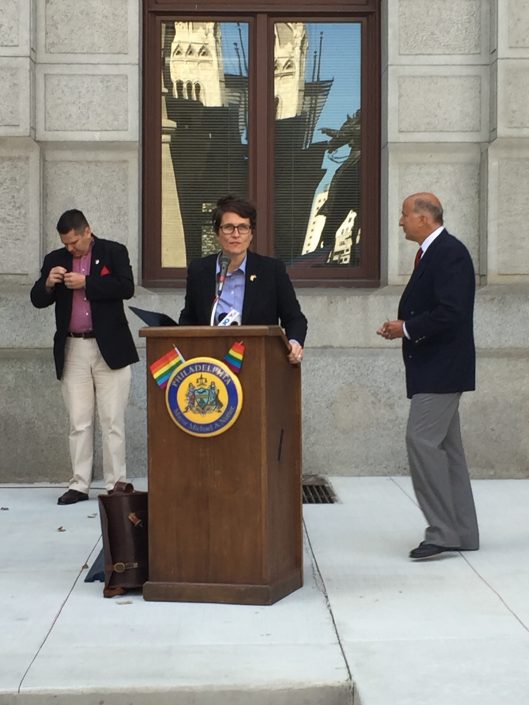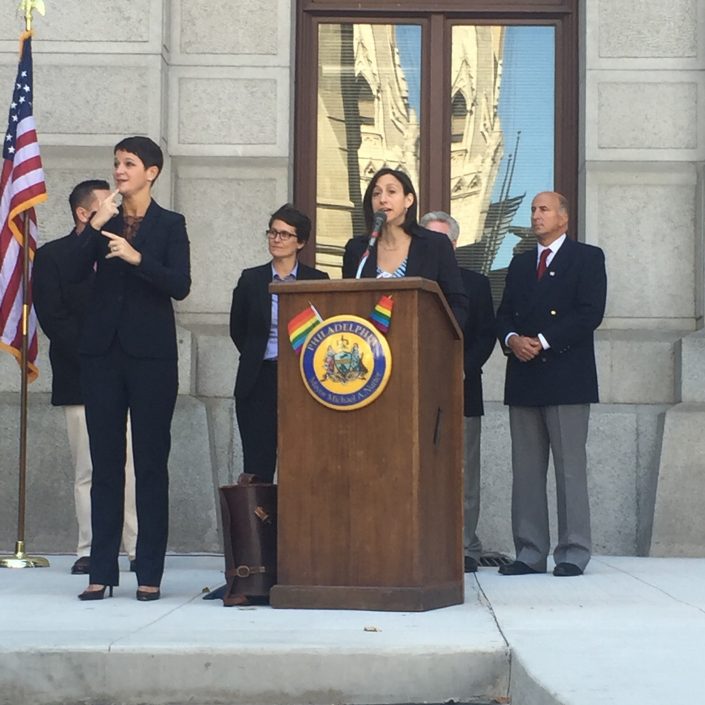 ---
---