How to Buy a Shore House Now
Everything you need to know about Shore real estate — purchasing, investing, finding, renting and saving for the ultimate Philadelphian summer experience.
---
Close your eyes. Picture what you want your summer to look like. Does it involve pulling the car into your Shore house on a Friday afternoon? Ours, too. Owning a slice of seaside heaven is every Philadelphian's dream: It's a place where the kids are unscheduled, where you meet up with old friends, where you actually enjoy the company of your mother-in-law. The good news: Buying a Shore house (or upgrading to the Shore house of your dreams) isn't as unrealistic as it sounds. Here, advice on purchasing, investing, finding, renting and saving for the ultimate Philadelphian summer experience.
Scroll down or use these links to jump to a specific topic:
---
The Big Questions Answered
Did the recession hit the Shore housing market? How is it faring now?
The recession did some damage to the Shore market, confirms Allan Dechert, co-owner of Avalon-based agency Ferguson Dechert. For instance, in the upper-echelon town of Avalon, median home sales prices dropped 36 percent between 2004 and 2009. But it wasn't just the financial storms that took a toll. In Margate and Ventor, Hurricane Sandy made 2013 a worse year for home sales prices than 2009. Here's the good thing about second homes, though: Owners usually take the long view, looking at value over 10 years or more. From that perspective, some Shore towns have fared really well, with prices in Margate up 43 percent, Cape May up 21 percent, and Stone Harbor up 11 percent over the past decade.
Other towns may not have recovered as quickly (Avalon is still down 20 percent over 10 years), but numbers don't tell the whole story, because things are looking up pretty much across the board. Dechert points out that the pace of home sales is brisk, and interest is high: "We had a very active December, and it's carried over into this year." He also notes that there's a lot of new construction in Avalon, Stone Harbor, Sea Isle City and Ocean City — a trend we've also seen in Margate, and a sign that the bounce-back is strong. The April 2015 numbers from real estate site Trulia put the average price per square foot of home sales in Avalon at $668, up more than 19 percent from the same period in 2014. In fact, the only towns that saw a sales price decrease between 2013 and 2014 were Atlantic City and Brigantine.
I desperately want to buy down the Shore … where the hell do I start?
"It's like planning to have a child," says Keith Coolahan, senior loan officer at Citizens Bank. "You've got to plan ahead." The bad news: Traditional savings methods aren't keeping up with the pace at which the Shore real estate market is moving, according to Coolahan. But dry those tears — there are ways to get creative. The first step is to find a bank that's eager to take on second mortgages, which some stopped doing because they were burned so badly in the meltdown. Lenders will still look at your whole financial picture — credit profile, FICO score, debt-to-income ratio and more — but if you have an existing relationship with a bank, exceptions might be granted. (Example: A high FICO score could compensate for other less-qualifying factors.) Banks are also starting to offer 15 percent or lower down-payment options for mortgages, and if your nest egg is more quail- than ostrich-sized, you can always take out a home equity loan on your primary residence or even dip into your 401K for that down payment.
But before you even start talking dollars and cents, Coolahan suggests forming relationships with real people — like local realtors and bankers — who know the nuances and unique products of the Shore market.
Is it better to buy for location or house?
If you're buying down the Shore, experts agree it's all about the location; land is precious and finite in our coastal towns, regardless of what sits on top of it. (That's especially true if the land has a view of the ocean or bay.) That said, consider your needs and immediate situation. For example, Jack Binder, owner of the Jack Binder Real Estate Group, sees a lot of buyers looking to downsize their permanent residences on the Main Line for larger family gathering places at the Shore — which might take them inland.
There are indeed expenditures that are particular to the Jersey Shore. New Jersey has the highest residential propertytaxes in the country, and they continue to climb. Shore towns hit hard by Sandy and A.C.'s fall got especially sharp increases in 2014. Atlantic County's property taxes jumped 34 percent from 2009 to 2014. In that county, Longport — an exclusive enclave — saw an average property tax bill of $7,448 in 2009 soar to $9,776 in 2014. And pesky weather patterns account for more hidden costs, like when it comes to the recently volatile flood insurance rates. Take Ocean City, where rates can range from $600 a year to around $3,300 a year, depending on when your house was built (1975 is a big benchmark), what it sits on (crawl spaces cost less), and whether it adheres to the latest building code regulations, according to Thomas Heist, president of the Thomas Heist Insurance Agency in Ocean City. (Note: As flood insurance is a part of some mortgage payments, this might become an issue when reselling your home.) What are those new building code requirements? They might include adding breakaway walls, installing hurricane-proof windows, or elevating the house on stilts.
Does buying in Atlantic City make me crazy or savvy?
Real estate is always a gamble (get it?), and for those looking for the ultimate buy-low scenario, the payoff in A.C. could be Powerball-big. Just ask Bart Blatstein, who recently purchased Pier Shops at Caesars (recently valued at $200 million) for pennies on the dollar. Still, A.C.'s issues are hard to ignore. Whatever you think the long-term future will be for the city by the sea, the local government has increased residential property taxes by more than 50 percent in the past two years, to offset revenues no longer being collected from the bevy of recently closed casinos — and it's hard to say when or where those hikes will end.
Regardless, says Paula Hartman, an associate broker with Berkshire Hathaway Home Services and Fox & Roach Realtors in Margate, A.C. is currently "selling like hotcakes," especially the "tiny" (and furnished) condos with parking that are on the Boardwalk. How low is low? Hartman says she sold five smaller units in April for under $50,000 apiece.
The other upsides? Atlantic City has the bones of a vibrant Shore town: free beaches, a lively Boardwalk, 48 walkable and bikeable blocks, a direct shot from the city, train service, and a bunch of dining and entertainment options. Elizabeth Terenik, director of Atlantic City's planning and development department, suggests looking at the Chelsea/Chelsea Heights area, a neighborhood in the southern part of the city, near Ventnor. She says a variety of opportunities exist, from vacant land to cheap condos all the way up to the $1.5 million townhomes at the Breakers, a new 12-unit luxury development offering buyers an enticing tax abatement.
What's the best Shore town for families? How about for empty nesters?
All Shore towns are good for families, really — the beach is a sandbox writ large and accompanied by ocean, sun and other children. What could go wrong? There are some towns, though, that really cater to kids with an almost Disney-like expertise, and chief among them is Ocean City. There, the Boardwalk is extensive and kid-friendly, with multiple arcades and rides; the food is classic seashore, with saltwater taffy you can watch being made; and the town is very clean, well regulated and frequently policed. And O.C. is a blue town, which means until they can drive, the kids can't get into any alcohol-related trouble at all. Very Bedford Falls.
As for empty nesters, the Margate/Ventnor/Longport axis works nicely due to its location and amenities and because it's relatively quiet. These are not the Shore's party towns. "There's an array of healthful restaurants, from tapas to Japanese," says Margaret Guber-Nulty, VP and manager of Berkshire Hathaway Home Services' Margate office. And she points to multiple exercise options, like bike rides on the Boardwalk and yoga classes on the beach, as well as bus trips to New York City and senior bus trips to the supermarket. There are even beach-buggy services that will take you and your chair to the beach. But she doesn't want people to think of Ventnor and Margate as elderly. In fact, many people buy or rent there — including young families — because of the proximity to all the entertainment options in A.C. "And there are golf courses right across the bridge," she says.
Where are the best places for investments? How about some deals?
In 2014, the number of second-home sales across the country skyrocketed 57 percent compared to the year before, according to a recent report by the National Association of Realtors. At the Shore, those with the cash will always look toward places like Stone Harbor (median sales price: more than $988,000 in 2014) and Avalon (median sales price: more than $906,000 in 2014). But Atlantic City is the true buyer's paradise — in some respects. (See the chart at right.)
In search of something in between those two price points? Head to either side of the Great Egg Harbor Inlet. In Ocean City, median sales prices have stayed strong, hovering in the $400,000-to-$500,000 range since before the recession. In Margate, sales prices have appreciated 43 percent over the past 10 years; in fact, this town made it through the recession and hurricane better than any other southern Shore town.
Is it worth trying to rent my house out? How do I get started?
It really depends on how you want to use your house. Many people choose to spend their first years as owners turning the keys over to someone else to make back some equity, then do major renovations or a teardown to build the house they really want to live in. "Renting is absolutely worth it as a way to augment your ownership," says Jack Binder, owner of the Jack Binder Real Estate Group. An upper-echelon town like Stone Harbor or Avalon will attract a more affluent crowd, so chances are you won't have any issues with property damage (um, maybe) or complaints from long-standing neighbors. Rates have been steadily increasing year to year, and peak weeks like the Fourth of July start to sell out by mid-February. Robert Rich, broker/owner with Coldwell Banker James C. Otton Real Estate, Inc., in Stone Harbor, says owners can charge from $2,000 a week all the way up to $20,000 a week, depending on size and location. The average typically falls between $3,000 and $6,000 a week in Avalon and Stone Harbor. In Margate, rentals tend to be longer-term, about $5,000 to $6,000 a month, and in Ocean City, rentals average between $2,500 and $3,200 a week but can go all the way up to $20,000 for big houses with water views.
When renting your pad out, the first decision you'll have to make is how you want to list it. Go with an area realtor and you'll get boots-on-the-ground know-how, although you'll have to pay anywhere from 12 to 15 percent of your rent as commission, says Tom Melchionni, co-owner of Monihan Realty in Ocean City. But you get what you pay for: sound contracts, cleaning-service coordination, key exchange, problem-solving help (such as finding emergency plumbers), and invaluable insight for getting renters in all summer. If you don't like the idea of a high commission, you can always list your home online through sites like VRBO.com, where membership is a flat $349 per year.
Another cost to consider is the continual maintenance of the home, which can range from normal wear and tear to large-scale disasters. "There's no ballpark figure that applies to home maintenance," says Melchionni. "In most cases, we suggest people allocate about $1,000 for annual maintenance as an average expense." (That's if your home is in good shape.) Lastly, give your insurance company a call to make sure any damage caused by tenants is covered.
Are teardowns still a thing? What building trends should owners and buyers know about?
Here's the thing to know: No matter how sweet the home you're buying, your money is essentially going toward the land. That means teardowns will always be popular when it comes to the Shore real estate scene — the earth is simply too valuable. So people who can afford it will always buy for location first, and won't hesitate to demolish homes — even ones that are only 30 or so years old.
But not all teardowns are the same. Thanks in part to recent extreme weather, new flood insurance standards have been set; in addition, Hurricane Sandy spurred recommended changes in FEMA regulations that some municipalities have adopted as new building codes. In some towns, large-scale renovations have to comply with these new codes, which essentially require substantial lifting of the house. Mark Asher, principal of Asher Architects in Stone Harbor and Jenkintown, calls the lifting process a "tipping point" for a lot of homeowners who start out wanting to renovate but wind up doing teardowns. (See the next question for more info on renovations.)
In towns like Sea Isle City and Ocean City, where duplexes and twin homes are popular, people have been making a go of "convey and construct" partnerships, says Nick Preuhs, a realtor with Long & Foster Real Estate in Sea Isle City. Essentially, a builder strikes a mutually beneficial deal with a property owner: The builder pays for all permits, demolition, and construction of side-by-side townhomes; the property owner still owns the land and pays utilities and taxes. Once the two units are finished, the property owner gets a new home and deeds the one next door for $1 to the builder, who turns around and sells it for a profit. "It's certainly different, but a lot simpler than it sounds," admits Preuhs. "It's becoming more and more popular."
I'm renovating my Shore house. How can I get the most bang for my buck?
First, check in with your municipality's new flood regulations; if your reno is going to cost a certain percentage of the value of your house, you'll be required to lift the home. Christina Smith, president of the Summer House Design Group, says certain design elements will always stand the test of time at the Shore — applied molding on ceilings, for instance, or door hardware reminiscent of the "old seashore" aesthetic. But you can keep things clean and light with glass and hardwood. "We have seen an increase in the use of glass folding doors to help blend indoor and outdoor areas," Smith says, noting that living spaces that open up to a pool or deck can make a home feel larger without increasing its square footage. If you know you're going to have the home for generations, it might be worth investing more up front. "Sustainably designed homes come with a larger price tag initially, but over time they pay out in a big way," Smith says. Think geothermal systems and solar panels for heating and cooling. In bathrooms, go for streamlined, water-efficient showers and chrome fixtures: "Chrome works with all sorts of styles and is relatively simple to maintain." In the kitchen, white cabinets are a good bet. "White is something you won't regret," Smith says. "It's easy enough to take it up a notch with the use of walnut inside drawers or a color on the back of glass cabinets as an accent."
Is a "beach block" house really worth more?
Depends how you look at it. From a personal perspective, it might not seem like a big deal to take a short walk across a small strip of tar to get to the sand. Half the time, we're not even talking about streets with stoplights or frequent traffic. But from a real estate investment perspective, it is, in fact, a very big deal. "A lot of people don't like to have to cross a street to get to the beach, especially if they have young kids," says Allan Dechert of Ferguson Dechert. Dechert lives a block away from the beach himself, but he understands the beach-block appeal: "There's nothing like lying in bed on a summer night listening to the gentle roll of the waves, with the nice sea breeze and everything like that." He says renters always ask how close a property is to the beach, which is important to keep in mind if you're buying a house with the idea of renting it out. "You do pay a premium to either own or rent oceanfront or on the beach block, definitely," Dechert says. "You know the old axiom: location, location, location."
Is Al Gore right — will the Shore disappear?
Over the past few summers, there's been as much talk about superstorms and floodplains as there was about boardwalks and boogie boards. Which is why, as you're about to sign on the dotted line of a new 30-year mortgage, it makes sense to consider whether your beachside manse will be floating on an island by the time that last payment is made.
For some perspective, we rang up David Velinsky, director and senior scientist at the Patrick Center for Environmental Research at the Academy of Natural Sciences and head of Drexel's department of biodiversity, Earth and environmental science, which has a campus on Long Beach Island. Velinsky says the Shore's fate is deeply tied to sea level, which has been rising for the past 20,000 years. What's changing is the pace of the increase — the sea level might go up by five centimeters in the next three decades, says Velinsky. "It might not sound like much, but it's an additional little edge on a storm surge."
A word about those storms: With the increased warming of the planet, models suggest there could be more Sandys and Katrinas in the next 10 to 20 years, according to Velinsky. All of this adds up to one thing: "More storms. More rain. More and more intense rain events, which we have seen." So, potentially, more high water to deal with in our coastal towns.
All of this is affecting the physical coast, something that Velinsky and his colleagues have observed at their LBI campus. "The shoreline is slowly receding — it's what's called 'edge erosion,'" he explains. "If you were there 10 years ago, you'd see the beach in Waretown go down a little bit — it's slowly getting eaten away." It's hard to say if this is solely related to a warming planet; there's also increased boat traffic, plus maybe stronger winds and other factors. The longer-term effects of so much density on the coast are still being discovered. In fact, says Velinsky, without any homeowners, Long Beach Island would actually migrate: "With sea level rising, the sand would move from one place to another — it would slowly move westward and, on the land side, across the bay — and in that area, you'd get new marshes."
But no one today seems ready to let that happen. All those jetties, bulkheads and beach-replenishment programs are in place for a reason. This reinforcing is stirring a man-vs.-nature conflict. Strategic retreat — the idea of moving residents out of certain areas of the shoreline that have simply become too vulnerable — is an option that scientists, planners, engineers and politicians continue to discuss, although it's a tough sell. Bolstering wetlands is an intermediate step. "In Hurricane Sandy, the wetlands did help protect some of the houses on the land side," Velinsky says. But dune installation is another controversial option. Velinsky recalls an instance in Harvey Cedars in which the Army Corps of Engineers stepped in to protect an especially vulnerable house by building dunes in front of it. The homeowners were not pleased, and a lawsuit ensued. "The people lost their view of the water and wanted the state to reimburse them a couple hundred thousand dollars," says Velinsky. "The fact is, the state did them a favor by protecting their house." The state has other coastal plans, but townships and homeowners have to buy into them.
Awareness — being confronted with the reality of our fast-changing environment — might have been the only positive outcome of our superstorm. "It was enormous. It really affected people over a wide area," points out Elizabeth Watson, an assistant professor at Drexel's department of biodiversity, Earth and environmental science. "There was this one sort of signature event that people could look at from Virginia to New England." In short: a collective eye-opening.
---
Our Town-by-Town Price Guide
Click the chart to see a larger version.
---
On the Market Now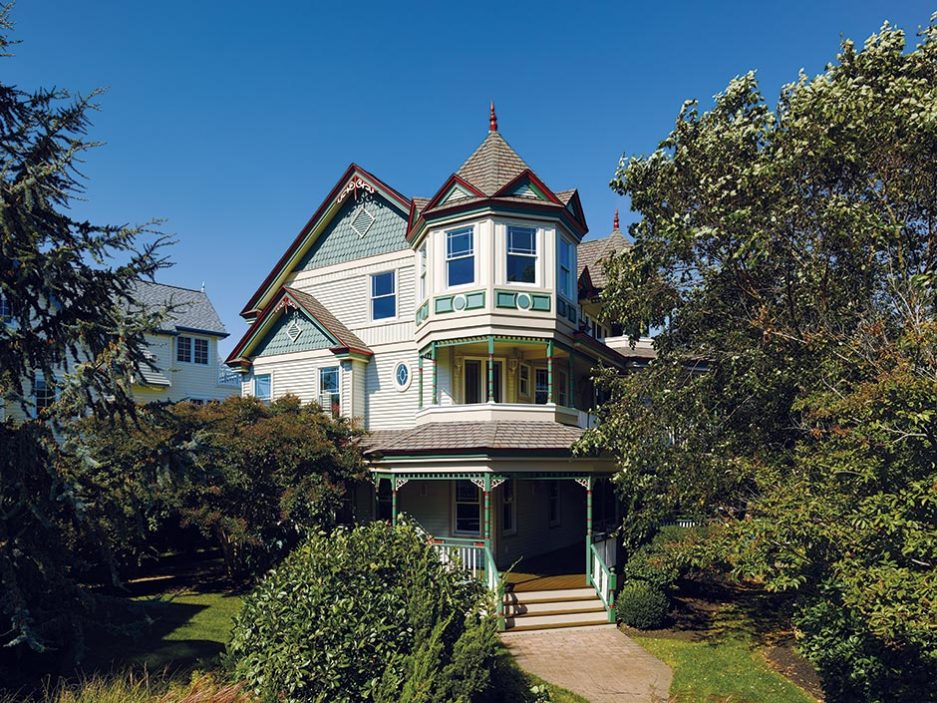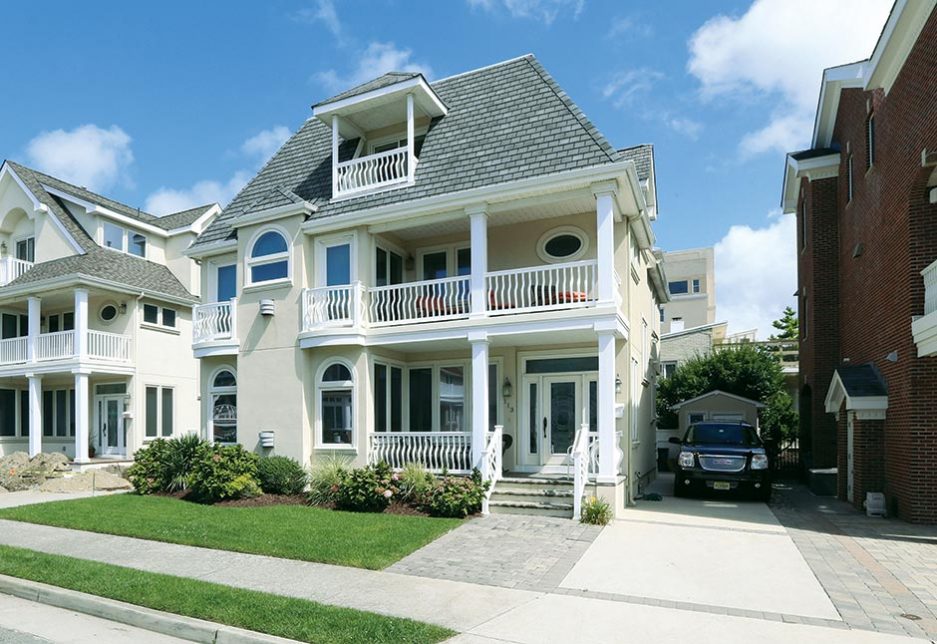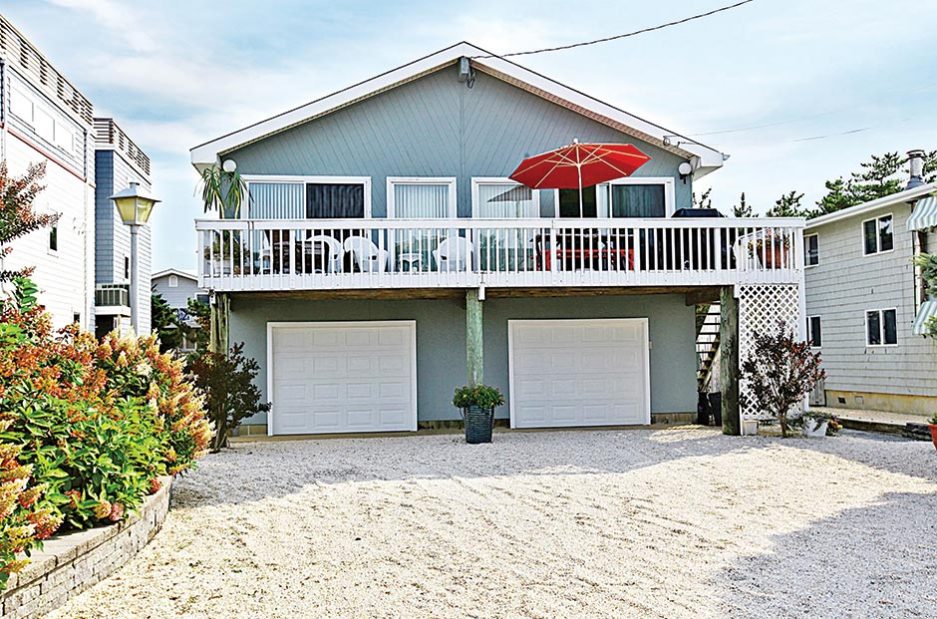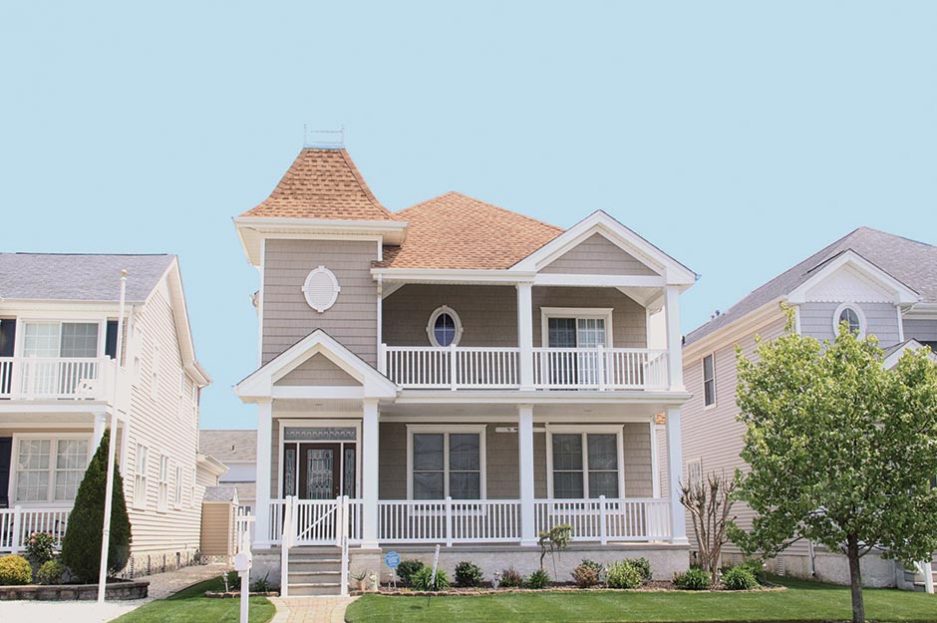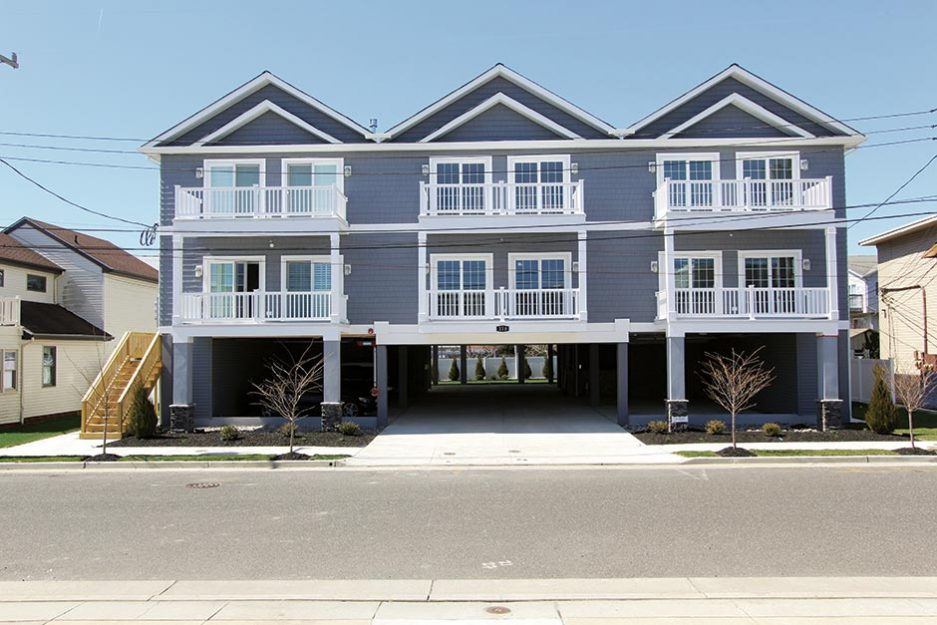 ---
Shore House Stories
Illustrations by Jon Stich
Alycia Young, 31
Graduate Hospital, stay-at-home mom
Fam Situation: Husband Al and three kids under the age of four.
Shore Home Purchase: A three-unit house bought in 2012. "We own it with my parents. We were supposed to settle the day that Sandy hit. By some grace of God, the house wasn't touched."
Location: Ocean City.
Family Connection: "My grandparents own a house that's less than a block away. They purchased it from my great-grandmother. My husband's grandmother owns a home at the other end of the island. Al and I met in college. It was coincidence that we both came to Ocean City growing up."
Renovations: "Al was scanning real estate listings and the property turned up. The owner was selling it as an estate, and there were a few other higher bids from developers. We partially got it because the owner didn't want to see his family home torn down. We rehabbed it instead."
Usage: "We wanted to get some income and rent out the two first floors, but found a unique market for large families that want all three units, so it's hard to say no. We reserve a week or two just for our family. When the kids get older, I'd like to be able to spend the whole summer down here."
Amy Lutz, 45
Villanova, freelance writer
Fam Situation: Husband Andy and five kids, ages eight to 16.
Shore Home Purchase: A townhome in 2008.
Location: Atlantic City. "I've always wanted a Shore house, but I really only wanted one if it was on the water. But it always felt like so much money. If I miss a weekend, that just cost me 40K! At the beginning of the end of A.C. and the recession, my husband found townhomes that were built in 2006, originally priced at a million dollars but never sold. We bought ours for almost half that. It's right on the bay."
Best Parts: "We're big poker players and love going to the Borgata. We spend lots of time on our boat. The Knife & Fork Inn competes with any city restaurant, and Tony Boloney's has the best pizza. They catered our daughter's bat mitzvah."
The Neighborhood: "Friends turned their noses up at us when we bought in A.C., but everyone in the community seems nice. The neighbors look out for us."
The Future: "Our house has definitely decreased in value, but if people are looking for a good waterfront Shore house, there are ones for sale on our street for under $400,000."
Joe Denny, 68
St. Davids, retired
Fam Situation: Wife April and a daughter who recently got engaged.
First Shore Home Purchase: 1988.
Location: Avalon. "Living on the bay was a priority."
Renovations: "We did pretty much everything over the years, from a new roof to redoing the kitchen."
Second Shore Home Purchase: 2013. "I was thinking of trying something new, like a place in Rock Hall, Maryland, which has great boating. The women in my family were not interested in that. Then I was taking a walk with a buddy and saw a house that was for sale about five blocks from our house, on the other side of the lagoon. Within 24 hours, I owned it. We tore it down and rebuilt it. The biggest thing about a Shore house for me is that it's a gathering place where our friends and family can stay. We built this new house for that."
Date Moved In: July 2014.
Marie Berstein, 71
Media, retired
Fam Situation: Husband Murray, three sons, three daughters-in-law, nine grandkids.
Shore Home Purchase: 1982.
Location: Margate. "We liked the residential feel of the area. It's not a beach-y kind of home. It feels like a regular house that's a block and a half away from the beach."
Renovations Number One and Two: "At first we rented the house out and used it for just a few weeks. About 10 years in, we decided to add bathrooms and redo the kitchen. In 2006, all of our kids were married, and we knocked the house down to the foundation and rebuilt it. I had an inclination to move, but the kids shot down that idea. We live next to a big church with a huge grass lot, and there was some sentimental value attached to that. They liked to play ball there. Now our grandsons set up lemonade stands and give half the money to the church."
Renovation Number Three: "Our first grandson was born in 2008. We had the attic converted into a grandkids' room that year. Now we have nine kids that sleep up there. It's really cute. It's like a little dorm room."
Originally published as "Beach Havens" in the June 2015 issue of Philadelphia magazine.
---