News
Volvér Is Going to Reinvent Itself Every Year
---
Volvér, the upscale tasting menu-focused spot from Philly restaurateur Jose Garces has changed a lot in the last few years. In 2014, the restaurant opened as the city's first ticketed dining experience. Four years later, the company was restructured and saved by a major investment. Some restaurants closed, but Volvér remained open. In an attempt to make its inherently highbrow concept more casual, Garces added an a la carte option and bar snacks. The tasting menu seemed to be moving into the rearview.
But now, Volvér is making another change. Starting this week, the restaurant is rolling out a new menu for what Garces is calling its 2019/2020 "season." It's still a la carte with a tasting menu option, but now there's a theme to the menu: French.
"In Spanish, Volvér means to return," says chef Jose Garces. "The menu has always been a reflection of returns to my travels and experiences that I've had. The difference is that now we're just focusing in on a more specific theme."
Garces says he sees the season concept as coinciding with the the ballet and orchestra's seasons, typically running from early October to the end of May. The season's tasting menu will be available during this time, with a simpler menu carrying the restaurant through the summer months before the team debuts the next season's menu (October 2020-May 2021).
"We were toying with Vietnamese cuisine, we thought about doing a Korean-Latin fusion, but ultimately we came back to French cuisine," Garces said. "French food has always been my guiding light. In terms of cooking, it always comes back to solid French technique."
The menu comes from an extensive and collaborative testing process that includes chefs from many of Garces' 15 restaurants, who gather to discuss and develop ideas at the Volvér test kitchen. This season's menu will feature Garces' team's twists on French classic dishes like bouillabaisse, lobster quenelles and croque monsieur. (See the full a la carte menu at the bottom of this page.)
The French theme spans the dinner tasting menu, which is available for $85 a person, and the a la carte and snack menu. In addition to regular dinner service, Volvér will celebrate it's French season with a series of chef-collaboration dinners with notable French chefs from around Philadelphia and the country.
Chef Chris Kearse of Forsythia will cook at Volvér on Wednesday, January 29; Chef Peter Woolsey of Bistrot La Minette, La Peg and Gabi on Wednesday, February 26; Chef Jonathan Cichon of Lacroix on Wednesday, March 25 and Chef Jeffrey Hansell of Oxlot 9 in Covington, Lousiana on Wednesday, April 29. Tickets are available here.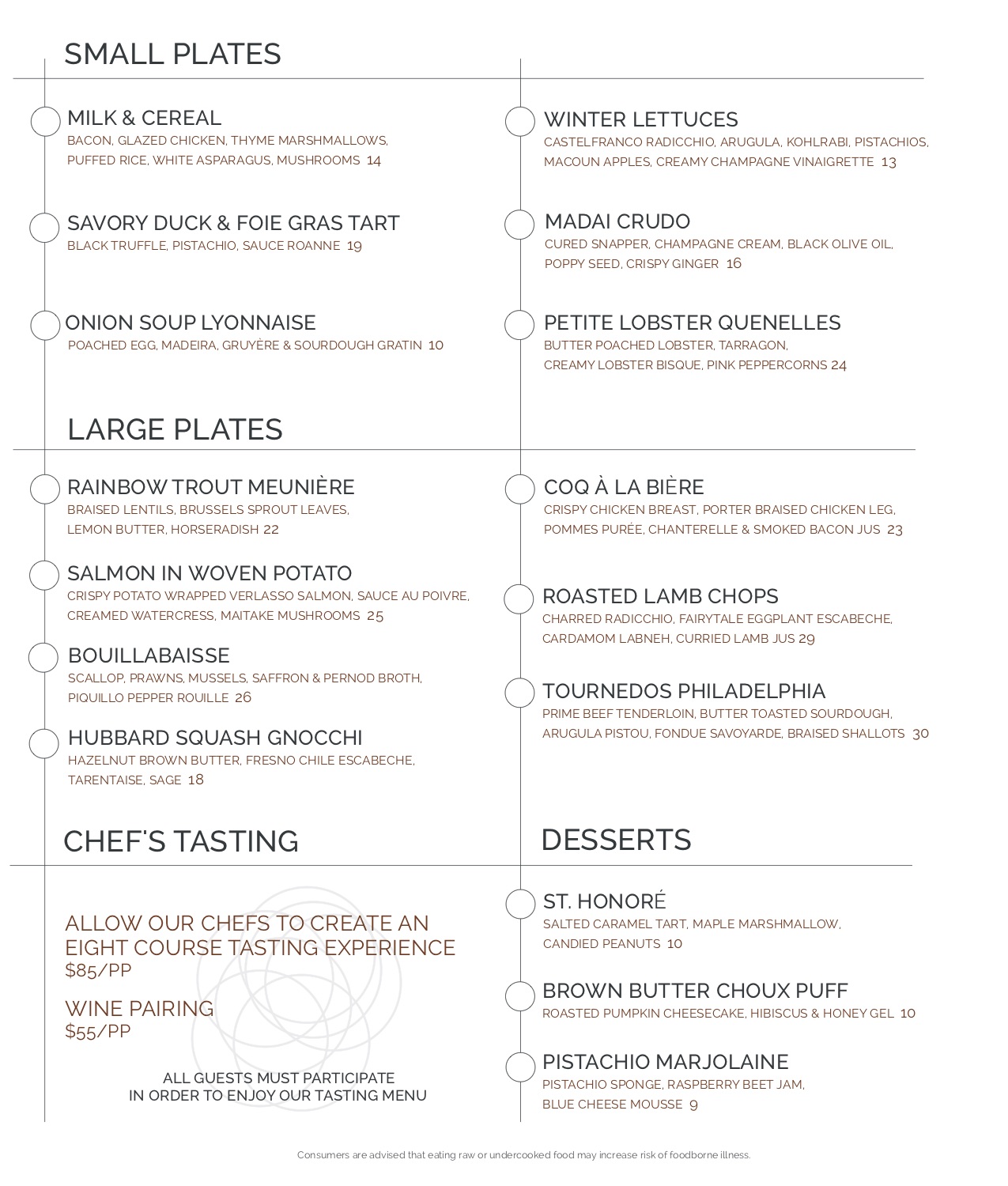 ---