News
Detroit-Style Pizza and Double Patty Burgers Land in Queen Village
The Brooklyn-based restaurant group has expanded to Philly with a new location featuring their signature pizzas, burgers, happy hour and more.
---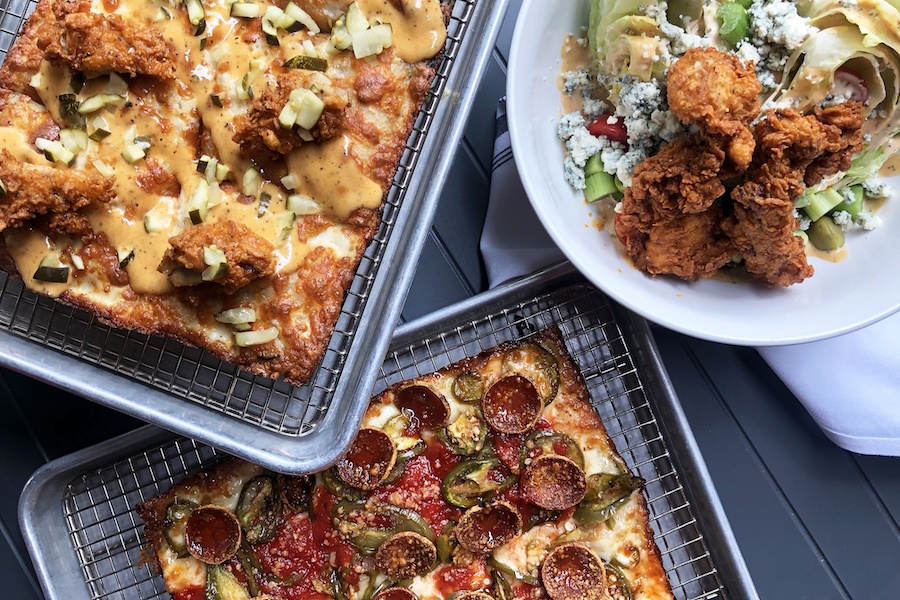 Brooklyn-born pizzeria Emmy Squared will open today in Queen Village inside the Queen Hotel, which is set to open this fall. Emmy, which currently has locations in New York and Nashville, is best known for its Detroit-style rectangular pizza, which have a crispy, frico (caramelized cheese) crust, fluffy, doughy center and signature sauce stripes. Philadelphia is set to be its 5th location.
Co-founders Emily and Matt Hyland say they're excited to be a part of the existing pizza culture in the city. Their restaurant, which will open across the street from upcoming Gigi Pizza, will include dishes specifically designed for Philly.
"I'm excited to have a bacon, broccoli rabe, and provolone pizza on the menu which is a play on one of my favorite Philly sandwiches, the roast pork sandwich," says Matt. Also exclusive to the Philly location is the Chopped Cheese Fries, a serving of waffle fries topped with chopped beef, red onion, bell pepper, pickles and smoky queso. For the restaurant's opening week, a portion of the proceeds for these dishes will be donated to organizations benefiting breast cancer research.
The menu also includes a sandwiches and Le Big Matt burger – it comes with 2 patties of grass-fed beef, plus American cheese, pickles, lettuce and Sammy Sauce, all packed into a pretzel bun. There will be a variety of salads, seasonal sides and appetizers, plus a full bar with wine, beer, and cocktails, including a selection of large-format options intended for sharing. The full food menu is available here. Happy hour will be offered 4 p.m. to 6 p.m. in the restaurant's bar room, which seats 10 at the bar and 40 more at high-top seating.
Matthew and Emily Hyland co-founded the Emily Loves Pizza restaurant group in 2014 with the opening of Emily Pizzeria in Clinton Hill, Brooklyn, and have since expanded to another Emily Pizzeria in the West Village, plus Emmy Squared locations across New York and Nashville. The Hylands have partnered with Howard Greenstone and Ken Levitan to help with the expansion of the restaurant group.
The restaurant will be open 5 p.m. to 10 p.m. Wednesday through Thursday and on Sundays, and Friday and Saturday 5 p.m. to 11 p.m, with Monday and Tuesday service, plus lunch hours to come. The restaurant is located at 632 South Fifth Street. Scroll down for a look at the inside of the restaurant.
---