A Comcast Exec Left This Philly Bartender a $1,000 Tip on a $47 Check
"Lisa is one of those folks I've come across in my life that have such a positive attitude," says the customer, who asked to remain anonymous. "And this just felt right."
---
When an NFL star left a 20-cent (as opposed to 20 percent) tip at P.Y.T. in 2014, I exposed his utter rudeness. And when a group of UPenn jerks tipped 40 cents on a $26 round that same year, I had a little fun at their expense as well. But we're not just about bad news and negativity here at Foobooz. So when I learned that longtime Belgian Cafe bartender Lisa Sloat received a $1,000 tip from a Comcast exec, I had to talk to both of them.
The Comcast executive, who asks to remain nameless, visited Sloat on Tuesday at Fairmount's Belgian Cafe, which is set to close on September 8th. Her last day is Friday the 6th.
Sloat, who recently moved from Fairmount to Manayunk, is a career bartender in Philadelphia. She worked at the old Sam Adams Brewhouse and the Khyber back when it was a rock club. And she's been behind the bar at Belgian Cafe, as she times it, "since the March after the Phillies won the World Series." (So, March 2009.)
The Comcast executive has been a semi-regular at the Belgian Cafe over the last few years, and when he came in on Tuesday night with a friend, they ordered Tanqueray martinis.
"He told me that he was only going to pop in for a glass of wine," says Sloat. "But then he saw the sign on the door about the closing and told me, 'Well, I guess I better have one of your martinis.'"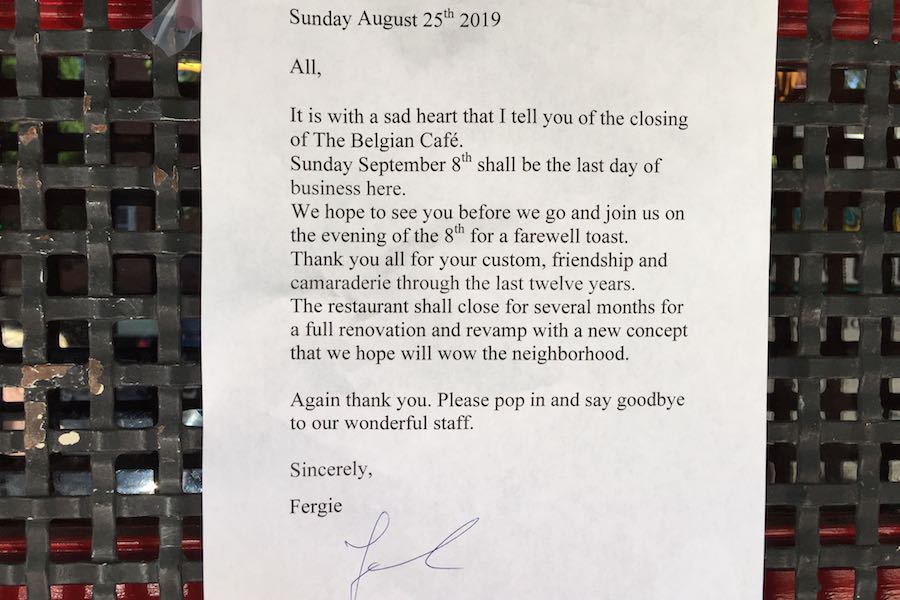 The pair had a martini each, some wine and the pretzel bites. When the check arrived, it came to $47.07. And when Sloat saw the signed credit card receipt, she was shocked to see a $1,000 tip.
"I got so emotional," she says. "I asked him if he was sure that's what he wanted to do, and he told me it was exactly what he wanted to do. I went around the bar and gave him a big hug."
"I've been fortunate in my life that I've had people be very generous to me," says the Comcast exec. "I'm more fortunate than most people are, financially, and I know how much it means to people and how much of a difference it can make for them. People who don't make as much money as me don't do so because they don't deserve it. Sometimes, it's just about luck. Lisa is one of those folks I've come across in my life that have such a positive attitude. And this just felt right."
On Thursday morning, we asked Sloat what she was going to do with the $1,000 tip. She pointed out that she's going to be unemployed soon — she's looking for another gig — and that the money would help pay the bills until she finds something steady.
"But I love the beach," Sloat says. "And I haven't been able to get there this summer due to some unexpected medical expenses. So maybe I'll try to do that."
Coincidentally, I wound up talking to an executive at the Borgata in Atlantic City after I originally spoke with Sloat, and I mentioned the story to her. As a result, the Borgata has offered her two nights at the hotel and dinner at Angeline.
"Oh my God," says Sloat. "Are you serious? People can be so nice sometimes."
Yeah. Maybe more of that. Less of the other. Just a thought.
---
---