London Grill Owner Terry Berch McNally Is Not Closing Her Restaurant Quietly
The outspoken Fairmount restaurant veteran on feeding David Lynch, rolling her eyes at some of #MeToo, beating animal rights "terrorists," and why City Hall is her mortal enemy.
---
Behind the Line is our weekly interview series with the people who make up Philly's dynamic bar and restaurant scene. For the complete archive, which includes Marc Vetri, Michael Solomonov, and Marcie and Val, click here.
Terry Berch McNally recently announced that she'll soon be closing her Fairmount restaurant, the London Grill. We called her to find out why. We learned a lot more than that. A LOT.
My full name is… Linda Terry Berch, but they always called me Terry. I'm not exactly sure why, but my dad was kinda jocky, and he treated me like a boy. And then I married Michael McNally. We're not together anymore, but he's still the chef at London Grill.
I grew up… all over the place. I was a corporate brat.
I came to Philadelphia… to go to Temple in 1977. Didn't finish. I left after three years, because I couldn't get up for morning classes, since I was working at Doc Watson's as a waitress.
After Doc Watson's… I went to a place in Rittenhouse called 20th Street Cafe, which is where 20 Manning is now. The staff was all gay, and they hated me. I met Michael there. He was the chef.
Michael and I took over the London Grill in… 1991. And we won our first Best of Philly in 1993 for Michael's duck. And, no, we didn't have to advertise to win. [Laughs]
We're selling London Grill because… I'm 60. Michael is 63. It's just time. It needs new blood. I've spent way too many years owning a restaurant. Everything's changed. People used to come on in and have a cigarette and a drink and some food. Now, my customers are jogging by every day and asking if I have a Keto menu. I don't even know what that is.
The last time I smoked pot was… yesterday. All the guys in the kitchen smoke big joints. They smoke shit. I like the new kinds of marijuana. My doctor said that I shouldn't do it every day, so I don't.
One thing I'll miss most about the restaurant business is… the social nature of it, being involved with my staff. I'll say it: I'm manic depressive. I like the stimulation of running a business. It's a creative process, and I'm good at it. So I have to stay socially involved with people. I need to stay out there.
One thing I won't miss at all is… the eleven toilets I'm in charge of. And staffing has become really hard. Listen, Michael started out old school as a dishwasher and works 16 hours a day and expects everybody to do that. That's one reason we stopped being married. My son is the most important thing in my life, and Michael gave me that, and so I'll love him forever for that. But I'm single. I'll never get married again.
Kids in bars are… great. Bring it on. They usually behave better than parents. For the last ten years, I've noticed that parents are living for their kids. They are in their kids' world. And it's fucking everything up. Bring them in. Don't take them to Chuck E. Cheese. Make them eat real food.
For my next act, I'm going to… find a part-time job. Probably a little restaurant marketing and PR. And I am going to drive for Uber, but what I really want is to get a women-only ride share company going in Philadelphia like Safr in Boston. I could help set it up. You don't have to get into a creepy Uber with some random guy.
One Philly spot I'm dying to eat at is… upstairs at Friday Saturday Sunday. I'm at the downstairs bar once a week, but I've yet to be upstairs for dinner. I don't go to many places. I go to Oyster House. I go to Parc a lot. Hey, maybe I should just call Stephen [Starr] and he'll hire me. He's done really well for himself. And in the neighborhood, I'm at La Calaca Feliz and A Mano a lot.
Yelp is… a pain in the ass. The worst. We hate Yelp. I once tried paying the extortion thing a few years ago, where you pay them and they'd move your reviews around or whatever. I respond to every single negative review. But lately now that I'm on my way out, I'm just nasty. I say what I feel. I don't have to worry about it anymore. These young people who think they can write stuff. Please.
The Bastille Day celebration that I started at Eastern State Penitentiary… is done, because the prison decided they didn't wanna pay for it anymore. I'll miss playing Marie Antoinette.
The best Philly meal I've had in relatively recent memory was at… Volvér. I took my father, son and Michael out for Father's Day. It was four hours long. At the ninth course, Michael said he still hadn't seen any actual cooking happening, but it was pretty special. But you should ask me what my dying meal would be. A kosher hot dog. If I have to fly out of JFK, I'm leaving early to go to Coney Island to get a hot dog.
When I want to relax… I go to Barnegat Light and walk down the beach looking for beach glass. I'm also a birder and a gardener. And I like to sit in a bar. I'm not a bar hag. I ask all the bartenders to please let me know if I'm becoming a bar hag.
One local trend I wish would die is… the city's Parks on Tap. Unfair competition.
Dealing with the City of Philadelphia as a small business owner has made me… angry. So angry. I have so many rants. The game is rigged for sure. I love the new Comcast building, but they get tax breaks and I don't? We are seeing the end of small business. There will be more Targets. There will be more Wawas. And it pisses me off. Soda tax? Fuck you. I've worked to help make this city a world class city, but the city never has your back. They fuck us. They audit us. They ride our back on every little piece of shit. It's terrible. It's been awful. I wouldn't recommend it to anybody.
If you're pouring me a drink, make it… gin. A martini. And don't make it dry. I like vermouth. I have to tell everybody that when I order. For some reason, they stopped putting vermouth in martinis.
If I could go back to one decade for a week, I would choose… the '80s. So much fun. Watching the restaurant renaissance happen here in the '80s was wonderful and then suddenly in the '90s it became burgers and wings and nachos. In the '80s, we were drinking chartreuse and pousse-cafés.
In case you don't know my foie gras story… all these animal rights activists came to town in 2007 and protested foie gras at restaurants, including London Grill. It got out of hand. People were arrested. They brought in video screens. I'll tell you: The number one terrorists in the United States are animal rights activists. Well, I went after them in court and I won. I got an injunction against them protesting.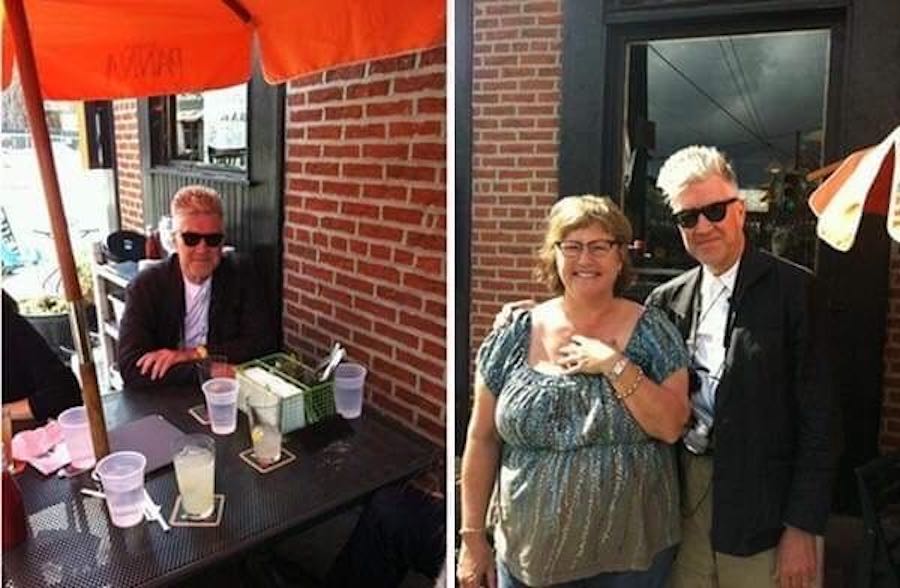 The most famous person who has eaten at London Grill was… David Lynch. He was sitting outside. I freaked out. I was a film major at one point, and I know every single thing about David Lynch. He made me sick to my stomach; I puked at the Roxy when I saw Blue Velvet. He was so nice and took pictures with me. And then when Twelve Monkeys was filming across the street, I met Terry Gilliam, Bruce Willis and Madeline Stowe. Bruce was so nice. Everybody was looking for Brad Pitt. He showed up a month later. Oh, and for some reason, Celine Dion was here last year with a bunch of bodyguards.
The #MeToo Movement's effect on the restaurant industry has been… um, interesting. I actually just got booed off of a panel because of my thoughts on this. I've rarely seen a problem in all of my years in the business, and I was asked about it at an event attended by women going into the culinary world. I basically told them that they can't really have it all. I told them they have to stand up for themselves. I was telling them about reality. The real world. Everything is becoming so benign. I hate it. People are so ultra-sensitive. I roll my eyes a lot. Anyway, I got booed off stage. Susanna Foo started it.
---
---