News
First Look: Elwood, Fishtown's New BYO Dedicated to Pennsylvania's Culinary Traditions
Adam Diltz's cheffy ode to Pennsylvania cuisine features everything from snapper soup to traditional Pennsylvania Dutch ham pot pie.
---
Adam Diltz says that, barring some natural disaster, Elwood, his Fishtown BYOB at 1007 Frankford Avenue, will finally start taking reservations for its opening night, May 1st — nearly three years after the restaurant was first announced. That's a long time to wait for a BYOB to open. But maybe it's a good thing.
Maybe if we didn't have to wait that long, Diltz wouldn't have had the time to do the kind of obsessive, fanatical research he did on Pennsylvania's culinary history and traditions. Maybe he wouldn't have learned all about how bullfrog fricassee was a popular dish in these parts, or that fried catfish and waffles houses used to line the Schuylkill River, and maybe those dishes (or the odes to those dishes) wouldn't have ended up on his menu the way they did. Maybe he wouldn't have found the right vintage serving bowls to serve snapper soup, or the right antique art for the dining room walls.
But he had the time, so he did his due diligence, and Elwood, his BYO homage to "Pennsylvania cuisine" — all of it, from Philly's Colonial era fare to his family's Pennsylvania Dutch heritage — is the final product, two years, nine months, and 25 days in the making.
Inside, Diltz's wife, Jenny Ko designed the space from the art on the walls, to the ceramic water pitches and antique silver, all the way down to the bones of the building (she's a professional architect).
Here, some pictures of the food and space to hold you over till opening day. Peep the menu down below.
The space:
The food:
The menu: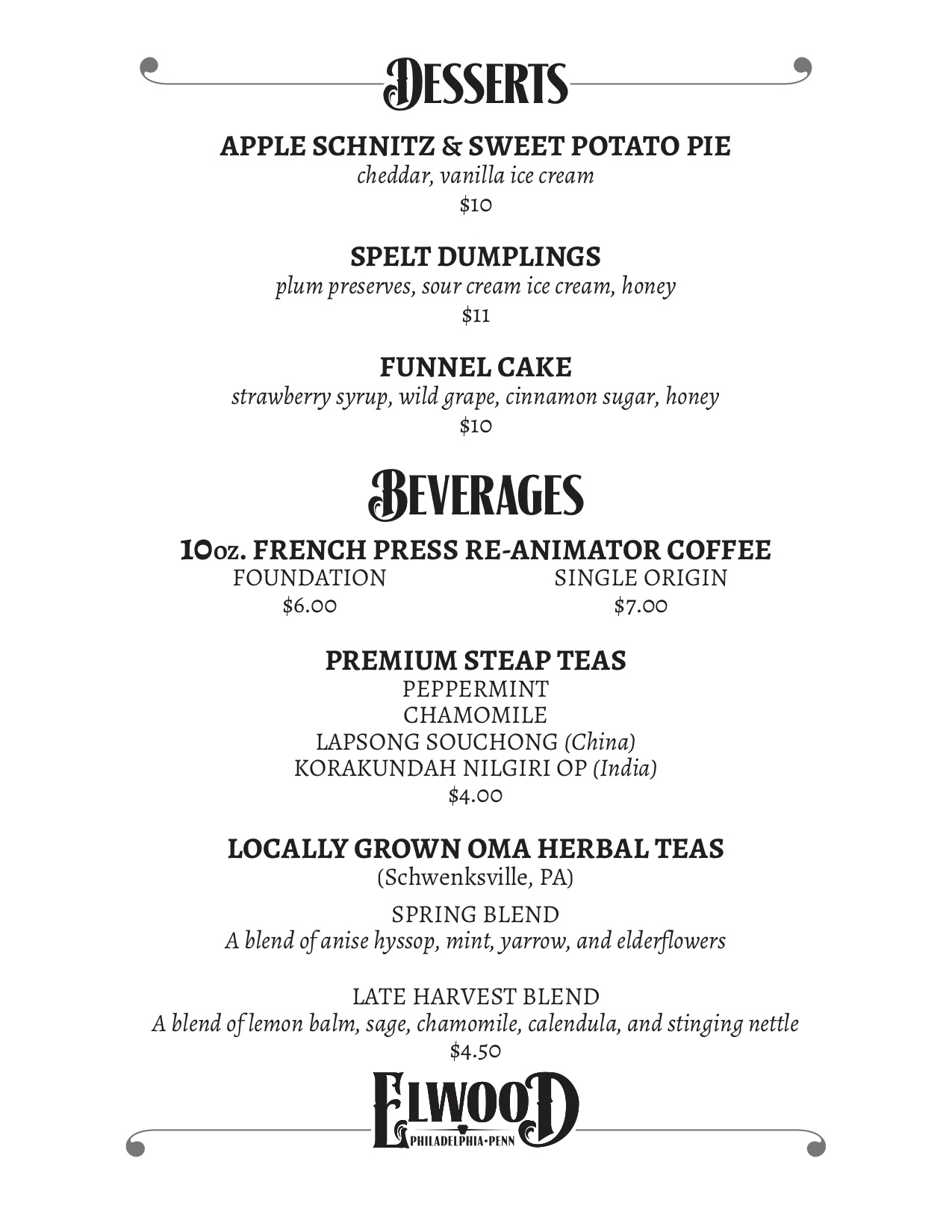 ---
---