An Easy Confidence: Porch & Proper Reviewed
Some restaurants make you work for your happiness. Porch & Proper makes it simple.
---
Porch & Proper is the new restaurant from a pair of Starr expats who have gone to Jersey to serve pasta and doughnuts and cioppino. It's New American by way of the East Coast — local, seasonal, the whole deal. Partners Jason and Casey Simkins (along with chef Ryan McQuillan, formerly of Talula's Table) have created something approachable here in this converted house on Collings Avenue. Something comfortable and welcoming, restrained and confident despite its youth. The menu is short and tight, with very few wasted ideas. There's no arch styling, no concept in place of soul, no manifesto. It's a restaurant that presents itself clearly and simply. An easy place to like, and better than you think it's going to be in the strangest of ways.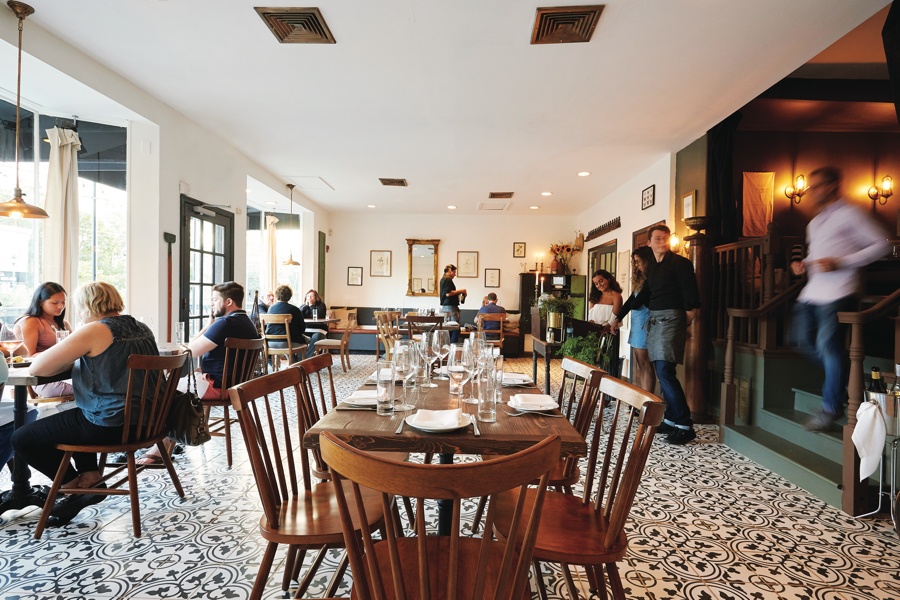 Like the crab salad, served with crème fraîche and dill, set on tiny corn-and-rye pancakes and topped with razor-thin slices of chili pepper that add spice like swallowing a sparkler. Or the homemade doughnuts dusted with cardamom sugar, served with blueberries in syrup and a chilled pink foie gras mousse. It's a dish that looks like a stunt. Feels like a stunt. Until you taste it and realize: no, not a stunt at all. Just a sweet and fatty and luxurious bite, that perfect friction of serious and fun.
And then there's the short rib. Impossibly tender, it melts like butter, set on a base of carrot romesco and topped with garlic bread crumbs for just a hint of texture masquerading as flavor. Or flavor masquerading as texture. Or both. And on the side, possibly the brownest, chunkiest, un-loveliest thing I've seen on a plate in years — a kind of hash of short-rib trimmings and faro, mounded upon half a charred poblano, with a texture like out-of-the-can corned beef hash.
But it's delicious — so much so that I would have taken a bucket of it with me to-go if such a thing were offered, and eaten it with a spoon all the way home. It's meaty and smooth, salty, with just a haze of sweet vegetable heat from where it touches the flesh of the poblano. It's the kind of thing that would never in a million years make the plate at a restaurant more concerned with looks than flavor — that would be tossed right out because something so repulsive would never be allowed to mar the beauty of the chef's vision for blah blah blah.
The pastas are remarkable, vibrant and smart. It's ballsy enough that anyone would even try to do pasta right across the street from Zeppoli, but in the dying days of summer, Chef McQuillan had sliced fresh strawberries into his taleggio tortelloni in a brown butter, the acid sweetness harmonizing with the creamy sourness of the cheese. He'd balanced parmesan and broccoli against orange suprêmes in his fettuccine. The garganelli came in a rich pork sugo with collard greens and chilies — BBQ turned into a pasta dish, halfway between professional genius and a weird midnight creation you might make from leftovers in the fridge. The tonarelli is made from a sourdough base, the pasta stiff and al dente, tossed with cubed Benton's bacon, charred corn, and local St. Malachi cheese — all the flavors of the end of summer. And on a new fall menu, McQuillan sets aside the fruit and stuffs ravioli with smoked ricotta, setting them adrift in a beet verjus, and makes ricotta gnudi with rosemary and a rich mushroom ragu.
The service is sweet and sincere. Servers walk the floor like they're home, moving across the black-and-white tile of the main room and the more intimate back room, up five stairs and yet a world away. The main dining room gets loud. The crowds are mostly local, still. Neighbors. Regulars. If you forget to BYO, you can buy a bottle off a short list — brought to you via a partnership with a local winery in nearby Atco, New Jersey.
Not everything at Porch & Proper is perfect. That pasta with the oranges might have gone a bit far. And no one in the kitchen seems to know what to do with the black bass. A thin fillet, seared, was set naked over a mess of bell peppers, mushrooms and corn that felt ill-considered. Or not considered at all.
But these failings slip away quickly, and the successes stay with you. Porch & Proper doesn't reach for perfection. It doesn't truck with genius or chase beauty. It's just easy here. Relaxed.
I wish more restaurants had what this one has: the confidence to just be.
3 Stars — Come from anywhere in the region
---
Rating Key
0 stars: stay away
★: come if you have no other options
★★: come if you're in the neighborhood
★★★: come from anywhere in the region
★★★★: come from anywhere in the country
---