News
A Secret Bar Is About to Open Under Tradesman's (and There's Another One on the Way)
Kontrol is opening on Chestnut Street tonight.
---
You know what one of the rarest things in the restaurant business is these days? Surprise.
I mean real surprise. Like an actual, out-of-the-blue announcement of a major project that isn't stupid or lame or gimmicky or not really surprising at all. With food writers crawling all over every space in the city, it's a hard thing to pull off under the best of circumstances. And most restaurateurs, seeing the extremely competitive landscape out there and wanting any attention they can get, will talk to anyone about their concepts — promising opening dates and features and menus that often bear no resemblance to the eventually reality of the debut.
But today, a surprise is exactly what we're getting with the announcement from Teddy Sourias and Craft Concepts Group that they've got a new bar called Kontrol which is opening tomorrow night.
A new bar that's been being built for the last year, in secret, underground. That was being worked on right alongside Tradesman's (which opened at the beginning of August and was not kept secret at all, but worked as an effective cover for Kontrol's construction) but without anyone announcing it, talking about it or saying a damn word about it to anyone.
That's impressive. It's kinda cool. And it's not the only news coming today from Sourias and Craft.
But for right now, let's stick with Kontrol. It is a "connecting secret passage bar and eatery" attached to (and accessed through) U-Bahn and located beneath the Tradesman's Trust Building. "Secret passage bar" is essentially meaningless unless you get the whole overarching concept that Sourias and Craft Concepts are working with — this whole German U-Bahn, subway station thing he's got going.
In the beginning, there was Bru, the German beer hall at Chestnut and Juniper Streets. Beneath it, Sourias opened U-Bahn, a German-subway-themed bar and nightclub with DJs, craft beers, live music, street art, train tracks and video games. Tradesman's is just a BBQ and whiskey joint — nothing to do with Germany or trains or anything. It opened in the same building (the Tradesman's Trust Building, hence the name), but beneath it, the Craft Concepts crew was building Kontrol (named, apparently, for the police that patrol the Berlin subway system), which is accessed via a secret passage in one corner of the already subterranean U-Bahn space.
With me so far? Ok. Kontrol will connect U-Bahn to the other project being announced today by Sourias and Craft a still somewhat mysterious third concept called Verdickt which will be opening late this year or early in 2019. The "secret passageway" that leads from U-Bahn to Kontrol will eventually connect all of the Sourias/Craft concepts on the block: Bru, U-Bahn, Kontrol, Tradesman's and Verdickt. It'll be one big food/drink/nightlife complex, offering people dinner, drinks, music and late-night amusements, all in one place.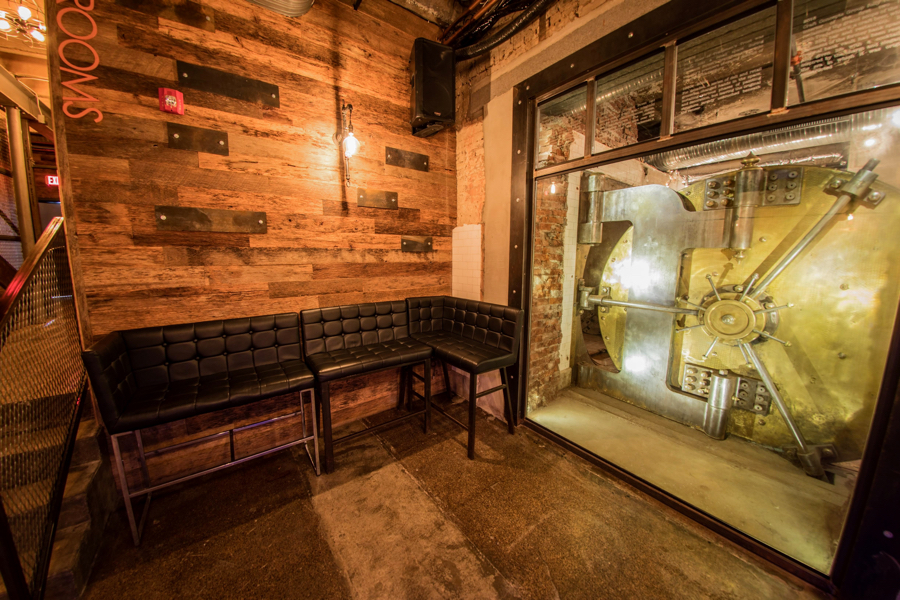 But for right now, there's Kontrol, which is small. About 1,000 square feet, with seating for around 32. It'll have a late-night kitchen menu to feed you after the lines at Bru and Tradesman's have shut down — upscale bar food like German pretzels and fresh-cut fries, pulled pork sandwiches, a burger and house-made bratwurst. At the bar, Kontrol will be focusing on cocktails, with a menu designed by Alexis Alman. There'll also be eight draft lines with five pouring craft beers, two dedicated to draft cocktails and one featuring an exclusive new beer brewed just for Craft Concepts–which isn't ready yet, but will be soon. That line will be pouring Kenzinger in the meantime.
The grand opening for Kontrol is Friday, September 7th. Verdickt is still being kept under wraps, but should be added to the family soon.
---