News
A Gigantic Eastern European Restaurant and Dinner Theatre Is Coming to Fishtown
Georgian food and live entertainment in an historic ice cream factory on Frankford Avenue.
---
When we released our guide to eating and drinking in Fishtown, we described the dining scene as some "laboratory experiment studying what would happen if you tried to gentrify a whole neighborhood over night. And then tried it again the next night. And then again the next." We called it a place that's built itself "a scrappy, DIY sensibility. A sense that if you've got a crazy idea … then Fishtown is the place to try to bring it to life."
And that couldn't be more true about Fishtown's new restaurant and dinner theatre opening up in an old ice cream factory at 1108 Frankford Avenue.
Right now, there's no official name. The owner, Lasha Kikvidze (he also owns Golden Gates, a Russian restaurant/banquet hall/nightclub in the Northeast), and his partners in the venture, Ylia Dzlieri, Alex Gritsyuk and Boris Khanataev, are still trying to nail that down. But the space itself is all planned out:
The property, which extends all the way to Dunton Street from Frankford Avenue (capped by Wildley Street to the south), will be comprised of two concepts: The main entrance will lead straight into the dining room, which will include two bars on either end of the building, a lounge area, and smack in the middle of the room, a stage for live entertainment. A mezzanine will wrap around the dining room with special VIP seating areas. Sticking to the team's roots in the Northeast, the kitchen will put out an Eastern European menu with an emphasis on Georgian cuisine. "The idea is to spend your entire night here," says Kikvidze. "You start with dinner, stay for the show, and then party until morning."
Dzlieri, who will be in charge of the entertainment, says that the "show" could be like anything from burlesque, to Shakespeare plays, to poets, to sword swallowers. "It can vary greatly," he says, "and it will always be different."
They hope to have the restaurant and dinner theatre open by New Year's Eve. And once it's sailing smoothly, they'll move onto their second project: the empty plot of land adjacent to the building, which will be its own separate restaurant. Kikvidze says it's still about two years out, though.
Next week, June 6th, the crew is hosting a meet-and-greet/art show in the new space from 7 to 9 p.m. They'll serve some Georgian food and wine and get to know the neighborhood a bit more. Stop by to see all that they have planned for the space and peep the artist renderings below.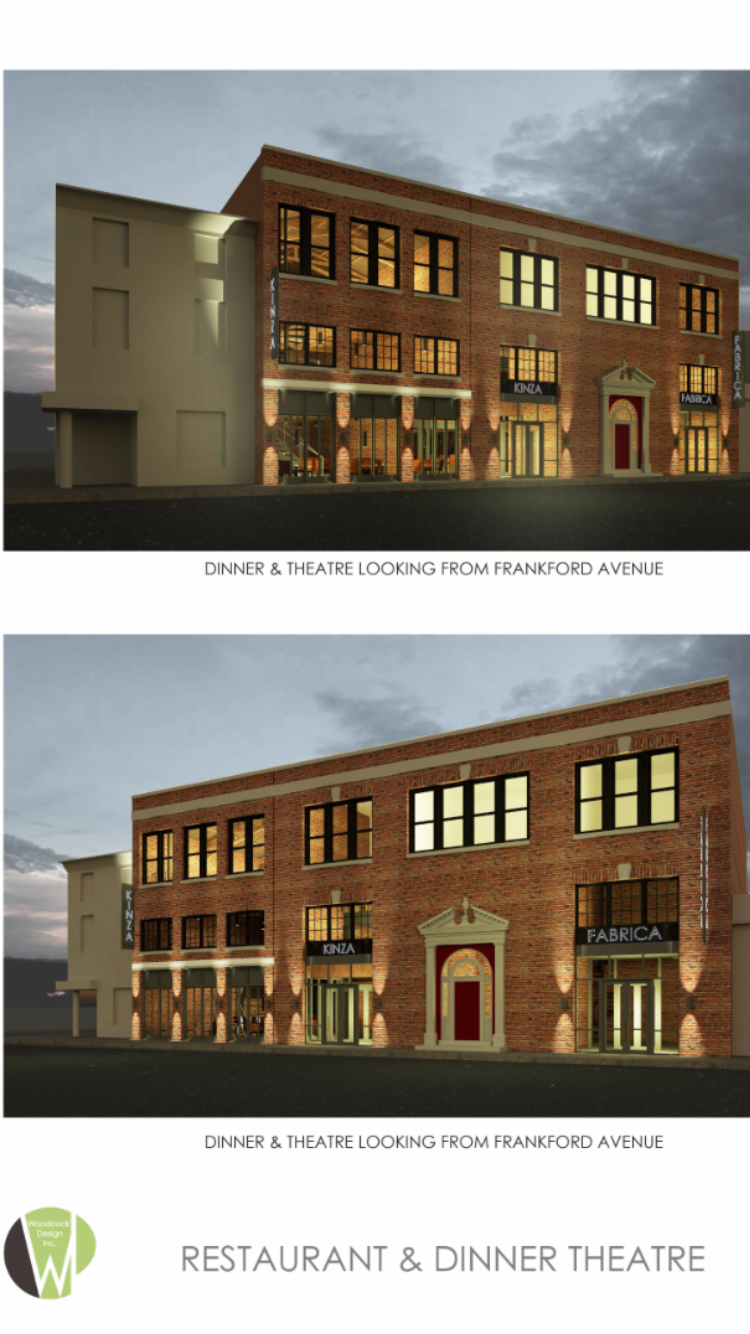 ---
---