Here's What You'll Be Eating at Porta, Midtown Village's New Neapolitan Pizzeria
The newest location of the Asbury Park-based restaurant opens its doors this Friday.
---
Back in May, we told you about two new locations that Asbury Park-based restaurant group Smith was planning for the 1200 block of Chestnut Street: Porta, a wood-fired pizzeria, and Brickwall Tavern, which specializes in craft beer and comfort food.
Brickwell Tavern's opening is still TBD. But Porta will open its doors at 5 p.m. this Friday, December 22nd, at 1216 Chestnut Street.
To start, Porta will stick with the same menu as its Jersey City and Asbury Park counterparts, with plans to roll out new dishes exclusive to the Philly location in 2018. Think wood-fired pizza, fresh Italian dishes, and craft beer, cocktails, and wine for dinner and brunch.
Hours-wise, Porta will be open for dinner this Friday and Saturday closed on Christmas Eve and Christmas Day, and reopen on Tuesday, December 26th at 11 a.m. for brunch. They're having happy hour from 4 p.m. until 7 p.m. weekdays starting on December 27th. On New Year's Eve, they'll be open for brunch and dinner, with a jazz band in the house from 12 p.m. until 3 p.m. and a DJ from 10 p.m. until 2 a.m.
After the grand opening on January 5th, Porta will be open Monday through Thursday from noon until 1 a.m., Friday from noon until 2 a.m., Saturday from 11 a.m. until 2 a.m., and Sunday from 11 a.m. until 11 p.m.
Check out the menus below (click to embiggen).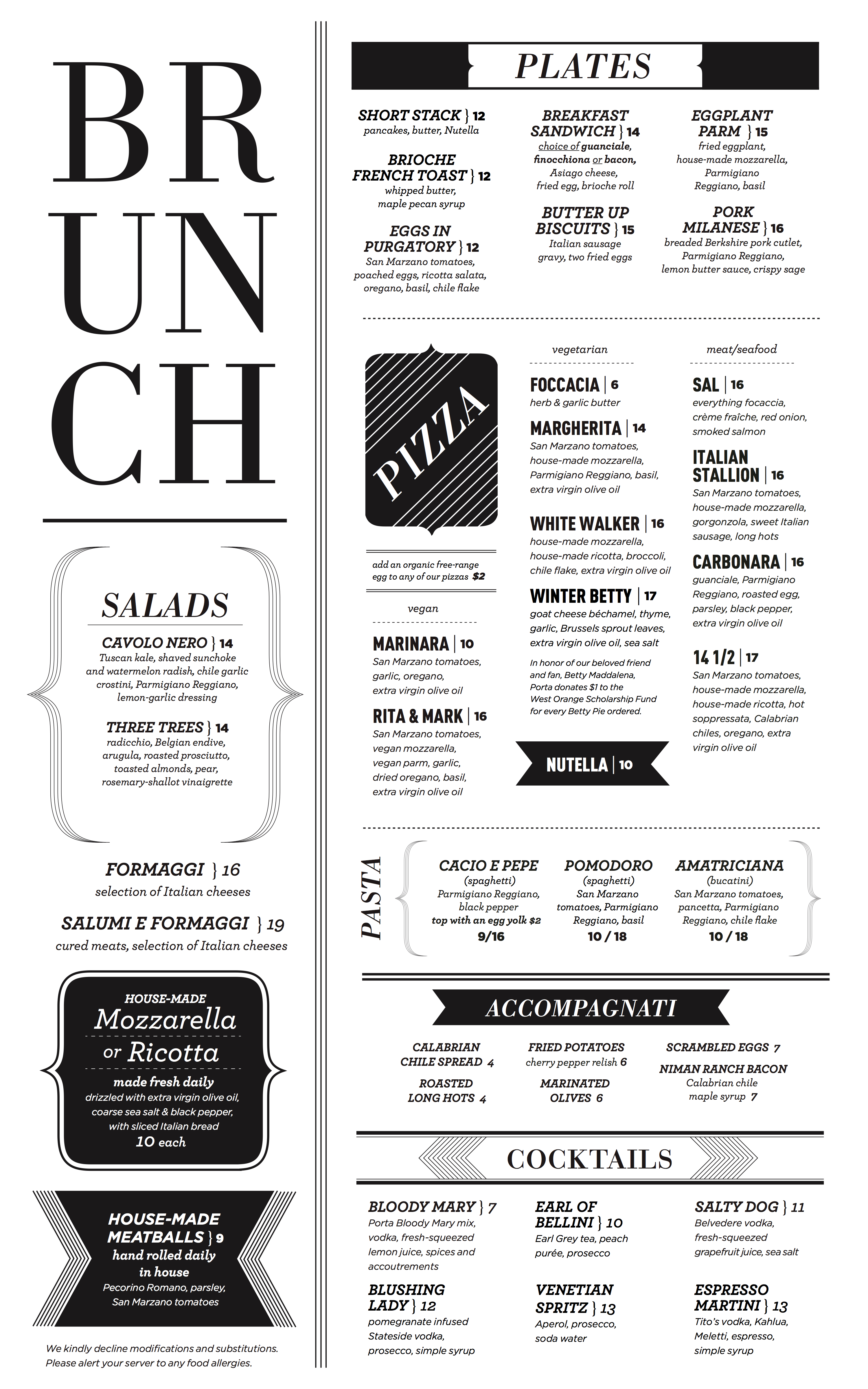 ---
---