News
We're Pretty Sure a Wizard Designed This New Rittenhouse Restaurant
Here's what to expect from the casual, eclectic restaurant in the former Astral Plane space.
---
"This was as much a restaurant build-out as it was a large scale art project."
That's Caitlin Rorer, owner (along with her husband, Chris) of the brand-new restaurant, Keen, which soft-opened over the weekend at 1708 Lombard Street.
If that address sounds familiar, it's because that used to be the home of Astral Plane — the legendary Philly restaurant that lived in that space for 30-odd years. Recent history has been less kind. There was Astral Plane Millennium (best forgotten), then Fish (for a little while), then Brick (it's okay if you don't remember Brick). Then nothing for a long time. And now Keen.

And while Keen is pretty, it's also sort of insane-looking — in a mystical sort of way. The interior decor is all hand-made, built specifically for Keen. The 1,000-pound glass bar-top downstairs is from a San Diego glass architect. The staircase leading up to the second floor bar is made from reclaimed Chinese sumac. The chandelier in the downstairs bar is from Michael McHale Designs and meant to simulate falling rain. Another in the 40-seat main dining room is from Norway and meant to produce "a shadow forest of wild trees." There's even a vintage condom machine in the bathroom — that dispenses complimentary Keen-branded condoms, natch.
---


---
Chris and Caitlin met at the Restaurant School at Walnut Hill. That's also where they found their chef, Antonella Biundo. Biundo's sous is Liam Keeney, Caitlin's brother (the restaurant's name is based on Caitlin's maiden name — Keeney). And Tom Danks, the bar manager, was Chris and Citlin's neighborhood bartender in Society Hill. So Keen is a family thing. A friend thing. A place built to a shared vision of what Lombard Street needs today.
And what Lombard Street needs is a kind of timeless, borderless, American fusion comfort food menu, apparently, full of cauliflower and potato pierogies with long hot dip, lemon-ricotta hand pies with artichoke and bacon, candied, cider-brined bacon with spicy maple syrup called "Pig Candy," a big-ass salad, chicken breast poached in chai, and a burger on an onion-poppy seed roll. It needs pumpkin trifle with gingersnaps for dessert and house-baked soft pretzels on the late-night bar menu. Check out for yourself what Keen has to offer below:
---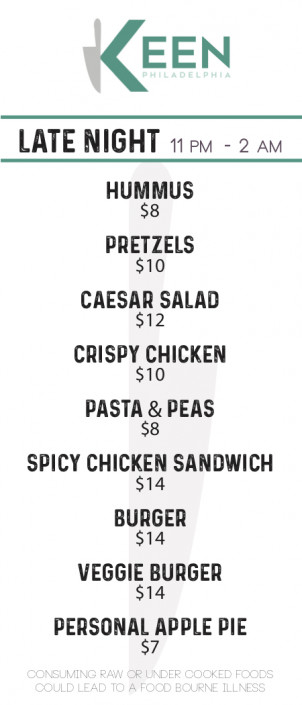 ---
At the bar, Danks is offering "fast craft" cocktails made with five or less ingredients. He's got six beers on rotating taps that will be all-Pennsylvanian, then two more with draft wine — including an organic Italian rosé that will sell for $7 all day long.
Keen is in soft-open mode right now, with short hours and a limited menu. But they'll be opening for real at 5 p.m. on Tuesday, November 28th.
---