There's A Wine Happy Hour at Wm. Mulherin's Sons Tonight
---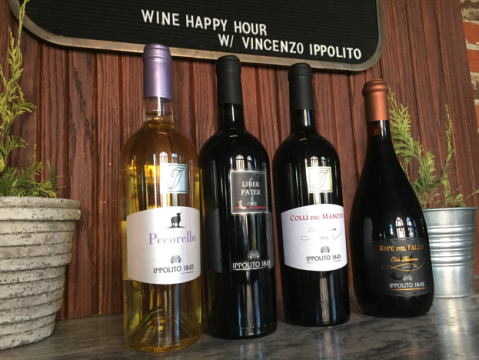 We get it. You don't really need an excuse to go to Wm. Mulherin's Sons. The Fishtown restaurant was one of last year's most impressive openings–the kind of place where you go once and then start scouting the real estate listings looking to buy in the neighborhood just so you never have to be too far away.
But in case you do need some convincing, how about a happy hour full of Calabrian wine and getting to hang out with the guy who makes them?
So here's the deal: Tonight, from 5pm-7pm, Wm. Mulherin's will be pouring a bunch of different Ippolito wines. And they're going to have one of the two winemakers, Vincenzo Ippolito (who, along with his brother Gianluca, are the 5th generation of the family in the wine business), there to talk about his product.
They'll be pouring "flights of Gaglioppo (three levels of Ciro Rosso), Ciro Bianca, Pecorello, Gaglioppo Rose, and other indigenous varietals they make," according to the bar at Mulherin's. Prices will run between $10 and $20 per glass.
You can check out the Wm. Mulherin's Sons Facebook page for more details.
Wm. Mulherin's Sons [f8b8z]
---