Today is Un Dia Sin Inmigrante
And we'll be keeping track of things right here.
---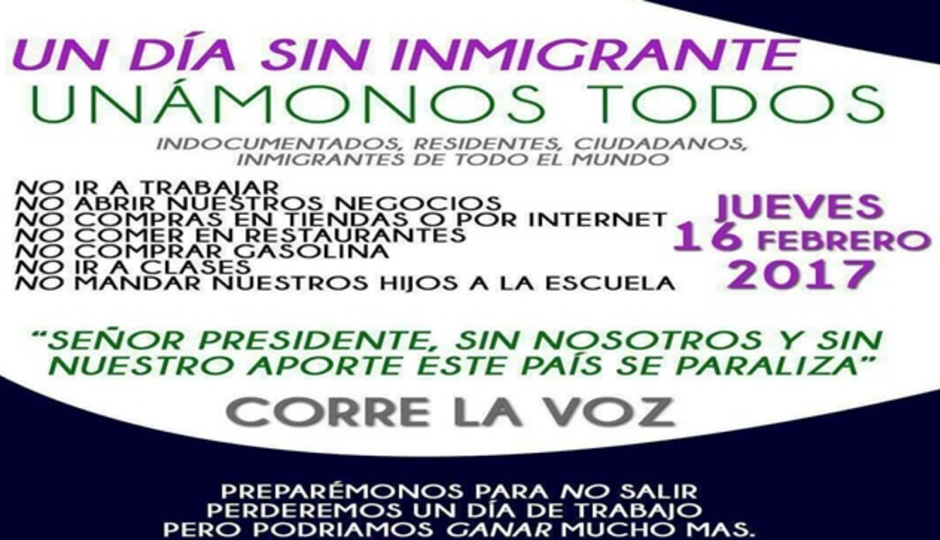 This post has been updated: Last update: 4:05pm
As we discussed a couple days ago, today is Un Dia Sin Inmigrante–a day without immigrants. Today, Thursday, February 16, many of Philadelphia's immigrant residents–both undocumented and naturalized–will not be going to work. They're not going to open their businesses. Students aren't going to classes. They won't be buying any gas. They're not going to participate in the economy at all. In reaction to all of the recent anti-immigrant actions being taken on both a local and national level (including, close to home, the recent passage by the Pennsylvania Senate of Senate Bill 10, also called the Municipal Sanctuary and Federal Enforcement Act, which would "bar municipalities from adopting so-called "sanctuary" policies that refer to the refusal to comply with federal detention orders issued by Immigrations and Custom Enforcement"), they're sending a message of their own: that without the contributions of the immigrants that are being targeted by these actions, the American economy would be paralyzed.
Restaurants, obviously, are going to be particularly affected by this action. So today, we're going to be keeping track of how our industry is responding. Below, you'll find a running tally of closed kitchens, scaled-back services and benefit events happening all across the region.
And of course, if you're out there and you see something let us know. If you're a restaurateur, reach out and tell how Un Dia Sin Immigrantes is affecting your business and how you are responding. Contact information for Foobooz editors will be at the bottom of this post.
–Just got this statement from Jose Garces regarding his restaurants and Un Dia Sin Inmigrante.
"We recognize the immigrant community is an essential part of the hospitality industry. Since 2012, the Garces Foundation has provided health, nutrition and education resources for immigrant families in need.

We support the right for hospitality industry employees to have their voices heard. We are in close communication with any employees who plan to participate Thursday and doing our best to mitigate against any potential impact to our guests' experience. We will not take any adverse action with any employee who chooses to participate." – Jose Garces
—South Philly Tap Room is closed tonight.
We will be closing our kitchen today at 5pm. #DayWithoutImmigrants

— SouthPhillyTapRoom (@SPTapRoom) February 16, 2017
–Fists up from Cantina Los Cabalitos on East Passyunk.
—Rosario's in Point Breeze is closed "all day in support of our brothers and sisters."
—El Fuego on Walnut Street just let us know that they're closed today in support of A Day Without Immigrants.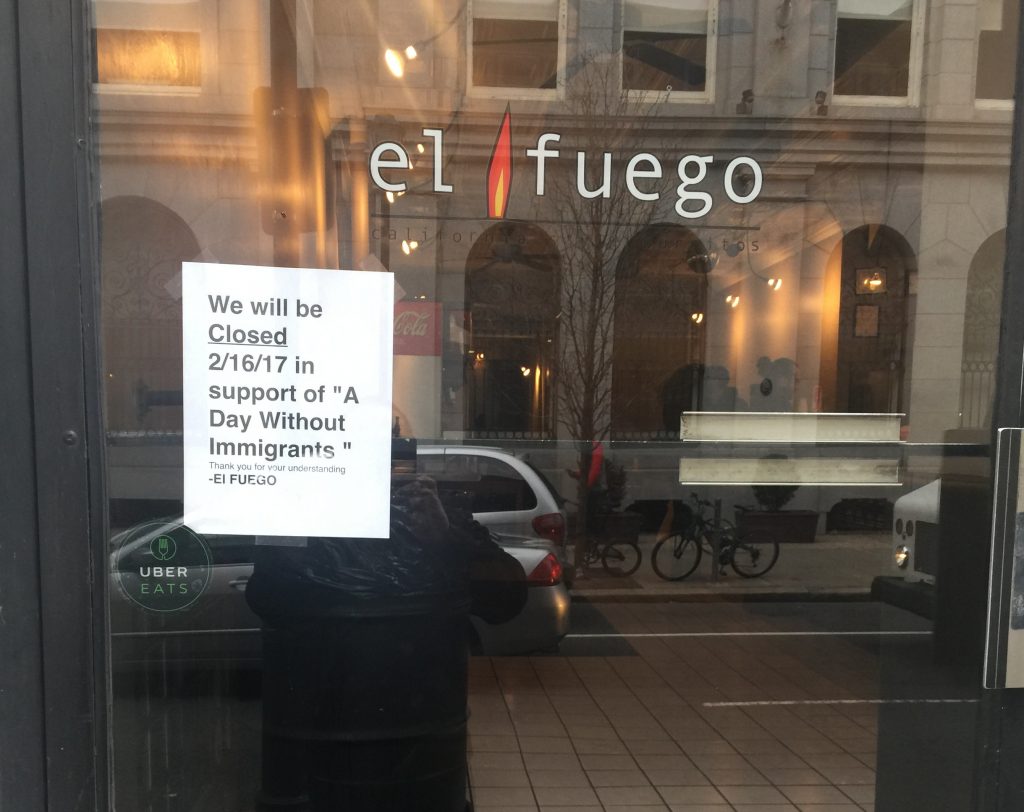 —On Point Bistro in Point Breeze will remain open, but they're not penalizing any employees who choose to stay home today as part of the protests.
—Le Virtu is open, but they've stopped taking reservations and will be seating no walk-ins tonight because they've got some crew participating in today's protest.
—Los Gallos in South Philly is closed for the day.
—Blue Corn Restaurant is closed today in solidarity.
—Le Cheri and Bibou are open today, but showing support in their own way.
We are open as usual today – and we are immigrants… @LeCheriPhilly @biboubyob

— Le Chéri (@LeCheriPhilly) February 16, 2017
–All restaurants in the Schulson Collective (which means Double Knot, Harp & Crown, Sampan and Graffitti Bar) are closed for lunch in solidarity. As far as we know right now, all restaurants will be re-opening at 4pm.
–Via Katherine Scott from 6ABC: El Azteca and Zavino are both closed today in support of the protests.
El Azteca on Chestnut posted sign saying they are closing doors today in solidarity. pic.twitter.com/wmBypTaMqX

— Katherine Scott (@KScott6abc) February 16, 2017
Sign posted on door at Zavino at 13th and Sansom. Restaurant will be closed today for 'Day without Immigrants'. pic.twitter.com/VpuPQIXpRW

— Katherine Scott (@KScott6abc) February 16, 2017
–All Tria locations and Tria Taproom will be serving only wine, cheese and beer today. $1 from each dish or drink sold being donated to the Pennsylvania Immigration And Citizenship Coalition.
—At The Table in Wayne is looking at cancelling dinner tonight. Give them a call if you have a reservation.
—Standard Tap's kitchen is closed. 20% of all sales at the bar being donated to the Pennsylvania ACLU.
—Honest Tom's Taco Shop is closed today "In solidarity with A Day Without Immigrants," according to the South Philly Barbacoa twitter, where a lot of these closures are also being cataloged. SPB has been instrumental in getting the word out about today's action as well.
–Just to get a feeling for how this is playing out nationally, some really big names (like Jose Andres and Rick Bayless) are also just flat-out closing their restaurants today. Check it out.
Out of respect for r staff's vote to support Thurs's immigrant civil action, we r closing Frontera Grill, Topolobampo,Xoco & Fonda Frontera

— Rick Bayless (@Rick_Bayless) February 16, 2017
In support of our people & #ADayWithoutImmigrants Thurs 2/16 we will not open @jaleo DC CC MD, @zaytinya or @oyameldc #ImmigrantsFeedAmerica

— José Andrés (@chefjoseandres) February 14, 2017
—Triangle Tavern? Closed today in solidarity.
We are standing in solidarity with this country's immigrants and will be closed today February 16. #solidarity #closedinphilly pic.twitter.com/UknzSwaDLi

— Triangle Tavern (@TriangleTavern) February 16, 2017
–Same with the Khyber Pass Pub.
We are standing in solidarity with this country's immigrants and will be closed today February 16. #solidarity #closedinphilly pic.twitter.com/UknzSwaDLi

— Triangle Tavern (@TriangleTavern) February 16, 2017
–Here's what the kitchen at Mission Taqueria looks like on Un Dia Sin Inmigrante.
A Day Without Immigrants. The life force of our humble Taqueria is taking a brave stand to… https://t.co/zF129mVTh3 pic.twitter.com/Egpm0fBO5c

— MissionTaqueria (@missiontaqueria) February 16, 2017
Mission Taqueria is open (at least for now), and operating with a very limited menu. They also posted this to Facebook an hour ago:
Immigrants make America great.

They also happen to make and serve a lot of the food you enjoy here at Mission Taqueria.

Today however, our immigrant work force is making a brave gesture by simply staying home. In fact, laborers from many industries throughout Pennsylvania are folding their hands in order to give us a glimpse of what life might be like without them.

Mission values our Latino workers not just because they're hardworking employees, but because they're our friends, and part of our community. Though they're not here with us today, we stand beside them in solidarity.

The empty space on our menu today reflects their absence, and is just a small example of the ways that color, script, ingenuity, and talent could all be wiped from the page.

Rest assured that any of our employees who've elected to make a stand today have been compensated, and will have their jobs to return to tomorrow.

By joining us today, you're taking part in a lighter meal perhaps, but you're also taking part in a conversation that deserves to outlast this meal and this day. Our hope is by staying open we can help bring greater awareness to, and appreciation for this important issue.

Muchas Gracias,
Mission Taqueria
—Oyster House is also open with a limited menu. And they have a similar statement which, as at Mission Taqueria, will be included with every menu they hand out.
—El Compadre and South Philly Barbacoa are closed for the day.
—W/N W/N Coffee is hosting a special Dia Sin Inmigrante event tonight. Details right here.
Hosting a special #diasininmigrantes event with R.O.C – donations accepted for @NSMPhilly – feat. trainings + speakers – sanctuary for all!

— W/N W/N (@WinWinCoffeeBar) February 16, 2017
—Royal Tavern has their collective fist up.
We stand in solidarity with our nations immigrants and will be closed tomorrow 2/16/2017 #strongertogether #resist pic.twitter.com/ODA0Twn0IW

— Royal Tavern (@RoyalTavern) February 16, 2017
Here's a final, important note. We're going to be updating this post all throughout the day, but we can't do that without your help. So let us know what's happening in your world as you open your restaurants, don't open your restaurants, make your dinner plans, or whatever. We can be reached in various ways.
Jason Sheehan's email: jsheehan@phillymag.com
Alex Tewfik's email: atewfik@phillymag.com
Foobooz on Twitter
Foobooz on Facebook
Or better yet, just fill in this little form:
---