Can Philly Restaurants Survive Even a Single Day Without Immigrant Workers?
We'll find out on Thursday.
---
This story has been updated.
Less than a week after the Pennsylvania Senate cleared a controversial bill restricting $1.3 billion in state funding to sanctuary cities, a new movement has been born. Un Día Sin Immigrante, a day without immigrants, will go down this Thursday, February 16th, according to a report on Tuesday afternoon by Billy Penn. 
Many of Philadelphia's immigrant residents — undocumented and naturalized — will not go to work, they will not open their businesses, they won't shop, or eat at restaurants, or buy gas. Their message is clear: "Mr. President, without us and without our contributions this country is paralyzed."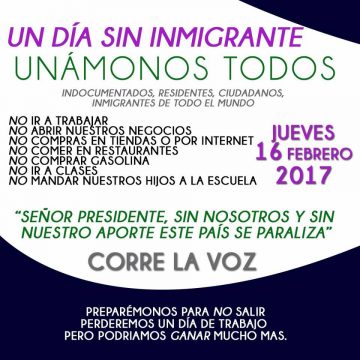 Obviously, the restaurant industry will take the brunt of the hit; Carlos Aparicio, the corporate chef of Zavino Restaurant Group, told Billy Penn's Danya Henninger that "seventy-five percent of the immigrant community in Philly works in the restaurant industry." He assures that Un Día Sin Immigrante is not a strike: "It's not coming to work to make an impact and show how important the immigrant community is to the whole country."
The situation is tricky, though — not showing up to work could cause a major blow to their employers' businesses.
Fortunately for some, restaurateurs including Stephen Starr, Greg Dodge (Zavino Group), Francis Cratil Cretarola and Cathy Lee (Le Virtu, Brigantessa), and Ben Miller and Cristina Martinez (South Philly Barbacoa, El Compadre) tell Billy Penn they would rather show solidarity with their employees than punish them for participating in the demonstration. Some restaurants will close for the day, while others will cap their reservations to lighten the workload — whatever needs to be done to help their employees take a stand.
For those keeping tabs, here's our running list of the restaurants getting involved.
If you support these efforts and want to get more involved, South Philly Barbacoa is always a great place to start. Miller and Martinez started a group called the Popular Alliance for Undocumented Workers' Rights, and every so often, they hold town meetings in their restaurant. The next one is February 20th, President's Day. Here's what's on the agenda:
Immigrants plan to walk off their Philly restaurant jobs on Feb. 16 [Billy Penn]
Sanctuary Cities Bill That Could Defund Philly Clears Pa. Senate [Philly Mag]
---
---