Palladino's To Open Thursday on East Passyunk
---
Chef Luke Palladino has made a name for himself at the Jersey shore and he is now opening on Passyunk Avenue in Philadelphia. The former Columbo's at 1934 E Passyunk Avenue has been transformed from a sandwich joint to Palladino's, an upscale Italian restaurant with bar, open kitchen and 80-seats inside. The location, visible from Broad Street also makes the restaurant a gateway to East Passyunk. An opportunity, Palladino's has taken advantage of with its striking striped exterior and large vertical sign. The opening is set for Thursday, December 18th and reservations are now available.
Inside, Palladino's has a large bar with windows that will swing open to the avenue in nice weather, an open kitchen (also visible from the street) and a dining room with padded walls, banquettes and dark wood. A collection of striking Fornasetti plates hangs vertically at the entrance to the dining area.
The kitchen features a wood-fired grill as well as an Italian oven that will be used exclusively to bake focaccia. The extensive menu will consist of seasonal Italian cuisine, wood-fired steaks, chops, seafood and handcrafted pasta.
---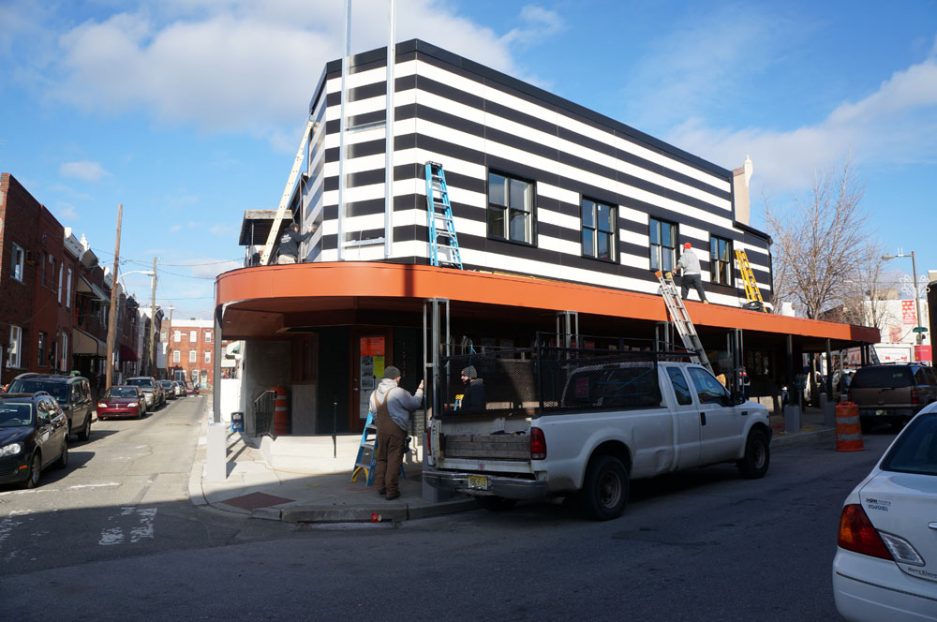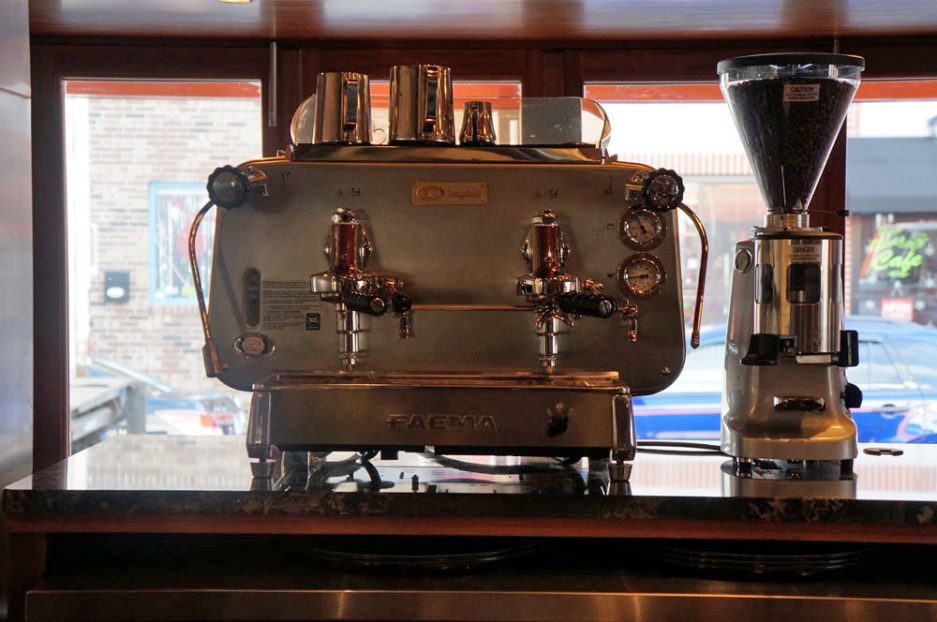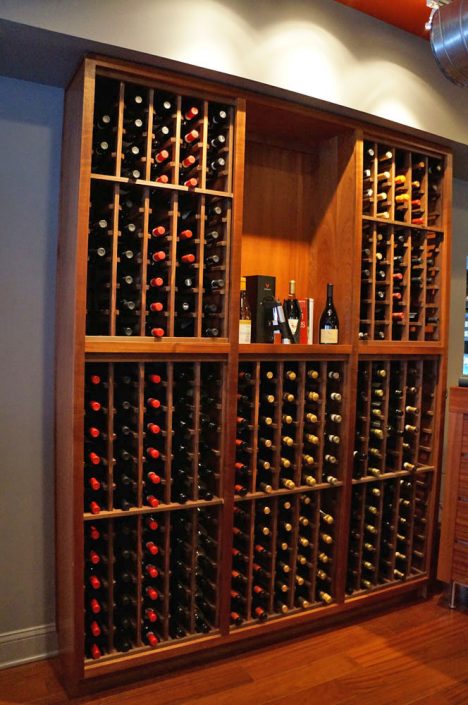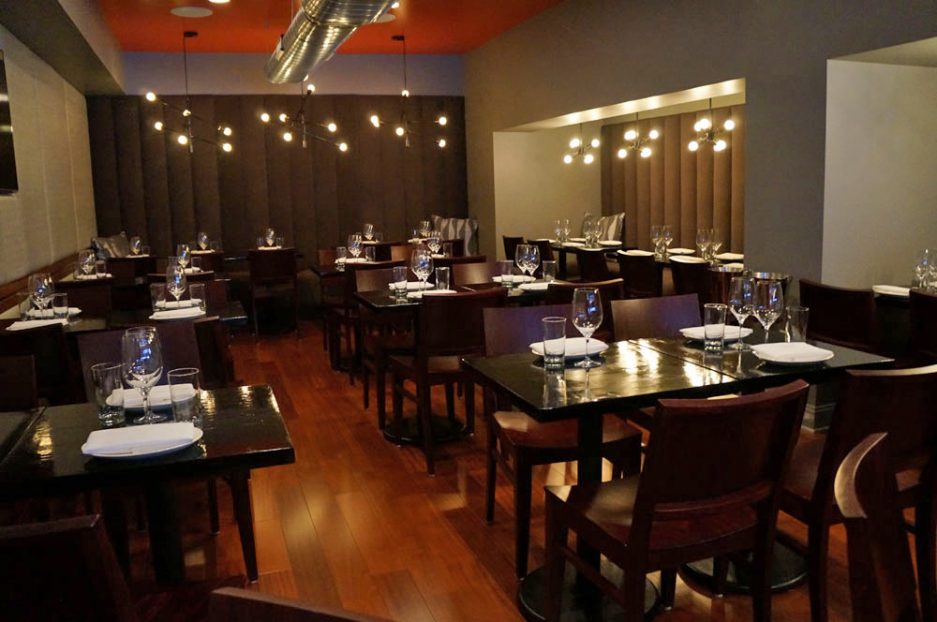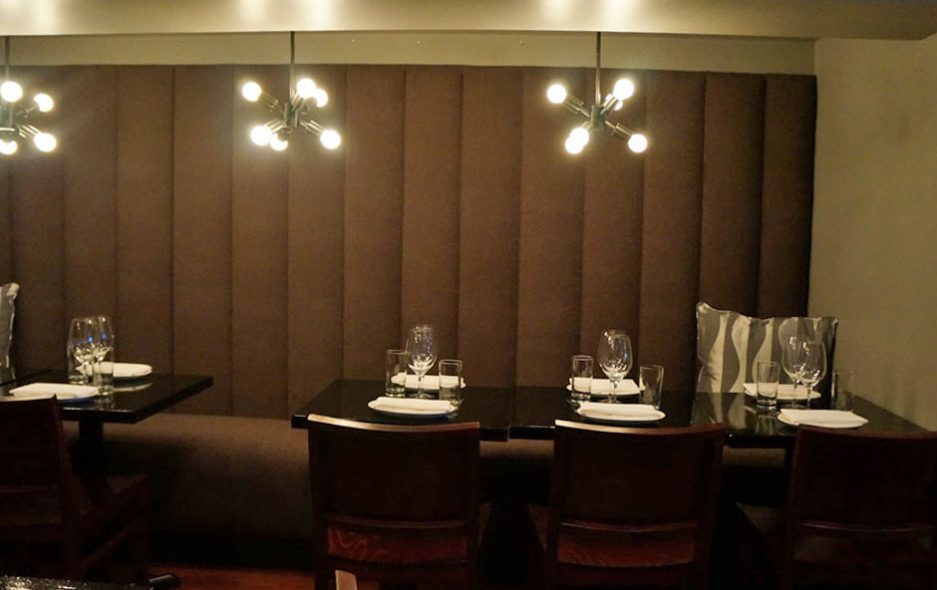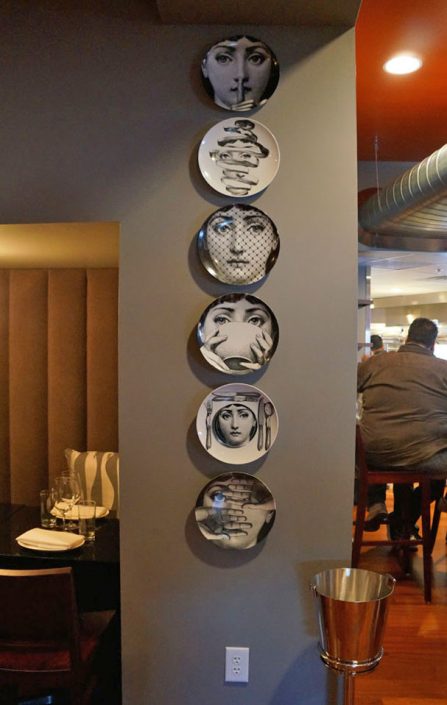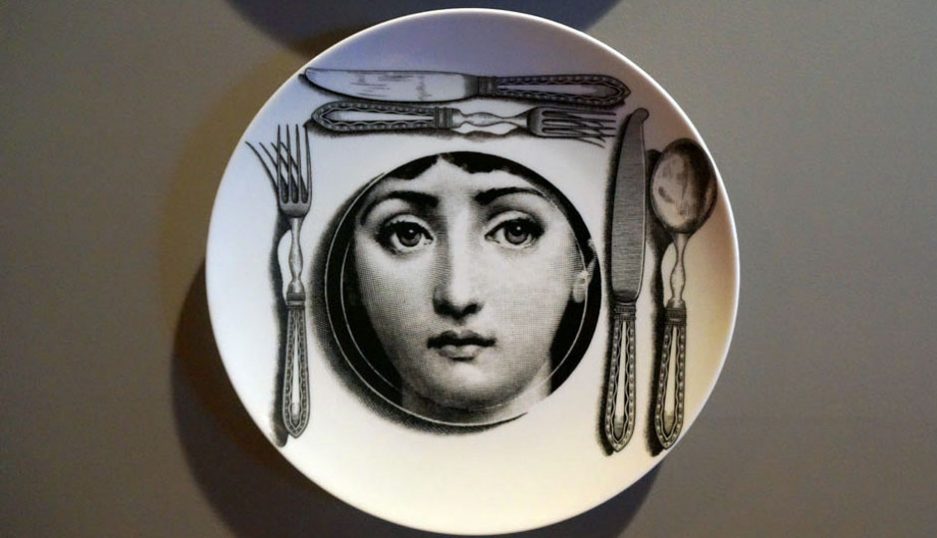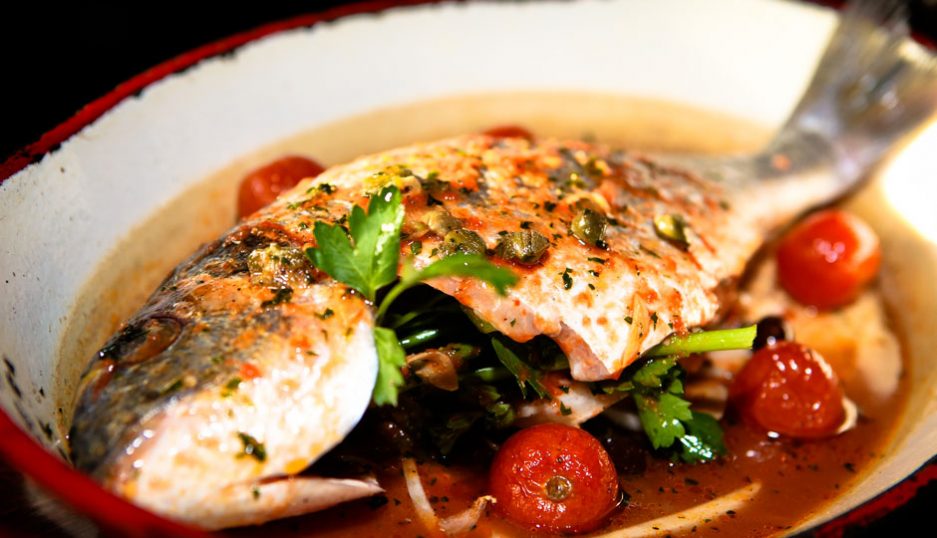 ---
PALLADINO'S DINNER MENU
ANTIPASTI
Salumi One ~ 9 Three ~ 13 Five ~ 19
finocchiona, prosciutto rotondo, mortadella, soppressata, gnoccho fritto, Tuscan Butter,
Formaggi One ~ 7 Three ~ 13 Five ~ 18
chef's artisan cheese selection
Truffled Grissini Four Piece ~12 Six Piece ~18
house made bread sticks brushed with white truffle butter, grated parmigiano & wrapped in prosciutto
COLD
Assorted Olives ~ 7
marinated with citrus & fennel
Peppers with Bagna cauda ~9
caciocavallo
HOT
Caciocavallo Scaloppine ~11
Sicilian cow's milk cheese sautéed with toasted garlic, mint & Sambuca
Mushroom Crespelle ~13
baked Taleggio cheese & wild mushroom crepe, local arugula,15 year aged balsamico
Black Truffle-Foie Gras Sformato ~12
roasted mushrooms, balsamico zabaglione
Roasted Duck Sausage & Grapes ~ 12
rosemary, sage, balsamic vinegar, goat cheese polenta
FRITTI
Calamari ~12
cherry pepper aioli
Stecchini Genovese – ~12
crisp skewer of sweetbreads, mushrooms, creste di gallo, veal & truffle polpette, mortadella, trugole cheese, mostarda aioli
Cauliflower & Zucca ~10
lemon tempura batter, pecorino cheese parsley & red pepper flakes
Truffle Arancini ~11
crisp risotto fritters filled with truffled sottocenere cheese & scallions
FOCACCIA
Focaccia Di Recco ~14
stracchino cheese, extra virgin olive oil
ZUPPA & INSALATA
Zuppa di Ceci ~9
chick peas, smoked pancetta, chilies, Tuscan oil
Grilled Radicchio Tardivo & Escarole ~10
mostarda vinaigrette, candied pecans, verde capra crostone
Tuscan Kale ~10
warm goat cheese, pistachio, shaved red cabbage, saba vinaigrette
HAND CRAFTED PASTAS
Tortelli Di Zucca ~24
butternut squash ravioli, sage brown butter & parmigiano reggiano
Casonsei ~21
candy wrapper pasta filled with roasted beets, smoked ricotta, crushed poppy seed burro fuso
Porcini Pappardelle ~25
oxtail ragu, horseradish, sunchoke & pine nut gremolata
Gnocchi ~21
Chef's Daily Preparation
Creste di Gallo, ~19
sugo di creste di gallo, chicken liver, sweetbread & mushroom ragu, shaved Parmigiano
Spaghetti alle vongole ~20
sautéed clams with garlic parsley, basil & tomatoes
Conchiglie con Pate di Polpo, ~19
octopus, garlic, capers, parsley
FROM THE WOOD GRILL
Bistecca alla Fiorentina (for two)(32oz.)~75
8oz. Kobe Rib Cap ~48
Daily Butcher's Cut MP
Signature Sauces (choose 1)
salsa verde antica
cabernet mustard
gorgonzola soubise
black garlic-porcini butter
Pollo Affinocchiato ~24
Cornish hen stuffed with pancetta and sage, garlic crostone, salsa peverada
16oz. Veal Chop ~38
all natural Dunedin veal, wild mushroom – prosciutto & sage crema
Daily Fish ~28
dried heirloom tomatoes, pickled sunchokes, basil, walnuts, peperoncino, taggiasca olives
Grilled Fish Spiedino ~26
skewered with, bay leaves, cipollini onions, salmoriglio sauce, grilled lemon
BRAISES AND ROASTS
Pork Osso Bucco ~28
rosemary citrus glaze, pickled mustard seeds, kale, walnut & farro risotto
Beef Cheeks ~26
red wine-saba glaze, horseradish gremolata, mashed root vegetables
Whole Roasted Fish ~ 34
in "crazy water" with Ligurian olives, grape tomatoes, fingerling potatoes, Calabrese chilies, garlic, parsley, marjoram
SIDES ~7
crisp crushed fingerling potatoes with rosemary
potato gateau, prosciutto, mortadella & cheese gratinato
parmigiana polenta
fagioli alla cacciatore, white beans with garlic, sage & tomato
Tuscan kale alla parmigiana
crisp brussels sprouts, sage, aged balsamico
roasted cauliflower, garlic, chilies & parsley
PALLADINO's DOLCE
Gelato al Gorgonzola ~10
passitio wine, sage-walnut cracker
Zuccotto ~ 10
orange-scented vanilla sponge cake filled with ricotta-pastry cream, candied orange-mascarpone-chocolateTartufo ~10
vanilla and Nutella gelato filled with maraschino cherries and hazelnuts, Valrhona chocolate ganacheAffogato ~ 10
vanilla gelato smothered in frozen limoncello, hot espresso, crumbled amaretti cookies, whipped creamItalian Cookies ~8
Hazenut torrone, chocolate biscotti "doppio", pistachio, chocolate salami, moscato zabaglioneLuke's Cannoli ~ 9
ricotta, cinnamon, candied orange, pistachios, chocolateApple Strudel ~ 9
brown sugar-apple-walnut strudel with caramel sauce & vanilla gelato
Palladino's will initially be open for dinner and late-night service, the kitchen is open till 1 a.m. In warmer weather, the restaurant will have an additional 40 seats available outdoors.
Palladino's [Foobooz]
---