Best Pre-Brunch In Philly: South Philly Barbacoa
---
The end of daylight savings time means that twilight falls early, but it also means an extra hour of daylight in the morning. The best thing to do with that hour? Get a jump start on weekend dining that beats the pants off of even the earliest of brunch options in town: South Philly Barbacoa.
Ben Miller and Cristina Martinez have been setting up their taco truck at 8th and Watkins in the pre-dawn hours every Saturday and Sunday morning for nearly a year. Though their clientele is largely made up of night-shift working immigrants, Miller and Martinez are poised to give anybody in South Philly who might otherwise end up in a 24-hour diner a run for their money, and if you haven't yet visited, you should definitely set your alarm clock.
The two kinds of tacos: Pancita (a chili-spiced grind of lamb stomach), and barbacoa (tender, shredded, slow-cooked lamb), alone would be worth the trip–each topped with a savory sauté of green peppers, carrot, onions, strips of cactus, and kernels of sweet corn along with the indispensable chopped raw onion, cilantro, and salsas rojo or verde. For the fearless, there's also a sunny mix of onion, habanero peppers and red jalapeños, cut into rings and marinated. The only other menu offering is a steaming bowl of consomé, the roasting liquid of the lamb, studded with chickpeas and rice and fragrant with epazote and chile de arbol. To drink? Aguas frescas or warm cups of atole, a sweet, thick beverage of milk plus something starchy and something sweet. The day we visited it was pale, punctuated with vanilla bean seeds, made by cooking down cookies and milk until the mixture is the consistency of pudding. Next week it'll be a pumpkin version made with pink banana squash from farmer Tom Culton, a regular patron.
The only thing better than the food is the hospitality with which Miller and Martinez run the show. This is not the truck that simply posts on Twitter and waits for the line to form. The two rush around in front of it–talking with regulars, packing to go orders, offering seconds, and bringing paper napkins should your pancita runneth over. When you can't take another bite you settle up and pay your tab. It feels like home cooking because it is–Martinez has been making these dishes along with her family, and pretty much every other family in Capulhuac, Mexico, since she was a child–and the warmth with which she and Miller run their truck surpasses that of many brick and mortar spots in town. Though their goal is one day to open their own indoor space, for the moment they're bringing both serious food and warm service to the streets.
South Philly Barbacoa operates Saturday and Sunday, at 8th & Watkins, from 5:30am until they sell out (typically about noon).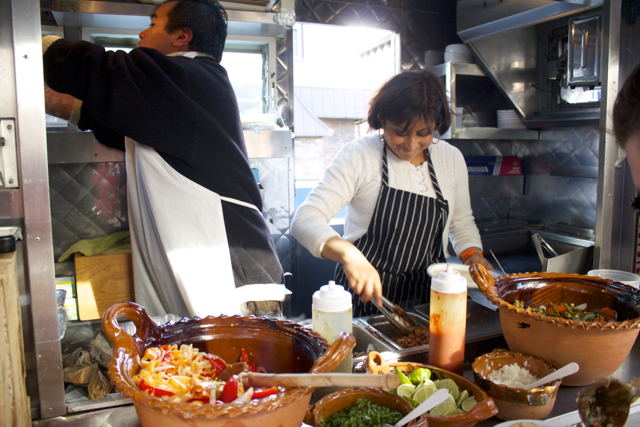 ---