First Visit to Tria Taproom
---
Tria Taproom quietly opened Saturday evening at 20th and Walnut Streets. The former Rum Bar has been totally transformed into a minimal space where the focus is clearly on the bar's forty taps that pour beer, wine, cider and soda. We stopped in shortly after Tria Taproom opened yesterday at 4 p.m., to check out what was pouring as well as what was coming out of the kitchen.
In addition to Tria's well-trained staff, Tria Taproom welcomes you with an iPad. From the iPad menu you can check out what's available to drink and if you're a true nerd, you can see just how much is left in the keg. You can also do this from your smartphone as well at tria.bevchek.com.
The menu is broken down into three sections, cheese, snacks & salads and flatbreads. Everything that came past us smelled outstanding. In our short visit we tried the burrata salad with crispy shallots and the duck flatbread that included both duck confit and foie gras. Both dishes were rich and delicious.
Tria Taproom is currently opening daily at 4 p.m. with lunch hours coming in a few weeks. We asked owner Jon Myerow if this Tria might offer the popular Sunday School specials of the Tria Wine Bar locations. Myerow was non-committal on that but did say it was difficult to discount some of the rare beers found on the Taproom's list. Especially the Nebraska Brewing Co.'s Hop God Chardonnay Barrel Aged Belgian IPA, it might just be the most expensive beer in America.
---
Tria Taproom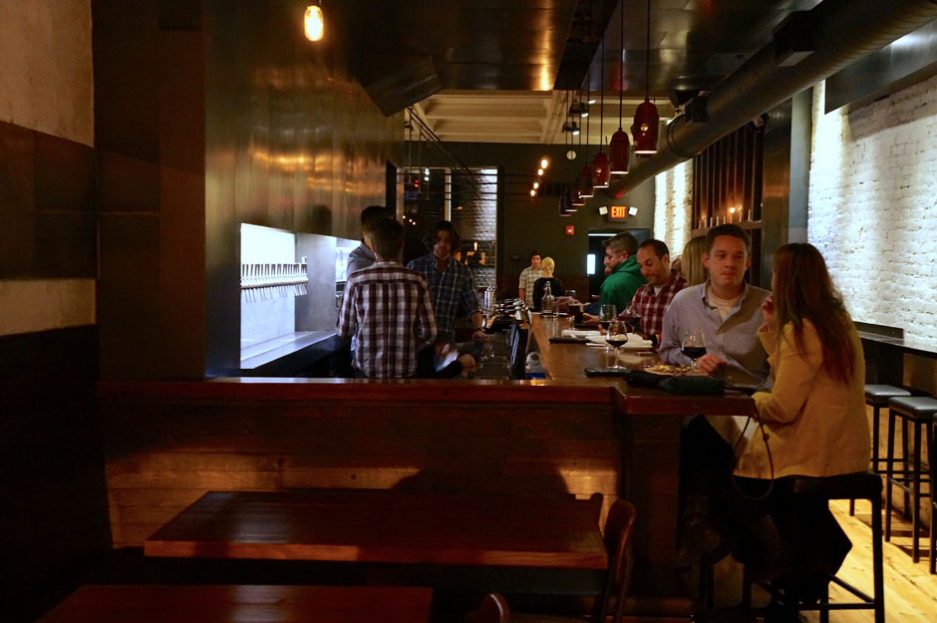 ---
Tria Taproom [Foobooz]
---