News
SXSW Day 1: Philadelphia Doesn't Want to Be the Silicon Valley of Anything
The city kicked off its South by Southwest initiative with a strong message this weekend. Here's what the City of Brotherly Love is up to in Austin.
---
Philadelphia wants the world to know that it's not the Silicon Valley of anything, and down in Austin, Philly entrepreneurs are practically screaming this out on every busy downtown block at South by Southwest this year. The "not Silicon Valley" attitude is also how Philadelphians welcomed the rest of the world to its first ever Amplify Philly house.
I got to the house about a half hour after it opened its doors at 10 a.m. on Sunday, its first day open to SXSW attendees. Things were calm this early on, but the house was loud with its explosive purple, pink and blue "Amplify Philly" branding. Members of Witty Gritty, REC Philly and volunteers were in place on the first and second level of the converted Pour Choices restaurant as they had been since 5 a.m. that morning. At every moment they made sure the house was stocked with La Colombe Draft Lattes and GoPuff treats. By lunch, they would add mini Tony Luke sandwiches and TastyKake sweets, and in the evening, Visit Philadelphia would scatter hoagies and Philadelphia postcards across tables and the bar.
But food, drinks and free stuff weren't the only things they disseminated. The "not Silicon Valley" message was on the Amplify Philly programming stage that morning as five panelists (Chris Wink of Technically, Bret Perkins of Comcast NBCUniversal Brigitte Daniel of Wilco Electronic System, Francisco Garcia of Philly's Department of Commerce, Rick Nucci of Guru, Maria Ploessl of Minnestar) gave their hot takes on why cities shouldn't frame their startup communities as the "Silicon Valley of X."
A comment from Comcast's Bret Perkins summed up the overall sentiment:
"There is one Silicon Valley and Silicon Valley is far from perfect. If we're looking at what we really want, we don't want that. You may want the economic growth and activity but you want a whole lot of other things. You want a more inclusive environment and an environment that thinks people centric so it's not tech for tech's sake. It's about how tech does certain things, how we can grow businesses and how we can create a lifestyle and an inclusive environment. We want jobs and economic growth but we also want a much broader array of people with participating. So when people say we want to be like Silicon Valley, we don't want to be like that. That's nice. But, that's not us. We got our own thing."
The Amplify Philly House's first panel of #SXSW2018 is talking about EVERYTHING: education; talent retention; inclusion; and most of all, how Philly doesn't need to be the Silicon Valley of anything pic.twitter.com/nAslKrJ6NK

— Fabiola Cineas (@FabiolaCineas) March 11, 2018
As I moved in and out of the house throughout the day I wondered, what really is the purpose of the house anyway and why do sponsors like Comcast, Startup PHL and Campus Philly even bother to pour funds into the initiative? I talked to all kinds of people at the house about this. Visitors from all over the world (Portland, Denver, Brazil and Korea) told me they weren't previously aware of all the innovation and creativity coming out Philly. The house would make them remember Philadelphia and all the people they met and things they learned. For Philadelphians behind the Amplify Philly effort, the house created a home base and a distinguished platform to tell visitors about their startups and music.
I'll admit, I was unmoved by the thought of a giant Philly house at SXSW. While this would be my first year at the mega festival conference, I wondered whether people would really care to walk into a house branded "Amplify Philly," with all the misinformation (or lack of information) out there about the City of Brotherly Love. But people came and stayed. One woman from Houston told me she came for the cheesesteaks and stayed for more than two hours of programming. I think this was the case for a lot of people.
Here are some more highlights from day one at SXSW:
In the name of competition, I felt compelled to check out other city activations. Here's how they compared:
Washington, D.C.
New York
Michigan
Atlanta
The calm before SXSW attendees arrived at the Amplify Philly house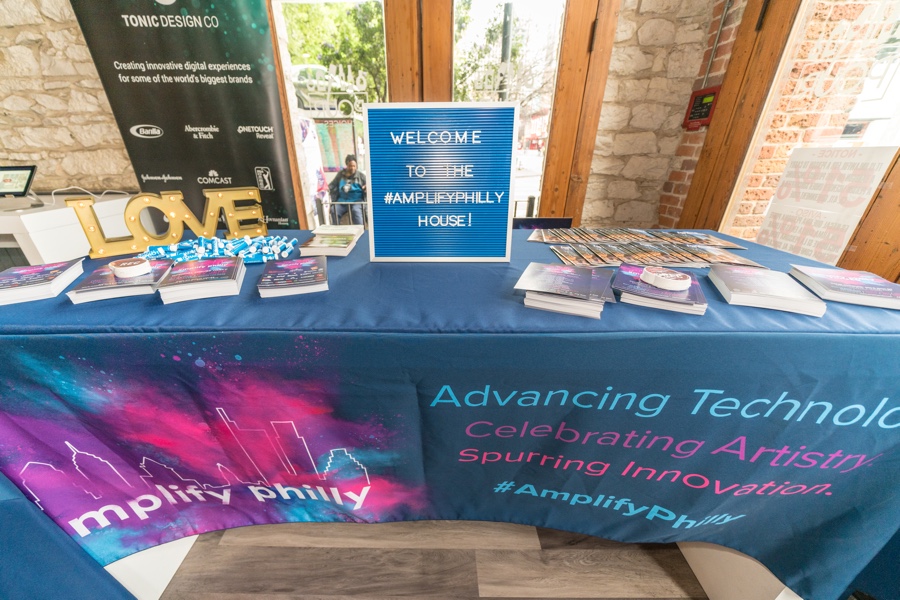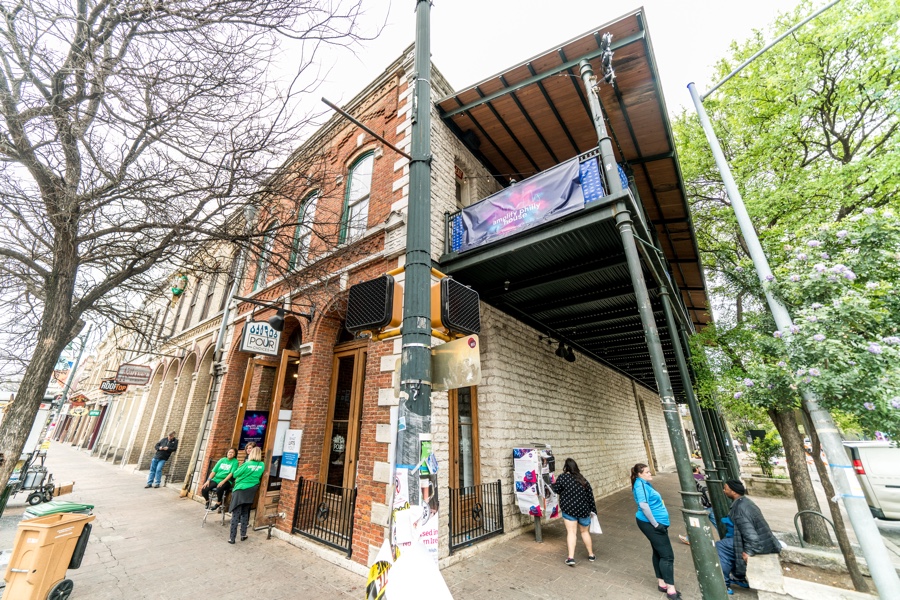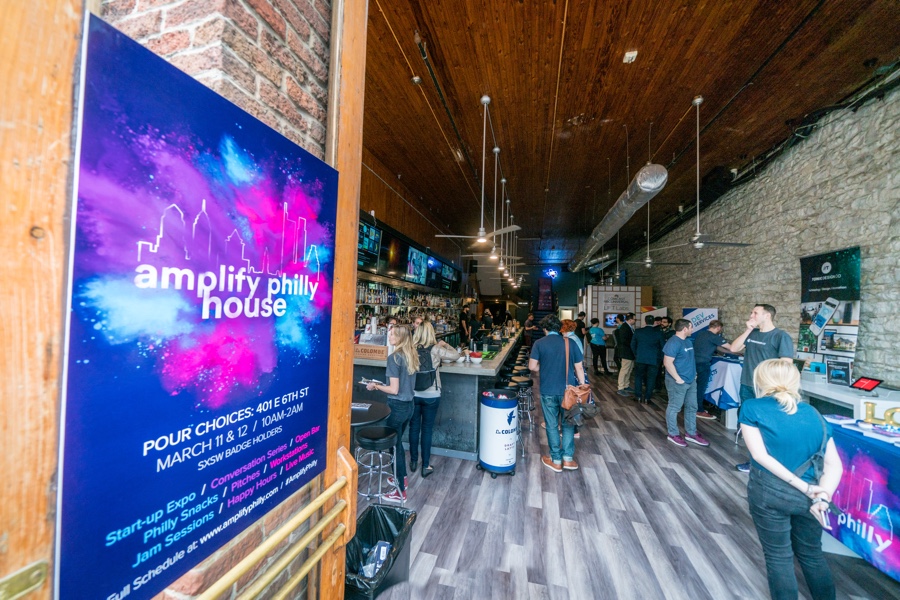 Philly business leaders spotted at the house on Sunday and Monday
Chill Moody kicked off Visit Philadelphia's Homesick Happy Hour
And of course @ChillMoody kicked things off at Philly's #SXSW house with an Eagles chant!! pic.twitter.com/5wm8MDn03M

— Fabiola Cineas (@FabiolaCineas) March 12, 2018
Philadelphians outside the Amplify Philly house:
Stimulus founder and CEO Tiffanie Stanard led an official SXSW panel
A #SXSW panel with women in charge. They're dropping gems about how to create meaningful connections. Here are 6 strategies to restructure your network in 6 months: pic.twitter.com/JHNWA6yb2r

— Fabiola Cineas (@FabiolaCineas) March 11, 2018
GoPuff hosted a virtual reality activation with Hershey's
https://twitter.com/gopuff/status/972562306365313025
Comcast carved out its space at the trade show
https://twitter.com/LIFT_Labs/status/973290929674125314
Penn startups rolled deep in Austin, too
Our wonderful @Penn startups at the Penn Alumni meetup in Austin for #SXSW2018. #SXSW pic.twitter.com/yQR7EbI4Mv

— Penn Innovation (@PennPCI) March 12, 2018
The evening ended with a party hosted by DJ Jazzy Jeff and others
https://twitter.com/AmplifyPhilly/status/973278183033311232
---
---