Philly Biz Leaders' Must-Read Books of 2018
Here's what local CEOs and executives are digging into this year.
---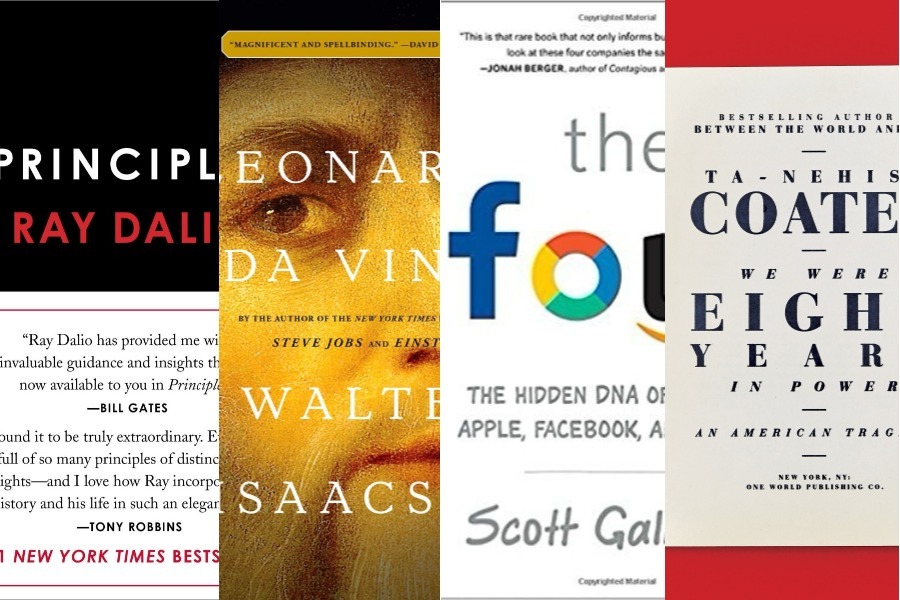 If you're looking to expand your reading list for the year, Philly business leaders have got you covered. We asked local CEOs and executives to share their must-reads for 2018. Here's what they said:
Geoff Gross, Medical Guardian
Tribe of Mentors: Short Life Advice from the Best in the World by Tim Ferriss. I'm always compelled to learn how top performers in every field have been able to build tremendous teams through innovation and have seen great success in doing so throughout their organization.
Meryl Levitz, Visit Philadelphia
I just cracked open The Undoing Project by Michael Lewis. I read lots of his books (Moneyball, The Big Short, The Blind Side, Liar's Poker, etc.). I also want to read the new book, Manhattan Beach by Jennifer Egan and The Trespasser by Tana French. I plan to read another book by Donna Tartt, but haven't decided which one, because I loved The Goldfinch so much.
Harold T. Epps, Philadelphia Department of Commerce
The two books on my radar for 2018 are We Were Eight Years in Power: An American Tragedy by Ta-Nehisi Coates and The Presidents Club: Inside the World's Most Exclusive Fraternity by Nancy Gibbs & Michael Duffy. In our current political times, I think an appreciation for and understanding of the transfer of power at the highest levels is extremely important. I look forward to reading The Presidents Club, which explores the relationships that exist amongst U.S. presidents. On a personal note, as an African American man who grew up during the era of segregation, I am intrigued by Ta-Nehisi Coates and his insight as a young, black intellectual.
Matthew Abraham, Westchester Environmental LLC
The books on my radar are The Art of Risk by Kayt Sukel and Mindshift by Barbara Oakley.
Todd Carmichael, La Colombe Torrefaction
To Shape a New World: Essays on the Political Philosophy of Dr. Martin Luther King, Jr. by Tommie Shelby. Doctor King's work and presence lives on in these works, pointing a way forward for any voter, activist or civically engaged citizen. Now, more than ever, I look forward to this read.
The Global Encyclopedia of Informality, Volume II: Understanding Social and Cultural Complexity by Alena Ledeneva. This unique work collaborates with more than two hundred scholars across the globe, illustrating how informal practices are deeply embedded across the planet, playing a crucial role in truly "getting anything done" while still remaining underestimated in policy-making procedures and business life. The book puts international human behavior into perspective, and is wholly mesmerizing.
Jamie Maatkare Bracey, Temple University
I plan to read In the Shallows: What the Internet is doing to our minds by Nicholas Carr.
Stephen Spinelli Jr., Thomas Jefferson University
The New Localism by Bruce Katz and Jeremy Nowak. I'm looking forward to reading it because the university is at the heart of individual, community and economic development. The books provides insight and guidance in understanding that emerging dynamic.
Eisenhower: Soldier and President by Stephen Ambrose. Dwight D. Eisenhower has steady leadership across time and circumstance, and in both calm and calamity.
Tayyib Smith, Little Giant Creative and the Institute of Hip Hop Entrepreneurship
I tend to read material ranging in subjects from art to tech, science, womanist literature, anthropology, history, African Diaspora and public policy. This year I'm looking forward to reading the following:
The Deepest Well: Healing the Long-Term Effects of Childhood Adversity by Nadine Burke Harris. I saw Nadine speak at the Free Library. She is doing exceptional work in trauma-informed care.
They Can't Kill Us Until They Kill Us by Hanif Abudurraqib. Hanif is the most exciting young essayist and poet. He has a powerful voice and prose that more people need to hear.
Outlaw Culture by bell hooks.
Madness and Civilization: A History of Insanity in the Age of Reason by Michel Foucault. The title reminds me of your commander-in-chief.
Shine: The Visual Economy of Light in African Diasporic Aesthetic Practice by Krista Thompson. I came across this at Prizm Art Fair in Miami.
Global Dystopias by Junot Díaz. Junot is one of my favorite fiction authors. The Dystopian saga is like 1984, Brave New World, The Handmaid's Tale, and Fahrenheit 451. It describes our contemporary times in eerie and ironic detail. Plus it's healthier than watching the nightly news.
How We Get Free: Black Feminism and the Combahee River Collective by Keeanga-Yamahtta Taylor. I've been exploring feminist authors like Nikki Giovanni, bell hooks and Audre Lorde since 2014. I recommend that all men who aspire to be in leadership positions do the same. The future is female.
Tasting Freedom: Octavius Catto and the Battle for Equality in Civil War America by Daniel R. Biddle and Murray Dubin.
Capitol Men: The Epic Story of Reconstruction Through the Lives of the First Black Congressmen by Philip Dray.
The Color of Law: A Forgotten History of How Our Government Segregated America by Richard Rothstein. I don't believe you can make systemic change in America if you don't understand the public policy that manufactured inequality in the U.S. for black and brown communities. I'm also reading these as research for the Dream Deferred Project.
Hybrid Cultures: Strategies for Entering and Leaving Modernity by Nestor Garcia Canclini.
Exponential Organizations: New Organizations Are Ten Times Better, Faster, and Cheaper Than Yours (and What to Do About It) by Salim Ismail. This is a re-read. It's the best business book I've read regarding the future of the 21st-century platform economy, and the intersections of commerce and technology.
The Empathic Civilization: The Race to Global Consciousness in a World in Crisis by Jeremy Rifkin is nothing short of brilliant. He has a radical sensibility about the possibility of a positive future and a more ethical utopian abundant society.
Denise M. Morrison, Campbell Soup Co.
I started reading a book called Sapiens: A Brief History of Humankind by Yuval Noah Harari.
Joan Lau, Militia Hill Ventures
A Beautiful Constraint: How To Transform Your Limitations Into Advantages and Why It's Everyone's Business by Adam Morgan and Mark Barden
Washington's Secret War: The Hidden History of Valley Forge by Thomas Fleming
Fire and Fury: Inside the Trump White House by Michael Wolff
The Outsiders: Eight Unconventional CEOs and Their Radically Rational Blueprint for Success by William N. Thorndike
Jack Lynch, Main Line Health
Unconventional Leadership: What Henry Ford and Detroit Taught Me About Reinvention and Diversity by Nancy Schlichting, CEO of Henry Ford Health System. This book is written by a fellow health care CEO, and I am excited to read it. I am hopeful that this book will provide inspiration as we work to improve patient experience and quality in this ever-changing health care landscape.
Churchill: The Power of Words by Winston Churchill and Martin Gilbert. This book is a collection of essays from Churchill's early childhood until just before his death. It documents his lifetime of addressing public issues he cared about most. I think this is an important message in today's political climate, especially as we face changes in health care policy.
Sick: A Memoir by Porochista Khakpour. I think it's always important to take a step back and explore the health care setting from the perspective of our patients. This book does that through the eyes of a woman fighting a years-long battle with Lyme disease and searching for relief.
The Amazon Way: 14 Leadership Principles Behind the World's Most Disruptive Company by John Rossman. Just like Disney, Amazon has created a culture focused on the consumer. As we seek to deliver a patient-centered experience, I think this could be a thought-provoking read for anyone working in the health-care industry.
Alexander Hamilton by Ron Chernow. I had the opportunity to see Hamilton last year and really enjoyed it. After learning that this book was used as the basis for the play, I'm adding it to my list of must-reads.
Thomas A. Kingsbury, Burlington Stores Inc.
The books on my radar are Principles by Ray Dalio, Shoe Dog by Phil Knight, Thank You for Being Late by Thomas Friedman, and Leonardo Da Vinci by Walter Isaacson.
Kate Marlys, Philly PR Girl
I was given In the Company of Women: Inspiration and Advice from Over 100 Makers, Artists, and Entrepreneurs by Grace Bonney and like most busy people, I haven't had the chance to read it yet. But this year I'm making time! As a woman entrepreneur our biggest supporters and influencers tend to be other women. I'm excited to read this book because I find that often the most inspiration can come from someone in a different field and background. This book features 100 women across all industries, ages, ethnicities, religions, sexual preferences, and more.
Richard Vague, Gabriel Investments
I'm always on the prowl for great new books since I run a non-fiction book blog.
I can't wait for The Age of Eisenhower: America and the World in the 1950s by William Hitchcock, as he reassesses the Eisenhower presidency. Most think of the 50s as a placid decade, but it was every bit as turbulent as the 60s given the global aftershocks of World War II.
I'm determined this year to tackle Richard White's The Republic for Which it Stands: The United States During Reconstruction and the Gilded Age, 1865-1896. It's a neglected era in which America first became the world's largest economy. It featured plenty of tumult like the Panic of 1873, courtesy of Philadelphia's own Jay Cooke, reputed to have been the world's richest man.
On the lighter side, I'm also planning to get Mario Erasmo's Strolling Through Florence: The Definitive Guide to the Renaissance City. My wife is Italian, we were married in Florence and it may well be our favorite European city. How could I resist?
And I've been reading a lot about China so just cracked open David Lampton's Following the Leader, which fills in the gaps from Deng Xiaoping to Xi Jinping.
As for guilty pleasures, I plan to finally dive into Donald Spoto's gossipy 1983 bio of Alfred Hitchcock, the Dark Side of Genius.
Maxine Gowen, Trevana Inc.
A few books I plan to read are Drown, by Junot Diaz, The Mirror and the Light by Hilary Mantel, This Could Hurt by Jillian Medoff, and The Afterlives by Thomas Pierce.
Peter J. Gonzales, The Welcoming Center for New Pennsylvanians
Beyond the Sandstorm: A Woman's Journey from Baghdad to Philadelphia by Malka Al Saadi. The author is an amazing woman, a talented physician, and humanitarian who is one of the more than 200,000 immigrants living in our city. Her story can help me better understand the challenges and opportunities newcomers bring to Philadelphia.
The Monk of Mokha by Dave Eggers. A few people at the Welcoming Center are from Yemen and have shared their personal accounts of the beauty and rich cultural heritage that has been consumed by conflict, famine, and disease. This book is a true story that will give me greater insight into what is happening in Yemen today.
The New Localism: How Cities Can Thrive in the Age of Populism by Bruce Katz and Jeremy Nowak. Our work at the Welcoming Center promoting immigrant integration and economic advancement has become a model for other communities across the country. I'm looking forward to gaining insight into how we might help shape national policies by focusing on our local work.
The Gardens of Democracy: A New American Story of Citizenship, the Economy, and the Role of the Government by Eric Liu and Nick Hanauer. Justin Trudeau says it's one of his favorite books. Need I say more?
The Color of Law: A Forgotten History of How Our Government Segregated America by Richard Rothstein. This book is a factually based historic perspective on how our government policies promoted blatant discriminatory practices and contributed to urban poverty. There's no more important work than addressing poverty. You can't know where you're going if you don't know where you've been.
On the Shortness of Life by Seneca. I've always been saying how life is short but now as I pivot towards the second half of my life, I realize life is as long as it needs to be. So, try to live everyday with intention.
Dennis Glass, Lincoln National Corp.
Rise of the Robots by Martin Ford and Leonardo Da Vinci by Walter Isaacson.
RoseAnn B. Rosenthal, Ben Franklin Technology Partners of Southeastern Pennsylvania
The New Localism: How Cities Can Thrive in the Age of Populism by Bruce J. Katz and Jeremy Nowak.
Innovation Blind Spot: Why We Back the Wrong Ideas—And What to Do About It by Ross Baird.
How to Be the Startup Hero: A Guide and Textbook for Entrepreneurs and Aspiring Entrepreneurs by Tim Draper.
I'm looking forward to reading those three because I'd like to get great insights on entrepreneurship and impact from partners of ours.
The Land Beyond the Sea by Sharon Kay Penman. I'll be reading this because I love the Game of Thrones book series. Fiction in the middle Ages is not a far leap.
Angela Val, Philadelphia Convention & Visitor Bureau
Hillbilly Elegy by J.D. Vance.

I want to learn more about the culture of a large part of America that I know nothing about.

Quiet by Susan.

I am an introvert and I want to know we successfully function in a society that values extraverts.
Alan Miller, Universal Health Services
I am fond of all the books by legendary basketball player and beloved coach John Wooden. Among my favorites is Wooden: A Lifetime of Observations and Reflections On and Off the Court.
Steve Klasko, Thomas Jefferson University
The Four: The Hidden DNA of Amazon, Apple, Facebook and Google by Scott Galloway. As someone who would stand in line overnight if Apple sold broccoli, I picked this first because I have watched Apple grow from a "cool counter-cultural company" to a massive marketing empire. I have met Scott Galloway and he appropriately excites and warns of the technology disruptions and perils of "The Big Four."
The Power of Moments: Why Certain Experiences Have Extraordinary Impact by Chip Heath and Dan Heath. First of all, their previous books Switch and Made To Stick left me with some ways to think differently, which is what it's all about. As someone who enjoys taking a "no limits" approach, the concept of not waiting for something to happen but rather creating your, or your customer's, "wow" experiences is intriguing.
Bless This Mess: A Picture Story of Healthcare in America (* This is Not a Children's Story: It's Scary) by Stephen Klasko. Yes, I know its shameless self-promotion (you can buy it in March) but the concept is that this illustrated, easy to read primer explains how the United States went from a fragmented, expensive, inequitable and occasionally unsafe healthcare delivery system to being inducted into the Intergalactic Council on Healthcare (the most prestigious gathering of excellent health systems across the universe) by embracing creative positive disruption, debunking old myths and yes, even sending out believable understandable bills!
Marc Brownstein, Brownstein Group
Principles by Ray Dalio and The Four: The Hidden DNA of Amazon, Apple, Facebook and Google by Scott Galloway. I prefer reading non-fiction/business books over fiction books, and I think that these books are on the leading edge of where business is going.
---