I Love My Job: PR Maven Rakia Reynolds
Philly's coolest exec shares her social media pet peeves and tells us the one local restaurant she can't live without.
---
If Philadelphia held an annual competition to name the city's coolest executive, Skai Blue Media founder and president Rakia Reynolds would win by a landslide every year. I mean, who wouldn't want a boss who embodies the very creativity they espouse in their work? Or a boss whose actions scream optimism and unrelenting determination? Reynolds' team at Skai Blue Media works with big-name clients like Ashley Graham and Serena Williams, and Reynolds, also an entrepreneur in residence for Visit Philadelphia, was recently a big force behind Philadelphia's creative bid for Amazon's second headquarters. Though Reynolds seems to be everywhere — she's often on a plane several times a week — she's got a lot to say about what it means to stay grounded. You'll be surprised how much you still don't know about this local powerhouse.
I grew up in… Union County, New Jersey and also in Elizabeth and Hillside, New Jersey.
I ended up in Philadelphia because… I came here from college. Temple was like one of the only schools that I applied to, and I ended up here because I got in!
My favorite book growing up was… A Wrinkle in Time. It is still my favorite book! It was my getaway. It was my escape. I'm a sci-fi nerd so this was my first real entry into sci-fi. I love Madeleine L'Engle and the books she's written. And of course, you know that I am excited about the movie coming out next year. They've tried to do iterations of A Wrinkle in Time in the past, but they've been horrible. I was always like, "That is not how Charles looked in the book!" So I'm excited because Ava Duvernay is amazing, and I'm pretty sure it's gonna be great.
A lesson I took away from the book was… to dream big. Now, as an adult, I think about dreaming and changing things, like how you put things out into the universe and those things come back to you. As a kid, that was my first way of saying, "There's something much greater than you. There are universes that are much greater than you. There are dimensions that are out there that are much greater than you." It made me believe that there was something that was much greater than the thing that I was standing on.
I'm really afraid of… snakes. In real life, and on the ground. So people that are snakes and the actual reptiles. I dream about snakes.
I started my business… after a series of unfortunate events. I was a television producer and a magazine producer, and I got laid off in television, and magazine started to change. I decided to take destiny into my own hands.
I'm inspired by… my kids. They inspire me to do better and to be better every day. I always tell my team, "Let's be better. Let's let our last project or our last status report or our last event be better than what we did before." And my children inspire me to be better than how I was the day before.
The biggest struggle I had starting my business was… building the right team. It took me several bumps, and there's no navigation system when it comes to business. You can't put in the destination and then someone come out and say, "Make a left turn, make a right turn," or "You've made a wrong decision and this is the detour." I made a couple of bad detours in the very beginning. Actually, I made some wrong detours in the very beginning, which led me to the correct road. So every mistake that I made in building the business has allowed me to open my eyes and see things through a different perspective and to make accurate decisions.
I decided to call the firm "Skai Blue Media" because… Skai, in Mandarin, the name means "to love." One of my friends was living in Japan at the time, and we were thinking of names for my daughter, so he said, "You can name her Ai," which means "love," and I said, "No, my husband's not going to go for Ai," so I named her "Skai", meaning "to love." And when I was a TV producer before I started my company, the executive producers would constantly say "Rakia, you always create this clear blue picture of what it is that we need to do. Every time we talk to you, the sky is so blue afterwards." So that's the impetus of Skai Blue Media — creating this clear blue picture. Then there are other levels to it. The color blue – I studied the psychology of colors – is the color of trust, honesty, and sincerity, and when I started the business, I wanted to be super honest, super transparent. I didn't want this to be a typical communications agency. I wanted it to be outside of the box. So when you read the name, it's "I love blue" – I love trust, honesty, and sincerity.
Being creative is all about… not setting limitations. Not having any sight of the wrong answer but completely letting yourself go to imagine what is next and what can be possible. It goes back to our name, Skai Blue; being creative means that the sky isn't the limit. You can do anything. That's how we approach business. We come up with the most grandiose ideas; sometimes they are delusions of grandeur, but we go after them. Being creative is being able to operate the side of your brain that executes on all of those big ideas.
A client I was really excited to land was… all of them, really. From the 12-year-old social activist that we work with, Marley Dias, to body activist Ashley Graham, to the greatest athlete of all time, Serena Williams. Being an entrepreneur in residence for Visit Philadelphia and being able to be the creative director for the Amazon bid are exciting opportunities. We've worked with former princesses and Project Runway winners. We've worked with some pretty awesome people. I couldn't narrow it down to one.
Something most people don't know about Serena Williams is… in addition to being the greatest athlete of all time, she is the ultimate creative. She creates so much. For example, Serena does nail art. I remember once I was looking at her nails, and she had outlined the word "POW," and I was like, "Wow, who does your nails?" and she said, "I did." Serena has paintings in her home that she's painted. She's constantly creating. Sometimes she sews little costumes. She does a lot of parties at her house and everyone dresses up. She comes up with her own dances; she choreographs dances. People don't see that side of her, and I don't know if she shows a lot of that on social. But she's super creative and she's funny, funny, funny. She will have you cracking up.
Working with a client like Serena Williams has taught me… to know that people are people. Sometimes, we look at people by their titles and what their accomplishments are, but when it's all said and done, people are people. We are a species where we love human contact and human interaction. No matter how big your accomplishments are, you're still a person. I get to meet so many people and at the end of the day, people are people.
Someone I haven't worked with but I hope to is… Oprah. Who wouldn't want to work with Oprah?
My biggest social media tip is… be clear and consistent across all of your platforms. You never know what platform somebody's going to look you up on, whether it's your Linkedin, your Twitter, your Facebook, your Snapchat, or your Instagram. They should all be synthesized and they should all match. If your bio is different across platforms, I don't know which one to believe, and I don't know which one you really are. I would say consistency is key.
A social media pet peeve of mine is… when people don't use their real name. If you're building a brand on social, I want to know who you are. Typically, we look on social to understand. I break it down to mission and vision. Your mission is your who and your what. So if I don't know what your mission in life is — your who and your what — why do I want to connect with you? And your vision is typically your why. So if I don't understand why you're doing what you're doing, then it's less likely for me to stay as engaged with you across platforms. So being your authentic self, your true self, your real self is important when you're building a brand online. Like if your name is Jim Forten on Facebook but on Instagram, it's jimbob0077, that's a problem.
A challenge I'm always up against in PR is… the constant flux because technology enables us to do a lot more than we've done the week before, the day before, the month before, the year before. And with editors and journalists, the way they respond is changing. So it might not be best to contact them via email anymore. You might have to tweet at them or DM them on Instagram. Technology has opened the floodgates for us to do so much more and to stay much more connected. So the industry has become fragmented because of how people respond and the way they receive information.
Designing the #PhillyDelivers pitch for Philly's Amazon HQ2 bid was… one of the most intense projects that I've ever worked on. It was rewarding, it was eye-opening and fulfilling.
Balancing my work life and family life is… a laugh. I don't believe that there's ever true balance. There's the art of the juggle and being able to be okay with if you've dropped a couple things or if you've made a mistake every now and again. I have to be okay with saying "I'm sorry." "I'm sorry that I missed ballet practice" or to my husband, "I'm sorry that I'm short tempered," to an employee, "I'm sorry that I didn't approve that travel thing you were supposed to do which held you up." So the work-life balance, I think it's funny when people ask. I'm at a time in my life when I've not mastered it. Maybe later on when my kids are older and my company is a little more settled. But right now, when everything is hot, there's no real balance.
My Halloween costume was… I didn't get dressed up for Halloween. I have three kids. I dressed them up. But when we went trick-or-treating, some of the parents thought I was dressed up as Harry Potter because I wear the quirky glasses and long black jacket. And I was like, "Nope, that's my everyday look. I'm just a mom." And people were like "But your glasses?" And I was like, "Nope, these are my everyday glasses. These are not my Halloween glasses."
A celeb closet I'd love to raid… is Tracee Ellis Ross's. I would love to raid her closet because then I could get to Diana Ross' closet as well. I know she's got some Diana Ross gems in there.
Personal style is important to me because… you are your brand. It's your only differentiator.
The strangest thing about my job is… I travel so much, and I'm in front of all kinds of people. The crazy thing is never in my life did I think that my week would look like how it does now. Here's a recent week: sitting in front of the greatest athlete of all time and then the next day, sitting in a meeting, interviewing the mayor, two days after that, sitting at a meeting at the largest privately-controlled technology company in the world, and then being able to work with as many disruptors as I do. I never thought I would build an agency where we are working with so many unicorns.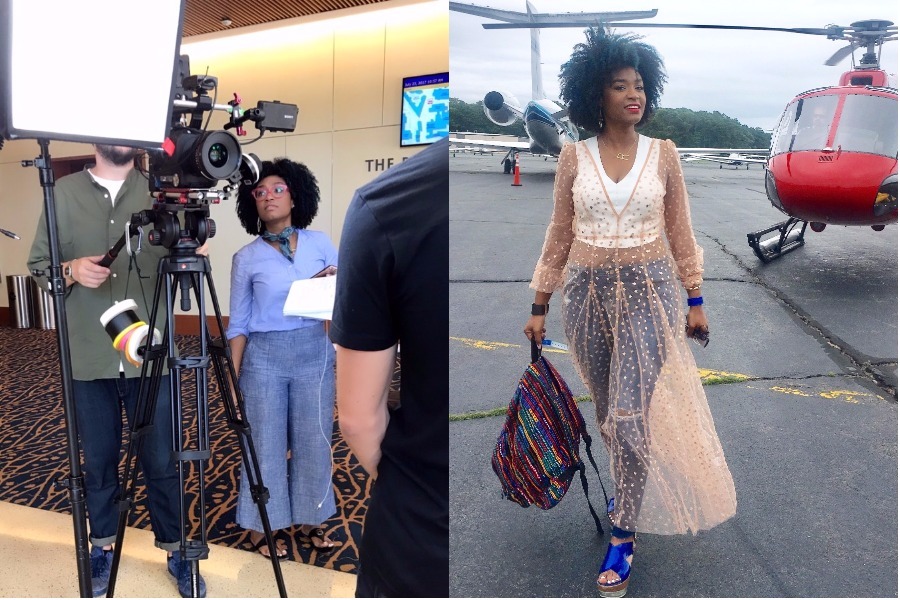 I travel… everyday via planes, trains and automobiles. I flew in from L.A. on a red eye yesterday. I'm here in the office today. I fly back out tomorrow to Florida. I'm on an airplane at least once per week. I'm on a train probably every day. And I'm in a car service or a shared economy car once a day. So my life is planes, trains, and automobiles. We are the age of the super mobile, and I am really living through that.
Someone I admire is… Meryl Levitz. She is another unicorn. She is a moving resource box. She's all-knowing, all-seeing, and she puts things together super quickly. You can say, "Here's the challenge," and she'll say, "Here's how you solve that problem and here's some creativity." She is the perfect mixture of left-brainer, right-brainer. Adam Grant said that there are these people that are called the originals, and I think she is one of the originals. I think she is a right-brainer that rules the world.
My go-to inspirational quote is… "let your setbacks be set-ups for really great comebacks." I've had lots of comebacks, baby. Lots of really good comebacks.
Something I miss about producing for TV is… watching something and seeing your name in the credits. That was fun. A huge production and working with a bunch of people and the credits scroll up and you're like, "Associate producer! Oh, there's my name!" I watch down to the unit production managers; I look at everything in the credits to this day.
A habit I'm trying to break is… being super, super connected. I'm trying to cut back on checking my social media as frequently as I do.
A Philly restaurant I can't stop going to is… Barbuzzo. I go to Barbuzzo all the time.
Big lessons I've learned as a leader include… patience. And I've learned how to have a great sense of attunement. I've also learned the power of empathy.
Skai Blue Media's next move is…. opening in more markets. We'll be doing a lot in the areas of social media and content creation. We're already doing those things, but we're going to widen them. We're in proposal mode right now, which I can't release, but we're going to be working with some pretty amazing companies, and some big contracts are coming our way.
In 10 years I see myself… authoring something in the next couple of years. I will probably produce more. In addition to expanding this agency, I'm launching other brands. We just launched another brand under the Skai Blue Media umbrella called Fan of Your Brand, which is a conversation series around brand building. In ten years, I will have hoped to have turned some of those things into books, so I can share them with lots and lots of people.
---
---