An Idea Factory Adds a "Quiet Car" for Concentration
A pharmaceutical marketing firm in search of room for creativity finds it in a former mill building in Bristol. It then turned to a local architectural firm to solve a vexing problem: How to make room for solitude amidst all the collaborative energy.
---
"New ideas need old buildings," the celebrated urbanist author Jane Jacobs once wrote.
And in his search for a place where his firm could meet the demands of a changing marketplace while making his employees happier and more productive, BioVid President Andrew Aprill wound up settling on an old industrial building in the heart of Bristol.
With the help of a team of employees and the services of KSS Architects, Aprill took the strong bones of the old factory and changed it from a place for making things to one for making ideas. In the process, he and the architects came up with a solution to one of the most vexing problems of the contemporary workplace: making room for heads-down, focused work in an environment designed to encourage collaboration and the generation of new ideas.
Behold the office with a "quiet car," the solution KSS proposed for the problem.
BioVid is a pharmaceutical marketing support firm. Pharmaceutical manufacturers turn to it not only for assistance in promoting their products but also for informed predictions on how well a new product will do in the marketplace.
"One of the issues that's going on in the marketplace is that the clear delineation between marketing and marketing research on the vendor side is blurring," Aprill said. "Clients aren't just asking for a number, or what a customer said; they want what it means to them from a business perspective. That's a big change over the last five years as the economics of the pharmaceutical industry has changed. Clients expect more, and the adage 'adapt or die' certainly holds true here.
"And since the rules have changed, we had to find a way to deliver that added value to the client — to be more creative, more innovative, and more integrated in meeting the client's needs."
Aprill concluded that a standard suburban office-park box filled with private offices like the one in Princeton where BioVid had its headquarters wouldn't enable his employees to be those things. So he put together a team of employees to do some brainstorming.
"We pulled people from all levels" to work on the team, he said. "We probably put three to four years of planning into this."
It was during that planning that his firm and KSS crossed paths. Like many great partnerships, this one came about through connections: Aprill's real estate broker spent two years showing him spaces that didn't quite work before running across the CanalWorks building. Aprill took to the space and asked the broker to recommend an interior designer. She in turn contacted her old contact Sheila Nall at KSS.
"I was able to pick up on his vision, and we hit it off," Nall said. "Andrew saw his company as young, creative and cutting-edge, and he he wanted to attract those kinds of people too. He also felt the people who already worked there deserved a better environment."
"The creative process works best when you're bouncing ideas off each other," Aprill said. Which meant that the space would be open with plenty of places for gathering and interaction. Those spaces are many and flexible: a "theater" with bleacher seating that can be used for presentations, a "play cafe" with a shuffleboard table, and several lounges, as well as a glass-enclosed conference room that's acoustically sealed off from the other collaborative spaces.
But the staff also needed private space still. That was something the plain-vanilla office box provided. The challenge here was incorporating that space into an open environment.
Enter the concept of the "quiet car" and the "phone booths."
"We created the 'phone booths' for private conversations and the 'quiet car' as a space in the back where people who needed to focus could go out of the open office environment," Nall said. The goal was to create acoustically isolated spaces where staff could concentrate. Nall said that not all of the design elements for the 'quiet car' were installed due to budgetary constraints but that she believes Aprill intends to add them as circumstances permit.
Nall and Aprill also had a third partner in shaping the space: the building's owner, Bernard Mazzochi III, who fell in love with the old mill complex and its history the day he came across it and realized its potential for bringing downtown Bristol back to life. "Bernard was a collector: old doors, light fixtures, machinery, pinball machines," said Nall. "He also likes to build this stuff himself. Anything we designed, he had to be able to build himself or find the resources to buy it."
As it turned out, Aprill loved the historic character even more than Mazzochi did, convincing the owner to leave the space's brick and stone walls and old plaster exposed. "I told him I wanted the old to show," he said. "The layers of paint, the graffiti from God knows when, people carving notes in the wall. The owner was skeptical at first, but when it was finished, he said, 'You know, you're right.'"
"From an aesthetic standpoint, the building was very rustic, so we decided to detail things crisply and cleanly so they didn't clash with that rustic building envelope. The interplay between the clean lines of the furnishings and the building envelope not only allows the building to be the star of the show but also lets elements Andrew brought in like the bleachers to be real eye-poppers."
BioVid settled into its new home in April, and according to Nall, things have worked out very well. "At the launch party, [Aprill] had a slide of response words" employees used to describe the new space. "Some did say it was a little distracting, but the vast majority of the responses were positive: 'open,' 'energetic,' 'cool,' 'comfortable,' 'spacious,' 'engaging,' 'fresh,' 'contemporary,' 'connected,' 'flexible,' 'free,' 'rejeuvenating.'"
"I think space makes a huge difference," Aprill said. "Space can foster and support innovation, but it can't make a group that doesn't care about innovation innovative. We had a group of creative individuals already, and this space has unleashed their creativity."
---
BIoVid Headquarters in Bristol's CanalWorks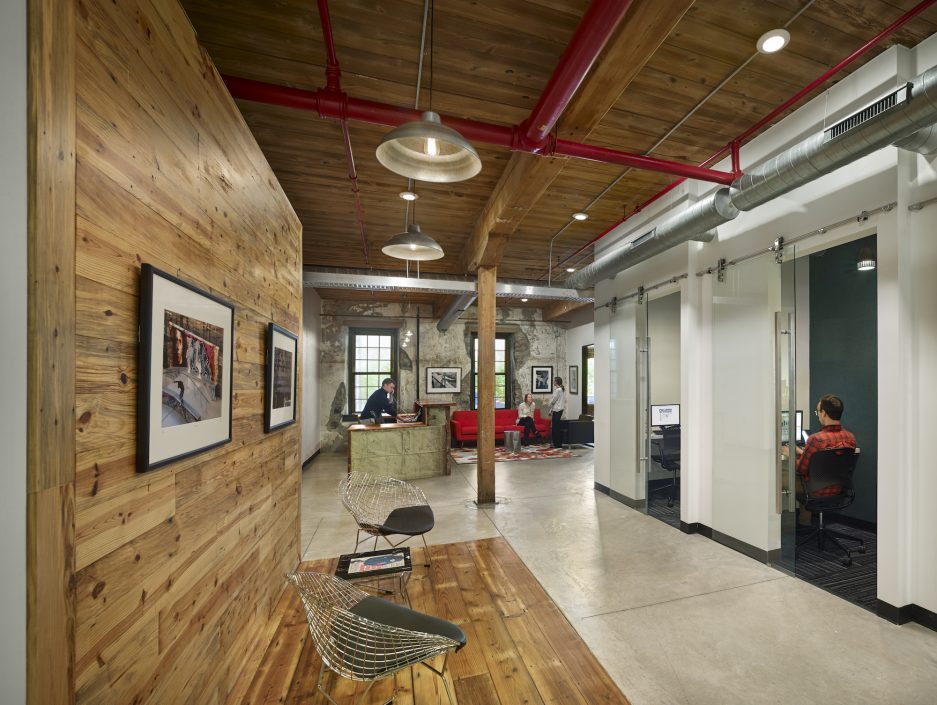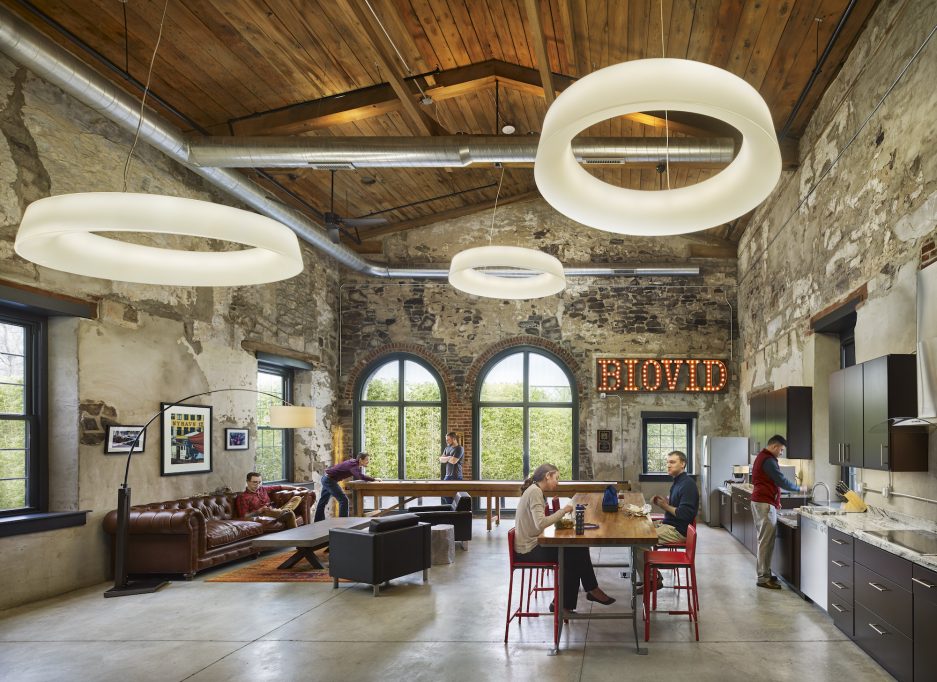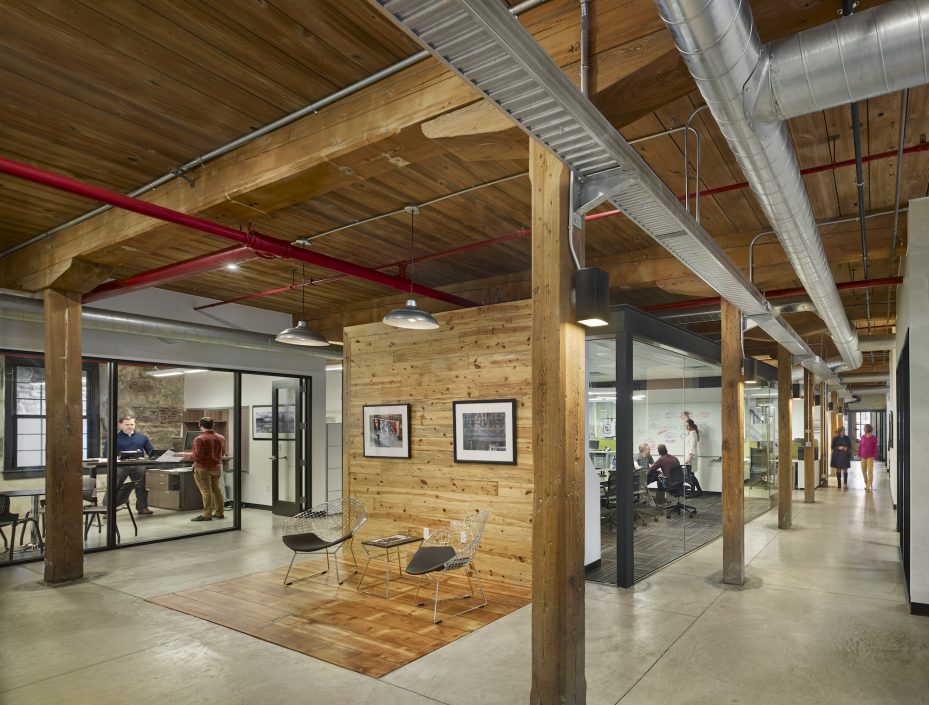 ---
Follow Sandy Smith on Twitter.
---
---