News
The 2023 Be Well Philly Health Hero Challenge Is Officially Underway
Submit your nomination for a deserving local health hero by June 30th.
---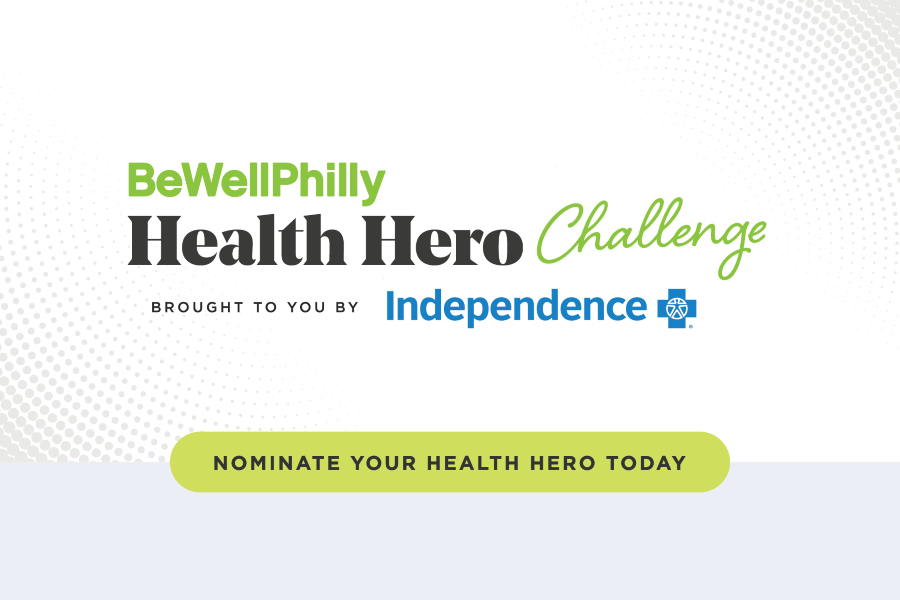 It's baaaaack! We are excited to announce that the Be Well Philly Health Hero Challenge presented by Independence Blue Cross has officially returned for another great year!
Now in its 12th year, the Health Hero Challenge is our way of recognizing — and honoring — people throughout the region who are committed to making a positive impact on community members' health and wellness.
The past two years, the title was awarded to Robin Cohen, co-founder and CEO of the Sandy Rollman Ovarian Cancer Foundation (a nonprofit that works to support those impacted by an ovarian cancer diagnosis), and Armenta Washington, a senior research coordinator for the community outreach and engagement program at Penn Medicine's Abramson Cancer Center who helped create a drive-through Fecal Immunochemical Test (FIT) service, so that at-risk community members had access to preventative care and could determine if they needed a referral for a colonoscopy.
This year's nomination period begins today, June 1st and runs through June 30th. Keep in mind that you can nominate anyone (including yourself!) who is trying to improve health and wellness throughout the region — whether they be a medical professional, frontline health worker, non-profit leader, teacher, coach, entrepreneur, or community activist. The only caveat is your nominee must reside in Pennsylvania, Delaware, or New Jersey, and be at least 21 years old.
From there, we'll narrow down the list to 10 semi-finalists, and you'll vote for who you want to see in the final round, and ultimately, the 2023 Health Hero.
Thanks to our generous sponsor Independence Blue Cross, the winner will receive a $15,000 donation to the charity of their choice, and the two runners-up will each receive a $2,500 donation to theirs, as well.
If you or someone you know is deserving of our 2023 Be Well Philly Health Hero award, nominate them here by June 30th!
---
---