News
A Look Inside Rescue Spa's Gorgeous New Space in Rittenhouse
The full-service, luxe day spa is now operating out of the former home of the historic Rittenhouse Club and Barneys New York.
---
Last month, skincare mecca Rescue Spa reopened in a 9,700-square-foot bilevel space bathed in bright white and light wood. There's high ceilings, splashes of marble, a grand black-metal staircase, a gold chandelier, sophisticated lounge seating, views of Rittenhouse Square. And we can't forget about the 15 treatment rooms for facials, massages and body treatments, the brow room, nail and hair salons, and the entire ground floor brimming with over 120 shoppable brands.
With Beaux-Arts opulence at every turn, the space seemingly transports you to a luxe Parisian beauty boutique without the seven-hour flight. It pairs Rescue Spa's ethos of elevated self-care with an immaculate and timeless sense of luxury — the best reflection of the brand in nearly two decades — as if to confidently say, Welcome to your rich-mom era.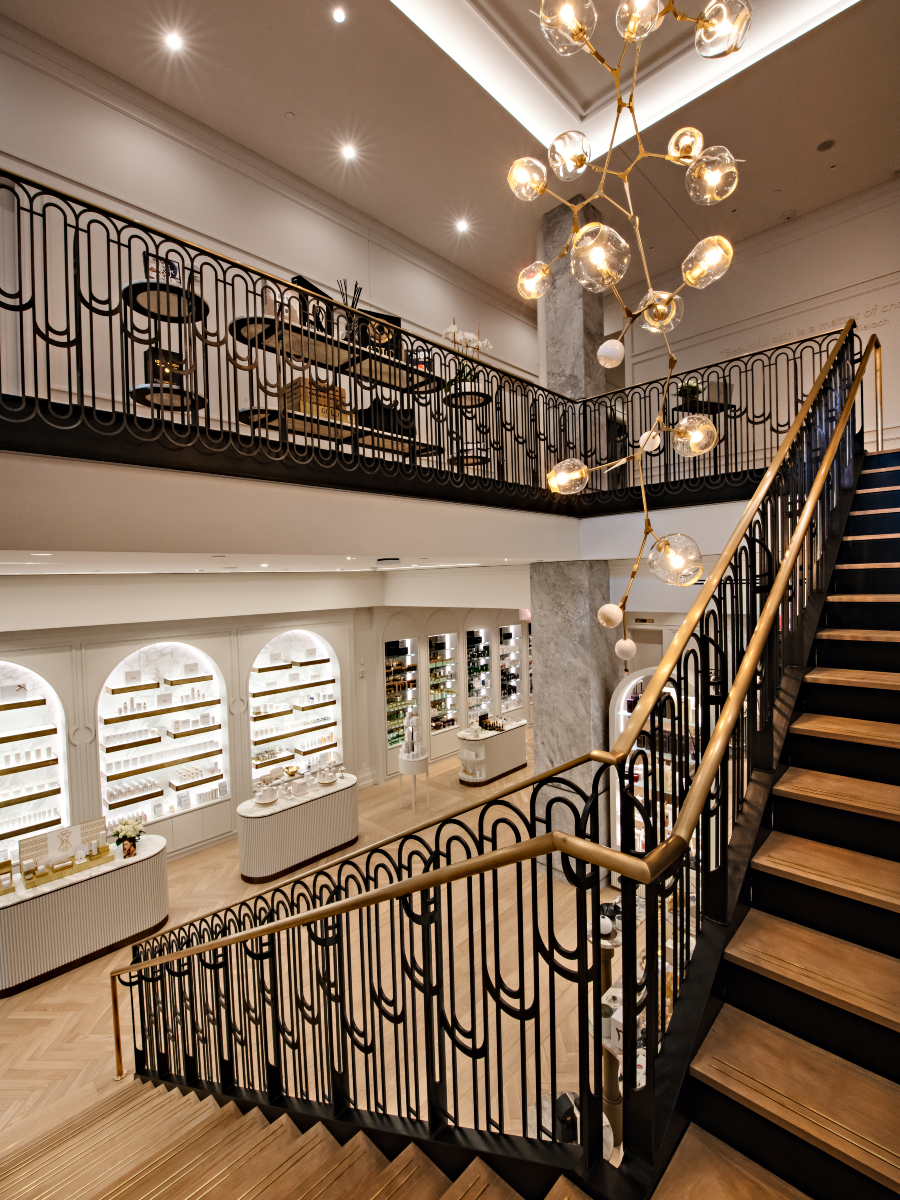 Founder Danuta Mieloch first opened Rescue Spa in 2004, on South 17th Street. Driven by Mieloch's mantra that "beautiful skin is a matter of choice, not chance," Rescue Spa is known for its highly personalized and comprehensive skincare services, including the Bio-Lift Facial, a specialized treatment created and trademarked by Mieloch that uses non-invasive electric microcurrents for lifting, sculpting, and firming.
In 2013, Rescue Spa moved to the third floor of the Medical Arts Building at 16th and Walnut streets, where it introduced a hair salon. Four years later, it expanded to New York City, opening an outpost in the Flatiron district. Now, another decade in the books, the full-service day spa finds its third Rittenhouse home in the former site of the historic Rittenhouse Club and Barneys New York.
The space has been vacant since 2019, when Barneys filed for bankruptcy. Corie Moskow, Rittenhouse Row's executive director, says Mieloch's takeover — the move officially culminating on December 20th with a grand opening — is huge: "Barneys — a department store selling high-end fashion on Rittenhouse Square — was an enviable real-estate play. That this building is straddled between 10 Rittenhouse, The Laurel, and the park is the most perfect location for what Danuta [Mieloch] is doing. The building, which was built out by Barneys, had the bones for a really grand experience."
Mieloch says she wanted to "ensure a premier experience for guests down to the most minute detail," so she had the space completely gutted. Her vision? To create a beautiful, luxury retail space for Philadelphia — a place where people could come to take a break from their hectic lives and busy schedules, enjoy bespoke spa and beauty services, and shop exclusive, hand-picked brands. She partnered with local artisans for all the details, including Michal Pulaczewski for interior design, Bill Curran Design for metalwork, and Kimberly King for lighting.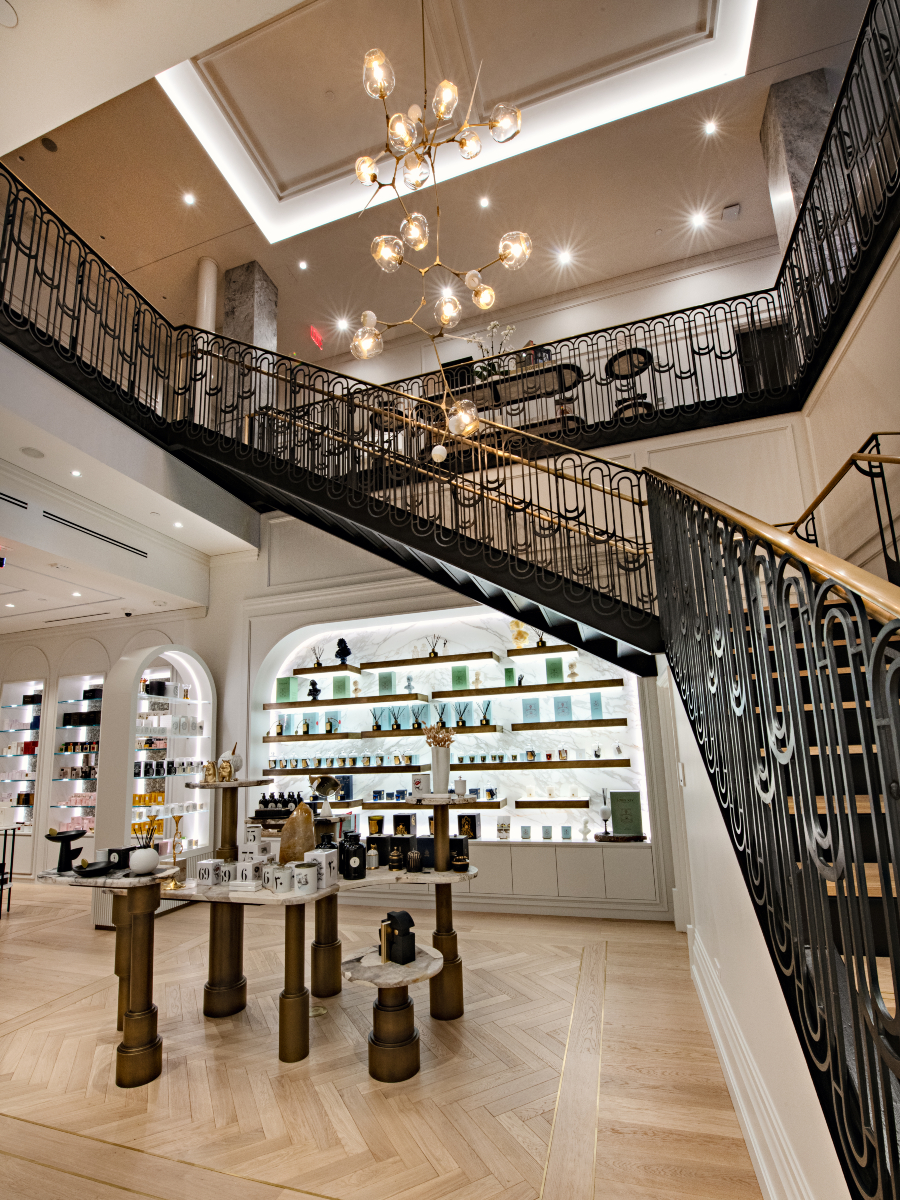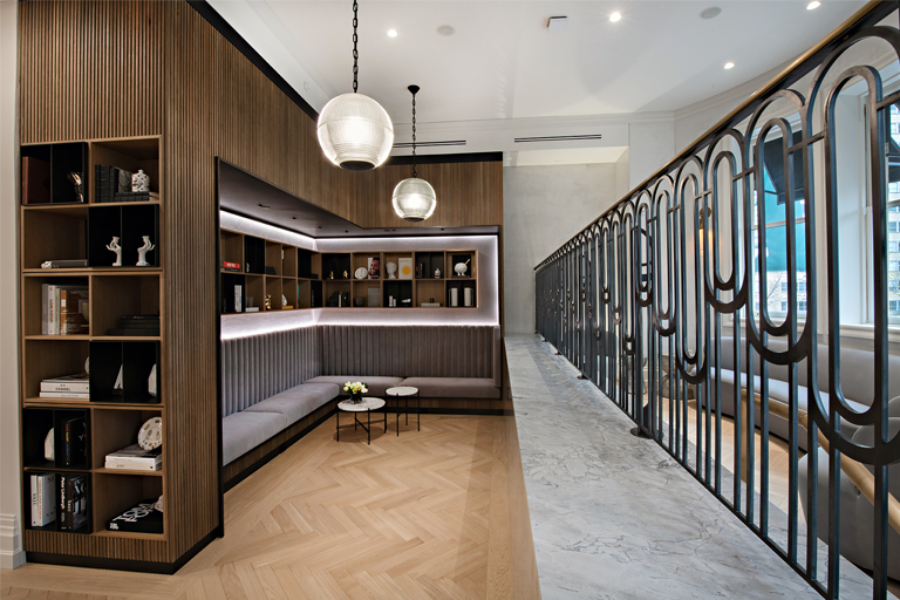 Here, Rescue Spa will also introduce a new amenity, its Relaxation Room. The private treatment room features an infrared sauna and a shower that switches from hot to cold water (good for relieving sore muscles and reducing swelling). When it opens sometime within the next month, the Relaxation Room can be booked for 45 minutes and enjoyed by one person at a time.
Additionally, the new location provides Rescue Spa's e-commerce site with a brick-and-mortar store, effectively creating a new retailer on Walnut Street. According to the Rescue Spa team, Mieloch expanded her online offerings to include lifestyle products — perfume, lingerie, footwear, home decor, bags and more — during the pandemic. The collection of over 120 curated brands, including Mieloch's newly launched clean-beauty line Danucera, is available for purchase in the ground-floor retail section.
To visit and book a treatment at Rescue Spa's new location, head here. Make a day out of it, because we guarantee you're not going to want to leave.
Rescue Spa Philadelphia is now located at 1811 Walnut Street in Rittenhouse. Current hours of operation are 8:30 a.m. to 7:30 p.m. Monday through Saturday and 11 a.m. to 7 p.m. on Sundays.
---
---