News
Meet This Year's Be Well Philly Health Hero Finalists
You can vote now for the winner of the 2020 Health Hero challenge.
---
We're thrilled to announce that we now have our three finalists for the 2020 Be Well Philly Health Hero Challenge presented by Independence Blue Cross. Here at Be Well Philly, we constantly strive to highlight people who are helping others in the greater Philadelphia area live healthier and better lives. The Health Hero Challenge is our way of honoring the incredible and often unseen work that people do every day, even in the most challenging of circumstances.
We set out at the beginning of this challenge looking for medical providers, nonprofit leaders, entrepreneurs, teachers, anyone really who's making a difference in our community from a health and wellness perspective. And, you all delivered. You shared powerful personal stories of the heroes making a difference in our community, which led to to the nomination of these three finalists. Now, it's time to choose the winner.
Asasiya Muhammad for Maternity Care Coalition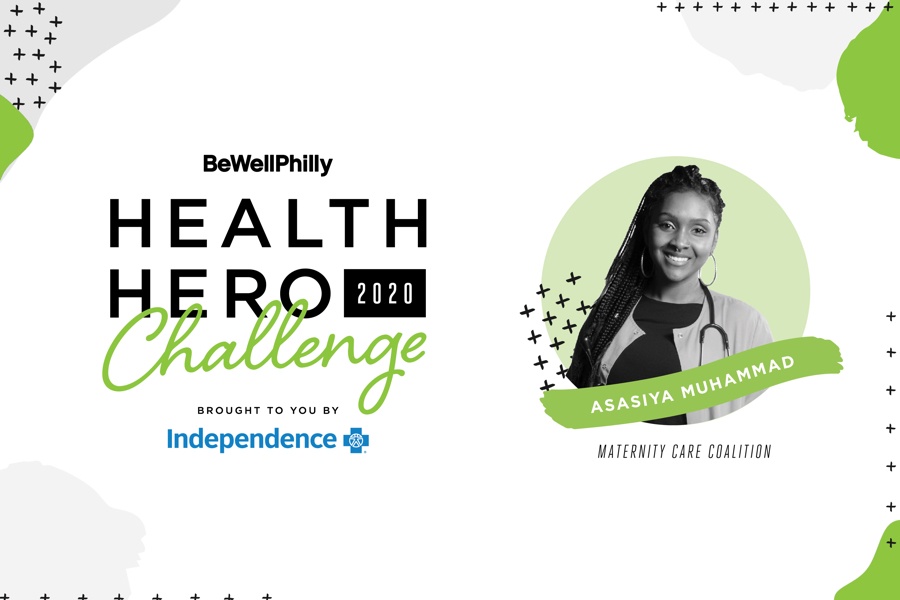 Name: Asasiya Muhammad (@thepeoplesmidwife), women's health advocate and midwife at Inner Circle Midwifery (@innercirclephilly), a private home birth practice based in Germantown.
Nonprofit of choice: Maternity Care Coalition. Since 1980, Maternity Care Coalition has assisted more than 135,000 families throughout Southeastern Pennsylvania, focusing particularly on neighborhoods with high rates of poverty, infant mortality, health disparities, and changing immigration patterns. A family's needs change as they go through pregnancy and their child's first years, and MCC offers a range of services and programs for every step along the way.
What motivates you to try to make Philadelphia a healthier place, and what policy would you institute if you could? I cherish Philadelphia as the place where I have had my most life-shaping experiences, some high such as graduating college, becoming a mother, and raising a family — and others low. I've had experiences that have left me feeling isolated, lost, and voiceless. As a Black mother, I have faced the feelings of fear and uncertainty many Black women in Philadelphia face, because of the haunting statistic that we are two times more likely to die during pregnancy, or within a year of giving birth due to pregnancy-related complications. As a midwife, I understand that the majority of these complications are preventable, and therefore have made it my mission to build a community-based a practice that is committed to diminishing this disparity in Philadelphia. My practice is unique in that it has a wraparound care component that bundles nutritional counseling and fitness classes into standard midwifery care.
I would institute a policy that expanded the use of and access to community-based providers and particularly related to those specializing in natural health and food access. This would look like expanding insurance access to providers like midwives, doulas, nutritional counselors, and fitness experts so that these services are both normalized and accessible to a larger part of the population. This would further look like creating sustainable food cooperatives in neighborhoods that are distant from larger markets and who now rely on stores that mostly carry processed foods.
Vicky Borgia for Women's Medical Fund
Name: Vicky Borgia, a local doctor who utilizes Direct Primary Care (DPC), an alternative payment model for healthcare services. She specializes in reproductive health, LGBTQIA health and integrative medicine.
Nonprofit of choice: Women's Medical Fund. Racial justice and reproductive justice issues are intertwined. In 1976, Congress banned federal Medicaid coverage for abortion through the Hyde amendment. Then, in 1985, Pennsylvania prohibited state Medicaid coverage for abortion. Since then, Women's Medical Fund has provided funding to thousands of individuals struggling to get by and enrolled in Medicaid. Women's Medical Fund has expanded their mission to include advocacy and community organizing.
What motivates you to try and make Philadelphia a healthier place, and what policies would you institute if you could? I believe that healthcare is a human right. I serve communities that have historically been medically disenfranchised because I can use my skills and education to make changes in a system rife with health inequities. I center access, inclusion and equity in my direct primary care practice, which enables me to take the time I need with my patients and give the care they deserve.
Since it is well-established that racism and other forms of systemic oppression are major factors in increased morbidity, mortality, and generational trauma for all, my policy recommendations focus on dismantling systems of oppression in Philadelphia. This includes reprioritizing city investments from policing and instituting PILOTS where big health and educational nonprofits would volunteer a portion of their revenue to the general fund. These resources could be then be used to fund education and invest in communities by improving access to services, opportunities, food, and healthcare.
Christy Silva for Aidan's Heart Foundation
Name: Christy Silva, cofounder of Aidan's Heart Foundation, a nonprofit committed to providing awareness, education, and support to the communities of the southeast Pennsylvania region and its surrounding area to create heart-safe communities for youth regarding the prevention of, or response to, tragic instances of Sudden Cardiac Arrest.
What motivates you to try to make Philadelphia a healthier place and what policy would you institute if you could ?
My motivation for wanting to make Greater Philadelphia a healthier place actually comes from a tragedy in my family. In September of 2010, my seven-year-old son Aidan, who had no prior health conditions, died without warning from sudden cardiac arrest, or SCA. I had never even heard of SCA prior to his death. As I struggled with my grief and tried to understand why my seemingly healthy child collapsed one sunny Saturday, I plunged into research. I learned that, nationally, approximately one out of every 300 youth has an undetected heart condition that could cause SCA. The American Heart Association quotes that more than 7,000 children under age 18 are struck by SCA each year. This equates to one young person, nearly every hour, every day, every year. It's a little known fact that Sudden Cardiac Arrest (SCA) is the leading cause of death in student athletes on school grounds. As a result of what I learned, I became determined to still "be Aidan's mom" and try to prevent SCA from taking more young lives in our local communities. I'm motivated by these facts to do everything possible to decrease the number of preventable deaths in young people in Philadelphia and its surrounding suburbs. I co-founded Aidan's Heart Foundation shortly after Aidan's death. To date, we have placed 89 AEDs in youth based sports facilities, trained 6,100 youth on how to perform CPR and how to use an AED, and we have partnered with pediatric cardiologists to provide 2,100 free heart screenings to kids and teens in efforts to detect heart conditions through a simple, non-invasive ECG exam.
If I could institute a policy to make Greater Philadelphia a healthier region, it would center around protecting hearts. Annual electrocardiogram exams at every well-child visit, particularly for young athletes; CPR and AED training for all teachers, coaches, instructors, etc. who work with physically active youth; and AED devices available in all schools, child care centers, dance, martial arts, gymnastics and other studios where kids are active, in addition to AEDs being prominently placed on every athletic playing field. These aren't impossible tasks, but they do take the awareness of the public, particularly parents, to urge our community leaders and policymakers to implement these measures. We owe it to our kids to keep them safe at play.
Vote here to select your 2020 Health Hero!
Vote now to select your 2020 winner. Remember: the winner will be named the 2020 Health Hero and will receive a $15,000 donation to her charity of choice, and the two runners-up will each receive $2,500 donations to the charities of their choice.
Vote HERE now. (Remember, you can vote once a day until November 16th!) Stay in touch with @bewellphilly and @phillymagevents.
---
---