What's the Difference Between Pure Barre, Barre3, and The Bar Method?
Decoding three popular barre chains in Philadelphia's Rittenhouse neighborhood.
---
When The Bar Method opened in Philly last month, it became official: Rittenhouse is the hub for this city's trendy barre studios. All within a few blocks of each other, there's a Barre3, Pure Barre, and The Bar Method. All major chains, all offering seemingly the exact same workout.
While we have no doubt there are some diehard Barre3, Pure Barre, or The Bar Method fans out there who think their preferred studio is the only way to go, for the newbies out there who can't tell the difference (we feel ya!) here's a little guide.
Barre3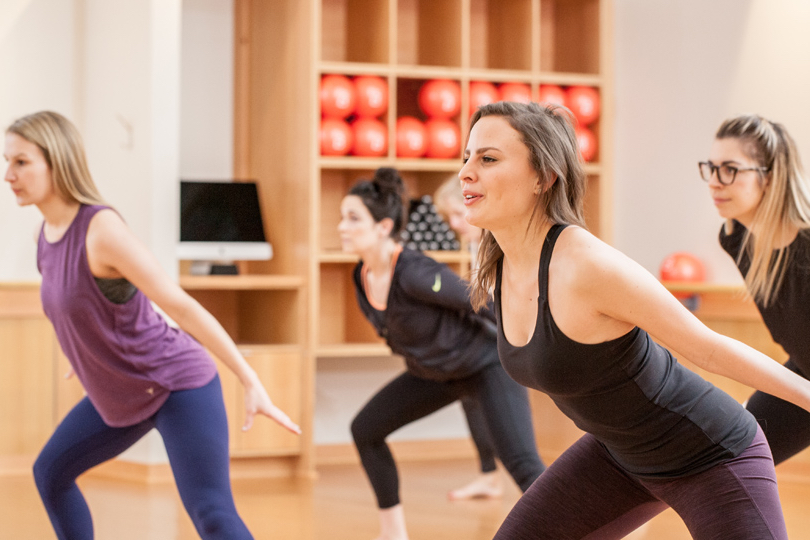 Single class price: $25
The most cardio-heavy of the three studios, Barre3 is what we'd consider the least "barre-y" of them all. And by "barre-y," we really mean: the least reliant on actual ballet-inspired moves. In this class, you'll spend a lot of time in the middle of the room, away from the ballet bar, getting your heart rate up by doing moves like a slow-motion, on-the-beat burpee. You'll still do a lot of pulsing, but in the end, you'll feel like you burned a decent amount of calories from all the cardio and bigger movements. And because it's less reliant on strict ballet moves, that also means it's easier to pick up for beginners — and potentially easier to keep the correct form.
Pure Barre
Single class price: $23
If this article was a nursery story, this would be the happy-medium class that Goldilocks would pick. You will definitely break a sweat in this class and use some more functional exercises — like pulsing push-ups, on the beat to the music — rather than all ballet moves. But you'll also spend a decent amount of time at the bar, holding on for dear life as you pulse your outstretched leg up, up, up. Because there's more traditional barre moves in this class, your form is important — but because the class moves fast, it may take a class or two to really catch on.
The Bar Method
Single class price: $26
And finally, The Bar Method, which we see as the most "barre-y" of all. Every move in this class is tiny — which means that while you may never get out of breath or feel a bead of sweat, your muscles will burn. Form is queen in this class, but since it moves at a slightly slower pace than the other two, the instructor has time to talk you through and demonstrate each move — with breaks for stretching throughout. If you want to pretend to be ballerina for a day and the whole sweaty-hairline-and-red-face aesthetic isn't your thing, The Bar Method is a good place to start.
Like what you're reading? Stay in touch with Be Well Philly—here's how:
---
---