Sneak Peek: Inside Sip-N-Glo's Soon-to-Open Rittenhouse Juicery
---
I can hear the workers hammering, drilling and power-sawing behind the closed, papered-up doors of the soon-to-open Sip-N-Glo Juicery on 20th near Rittenhouse Square. I open the doors and feel like I'm peeking behind the curtain before the actors take the stage: a flurry of activity, a mix of dust and excitement, and, of course, that signature Sip-N-Glo green.
"What do you think?!" Sip-N-Glo's always energetic owner Kristin Lubsen says when she sees me. I love it, if I'm being honest. It's bright. It's light. It's cheerful. Best of all, it's big — double the size of the juice bar's original location near 10th and South in Bella Vista. The new space isn't a complete departure, of course. It's Sip-N-Glo, but all grown up. Polished. Sleek. Really pretty.
Lubsen and her crew will be working long hours over the next few days to get ready for their opening next week. (Exact date to be determined by the feverish speed of construction.) At latest, the shop will be open by Pope weekend, Lubsen says, with her new line of bottled, cold-pressed juices ready to sell to the masses.
Yes, I said bottled, and yes, I said cold-pressed. These are two departures for Sip-N-Glo — until now, juices have been made to order using a standard juicer — and they're changes she hopes her regulars will embrace. (Side note to the regulars: I gave one of the bottled green juices to a die-hard Sip-N-Glo devotee yesterday and she declared it, "clean and crisp and more balanced. And I'll assume more consistent.")
Ah, consistency — it's one of the reasons Lubsen has moved to the cold-press juicer, which churns out juice by the gallon instead of single servings. "I love my employees," she said, "but I wanted to find a way to ensure our customers are getting a consistent product. I want it to be amazing every time." Lubsen also says the cold-pressed juices are more nutritious, and they have a longer shelf life of seven days — meaning a person could stock up on a week's worth of juices in one shopping trip.
Sip-N-Glo's behemoth cold-press machine, which Lubsen calls the "Cadillac of juicers," is housed in the spacious back kitchen of the new shop. Customers won't ever see it, of course, but Lubsen fawns over it as if it were her next of kin. And for good reason: The machine is top of the line (read: pricey), but Lubsen says it was well worth the investment.
"I want to make the best product possible for my customers," she says. "This is how to do that."
Up front, customers will be greeted by a cooler of the pressed (and sleekly packaged) bottled juices. Regulars will recognize most of the concoctions, but there are a few new ones that have been added: Rocket Power, which has cucumber, apple, Swiss chard, arugula and spinach; Hangover Helper, made of pineapple, jalapeno, coconut water, celery, cilantro and lime; Pineapple Goji Lemon-Aid — my absolute favorite — made of pineapple, lemon water and goji berries; and Clean Green, which combines cucumber, kale, dandelion greens, Swiss chard, parsley and chlorophyll.
Smoothies and shakes will still be made to order. The new addition on the shakes menu is the Blue Sky, which was tested at Sip-N-Glo's original location this past spring and received rave customer reviews. It includes blueberries, lavender, cashews, banana, hemp protein and almond milk.
With the opening of the new store, Sip-N-Glo will also begin selling some packaged food items. The menu will be expanded over the next few months, but at opening you'll be able to get housemade trail mix, studded with banana chips, cinnamon, oats, cashews, chocolate nibs and almonds. There will also be a line of nut butters in yummy flavors: gingersnap (cashews, ginger, cinnamon, honey and seas salt), coconut cardamom cookie (almonds, cardamom, coconut flakes, honey and sea salt), and peanut butter cup (peanuts, raw chocolate, honey and sea salt).
Did you notice all the honey there? That's new, too. And it's coming right from West Philly, where Sip-N-Glo has its own beehive, tended to by Philadelphia Bee Company. Honey appears not only in the nut butters, but also in a new juice shot called Queen Bee, which features both honey and bee pollen for a nutrient boost.
Shots will be available as a flight. You'll be able to get three one-ounce shots of wheatgrass, Queen Bee and longtime favorite Immunity (ginger, lemon, echinacea, elderberry and zinc). Sip-N-Glo is also introducing a new kombucha collaboration with Philly's Inspired Brews, a new detox cleanse featuring six juices and smoothies, and packaged smoothie boosters — powders and dehydrated fruit you can add to your smoothies at home — for more on-the-go options.
"We have a lot going on," says Lubsen.
Right now, her focus is on getting the shop up and running by next week, so she can start cultivating a new fanbase on this side of town.
I can assure her at least one more regular customer: Our offices are just two blocks away. You know I'll be back.
---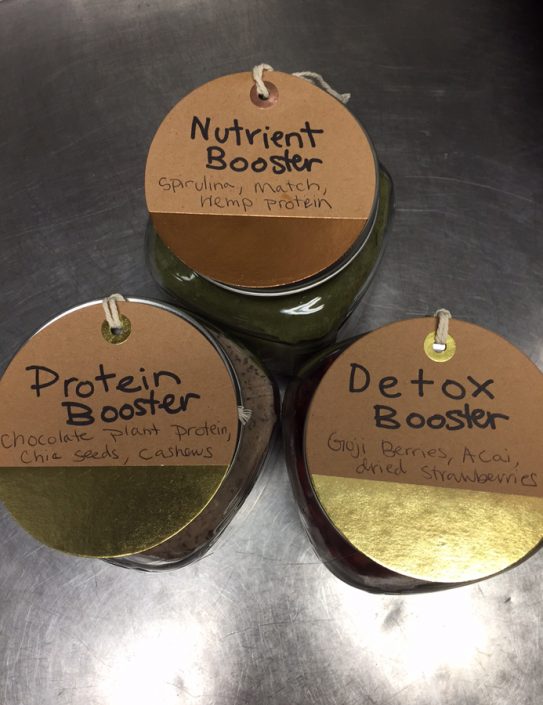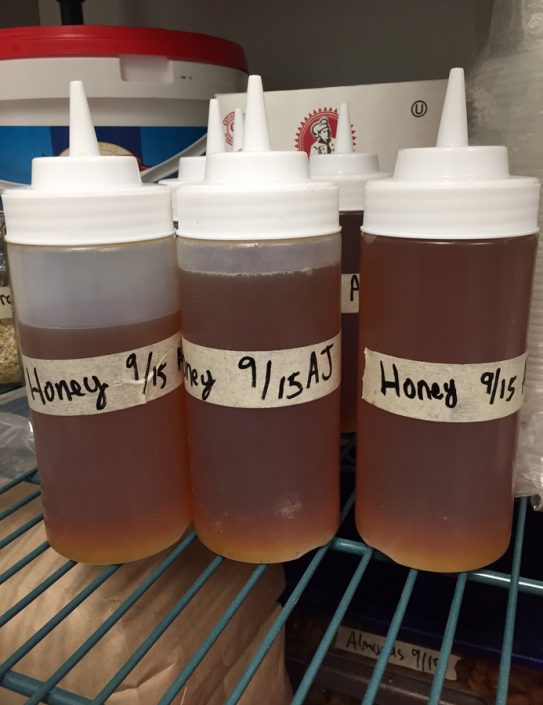 ---
Like what you're reading? Stay in touch with Be Well Philly — here's how:
---