A Philadelphian's Guide to Fishing
Angling for adventure? Get hooked by visiting an ocean or stream near you. (We've got plenty of 'em.)
At some point in your life, you've probably dangled some form of fishing line into water. Fishing remains an incredibly popular sport throughout the Philadelphia area and at the Jersey Shore, and though it's brisk out, there's still ample time to catch a wide assortment of fish — hey, the Feast of the Seven Fishes is right around the corner! Or just get prepped for next year's season.
How to
Get Started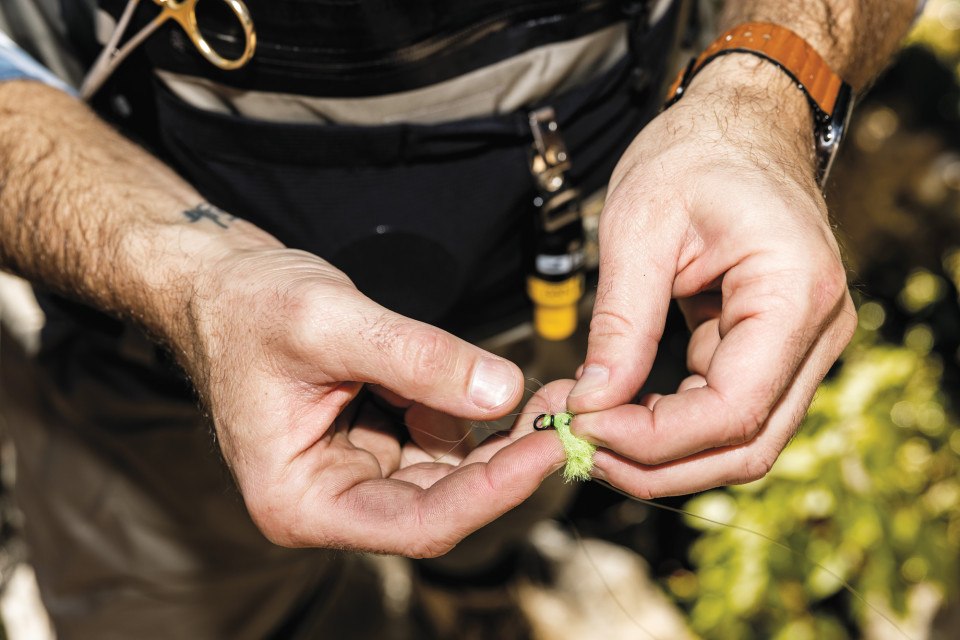 Don't buy a lot of expensive gear. Many first-time anglers make the mistake of getting themselves all decked out only to return home empty-­handed after a long day of fishing. It's not about gear. It's about patience, research and luck. That said, you do need a rod and reel. Pick up the basics at Cabela's, Bass Pro or, yes, Walmart. Then, when you decide where to fish, seek out a tackle store as close to that location as possible. Simply ask the person behind the counter what's biting and what you need to get it onto your hook in terms of lures or fresh bait. It's probably best that you get your feet wet, so to speak, with regular old fishing. Fly-fishing, which is a big sport in Pennsylvania, is more of an art form, and one you'll want to employ when trout season opens next spring. If you're fishing Pennsylvania lakes, rivers and streams, you need a license. If you're heading over the bridge to the Jersey Shore's ocean waters, you don't.
Where to Go
Do you want to eat your fish? If the answer is no, there are myriad places to toss in a line for catch-and-release. There's probably one within 15 minutes of your home, whether it's a river (the Delaware, the Schuylkill) or a creek (Darby, Cobbs, Wissahickon, Pennypack, for starters) — and that's without even leaving city limits. These all have their merits in terms of idyllic setting and level of solitude, but you can just pick the one that's most convenient for you. The point is to get a hook in the water. If you want to eat your fish, tread carefully. The state publishes a report of local waterways and the cleanliness factors involved in consuming what comes out of them. Pay attention to it. One place where you don't have to worry about this much is the Jersey Shore. You can cast right off the beach into the ocean (this is called surf-fishing), you can fish in the bay, or you can take a boat out a bit into either and search for saltwater fish to your heart's content. Striper (a.k.a. striped bass) season at the Jersey Shore doesn't end until New Year's Eve. If you want to take it to the next level of adventure, there's a remote section of beach in Brigantine that's accessible only by car (well, four-by-four), and you need a permit to drive there. Just be sure to get out before the tide comes rushing in. People have been known to get stranded.
When to Go
Fishing seasons and limits vary depending on what you're trying to catch. For instance, you can only fish for trout between certain date ranges, and even those ranges change depending on what type of waterway you're fishing in. With trout, strict limits are imposed as to what you can bring home, whereas you're welcome to fish for catfish anytime and can take home up to 50 a day. Check with the state for more details.
Gear Guide: The Best Rod & Reel
There are as many rods and reels and opinions about both as there are fish in the sea. A recommended starter rod and reel for your average freshwater outing (saltwater and fly-fishing require completely different equipment) is the Ugly Stik Spinning Combo, which you can find at a wide variety of outlets for under $50.
Start-Up Cost
If you've spent more than $100 on your first fishing outing, you're doing something wrong.
Published as "Call of the Wild: Fishing" in the November 2022 issue of Philadelphia magazine.
---