There's a New Philly Music Festival: HoagieNation
Hall & Oates will headline the first-ever HoagieNation Festival. Lots of other local artists will be on hand, as well as Tears for Fears for some reason.
---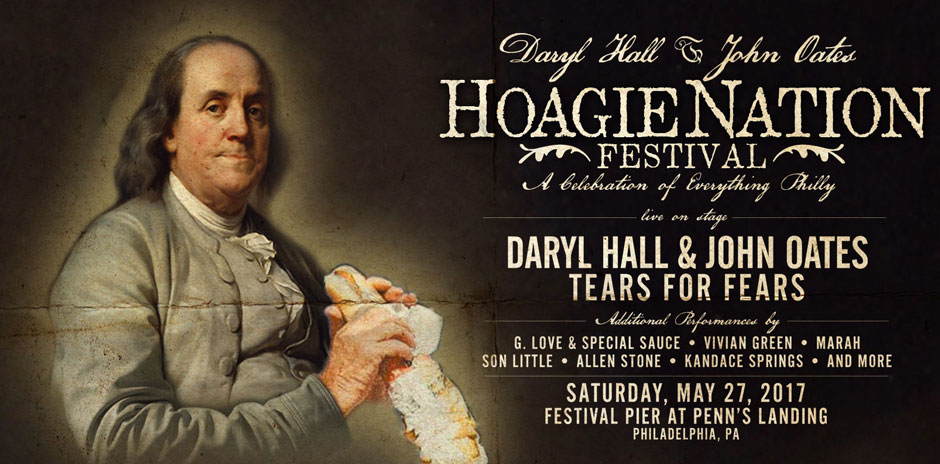 Live Nation today announced a new music festival that's coming to Philadelphia. It has a lot of local flavor: It's being curated by Hall & Oates. It also features local favorites G. Love & Special Sauce, Vivian Green, Marah, and Son Little. English rock band Tears for Fears will also play.
"HoagieNation is a wonderful and colorful place where the citizens are united by a love of cold meat and Amoroso's rolls," Hall said in a release. "P.S. they ALL got soul!" Oates's press release quote was similarly weird: "Philly is famous for a lot of things, but the highlights just might be the amazing MUSIC and of course the HOAGIE!"
There's only one sentence we can add here: Hey, where are The Hooters?!
Okay, okay. It actually is a pretty good name — hilariously silly, but pretty good — and a decent, Philly-centric lineup. (I sneaked into Tin Angel to see Marah when I was, like, 19!) And, also, Tears for Fears. Sure, why not!
The concert will have at least two stages, the "North Philly" stage and the "South Philly" stage. (Northeast Philly frozen out again!)
Two non-Philly acts, Allen Stone and Kandace Springs, will also be on the bill. Tickets go on sale next Friday, March 17th. Festival Pier is one of the worst concert venues in the city, if not the worst, but if you can get past that, it's still a pretty good lineup.
---