Penn A Cappella Group Perform for President, First Lady and Emmy Rossum at the White House
---
Last Wednesday, members of The University of Pennsylvania Shabbatones, a Jewish a cappella group, sang for the president and first lady at the White House's annual Chanukah Party.
The Penn Shabbatones were chosen after the White House conducted a talent search looking for groups to sing at the affair. The group's president Sarah Beckoff tells me that they even had a chance to do a private performance for President and First Lady Obama. She breaks down how the evening went in an email she sent me this afternoon:
We sang in the foyer outside the entrance to the Chanukah Party for about an hour …. We learned new Chanukah music, including "Maoz Tzur" (video of that above), "Haneirot Hallalu" and "Sivivon Sov Sov Sov," for the performance. We sang hebrew music. After we sang for an hour, we were invited to give a private performance for the President and First Lady in the Diplomat Room. We each shook hands with the president and his wife and introduced ourselves. They were very sweet and asked us how our finals were going. After we posed for a picture together, we then sang "uMacha," which is a prayer for peace that has been sung by the group for the 13 years. We concluded the night by singing for another hour or so in the foyer as guests left the party. The group was so excited; it was such an honor. And because of our excitement, we performed better than we ever have before. One of the exciting moments of the night was when singer and [Shameless] actress Emmy Rossum stopped to take a picture with us and tell her how amazing the music was.
Said tweet:
Chanukah songs never sounded cool until this acapella group I heard at The White House tonight. @PennShabbatones pic.twitter.com/Ie4iGRbbBY

— Emmy Rossum (@emmyrossum) December 18, 2014
Check out more photos of the group at the White House below. Unfortunately, they were asked not so share any images of the president, which is weird, but whatever:
---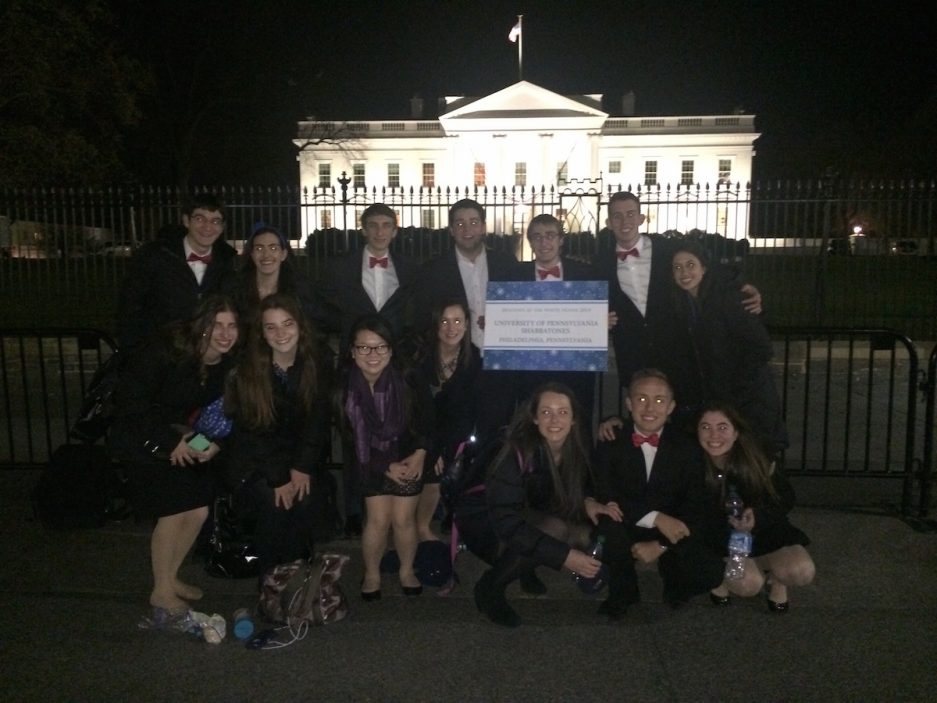 ---
---