PHOTO RETROSPECTIVE: Lost in the Dream is What The War on Drugs Has Been Building Toward
---
With glowing reviews for Lost in the Dream pouring in leading up to its release on Secretly Canadian Records today — City Paper's current cover story, Stereogum's rambling prose, Dan DeLuca's Sunday Inquirer review, Pitchfork's 8.8 — it was the first one I read about the new War on Drugs record that struck me. Steven Hyden's gorgeous piece for Grantland broadly paints the new album as the vehicle propelling them into larger and louder rooms, and gets into a personal space with Adam Granduciel that I don't recall ever seeing. Specifically, it mentions August 2012 as the starting point for the record's introspective content, which often broods and borders in the darkness, in spite of generally upbeat tunes.
I spent my own August 2012 in darkness, a personal nadir struggling with a divorce and an ugly employment scene in Portland, Ore., after getting laid off from a longtime job. Sunken in depression and anxiety, and frequently questioning my departure from Philadelphia three years prior, I got a pick-me-up from some familiar faces when The War on Drugs rolled through at Portland's Pickathon festival. (Dr. Dog, who for years rehearsed in the same building the Drugs do now, was also on the bill.) With a colorful fabric canopy breathing above and Mount Hood in the sunny distance, the band's layered wall of sound at least temporarily washed away the darkness.
Getting through the darkness is the tie that binds Lost in the Dream together, from the gut-wrenching ballad "Suffering" to the hit single "Red Eyes" that's already received so much airplay since its release a couple months ago. But nothing says it more directly than the song "Eyes to the Wind," which Granduciel referred to as his favorite on the album at his World Cafe Live Free at Noon performance on Friday. After his third mention that, "I'm just a little rundown here at the moment," he elaborated the thought with a specific location, "I'm all alone here in the darkness." Lest we pay too much attention to his blunt admission, he shouts, "all right!," and the band fires up one of their many new engines.
The straightforward, humanistic lyrical instincts pair well with a newfound desire to just fucking shred. Pitchfork long ago described the band's music as "excellent road trip music," and at several points in the album — "Under the Pressure," "Red Eyes," and "Ocean in Between the Waves" — the trip speeds by at exactly 80 mph, the latter song dying a fast death in a roaring crash.
Live, this all translates into something that must be experienced loud: Robbie Bennett's waves of keys, Dave Hartley's pulsing bass, Charlie Hall's assault on the drums, all of it supplemented by a touring assist from guitarist/keyboardist Anthony DeMarco and horn player Jon Natchez. But make no mistake, this is the singer-guitarist's show.
---
Bradley Maule

Bradley Maule

Bradley Maule

Bradley Maule
Bradley Maule

Bradley Maule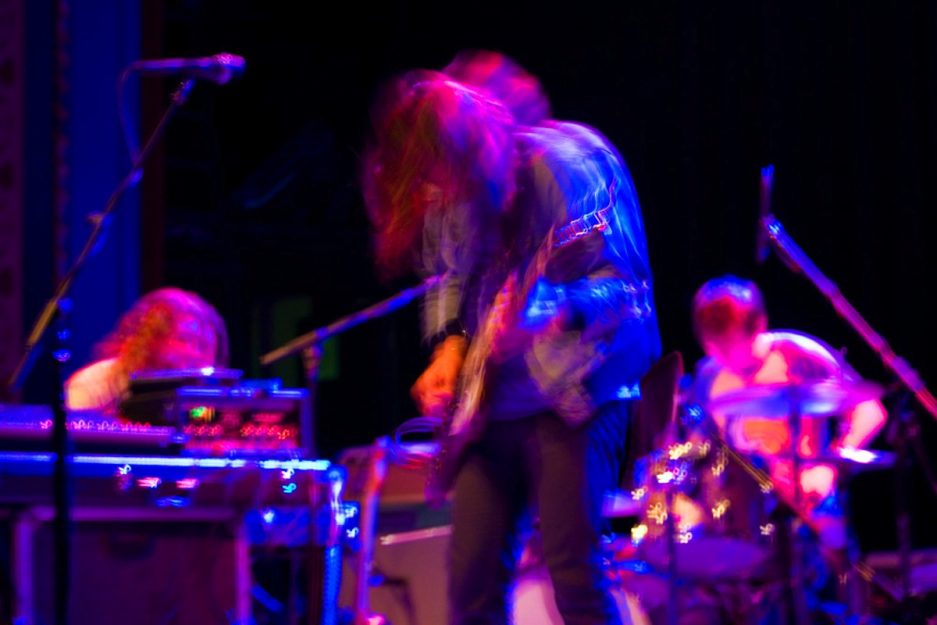 Bradley Maule

Bradley Maule
Bradley Maule
---
In his earliest musical endeavors after moving to Philly 10 years ago, Adam Granduciel joined up with the late, great Capitol Years, playing guitar and keyboard for the tour to support Let Them Drink, that band's seminal record that scored Philly's rock scene of the aughts, as well as the group's stint as Daniel Johnston's backing band. By the time Dance Away the Terror — the final Capitol Years record on which Granduciel played backing guitar — was released, he and his friend Kurt Vile had already begun playing as The War on Drugs. The Drugs headlined the first show at Johnny Brenda's new live venue in 2006, and two nights later, the Capitol Years released Terror to a sold out house, Granduciel on rhythm stage left to Shai Halperin's frontman.
Vile, who of course has built his own star since then, opened as a solo act with guitar and tape loops at the release of the Drugs' debut LP, Wagonwheel Blues, at JB's in 2008. Granduciel in turn traveled the US with Vile on the Smoke Ring for My Halo tour as a guitarist for the Violators in 2010.
It's natural to find a musical kinship between Vile and the Drugs he left amicably — listen to both's "yeah yeah yeahs"—as well as Hartley's solo project Nightlands, Bennett's Ivory Tuskk, and their many fellow Fishtown-Kensington bands from Spacin' to Purling Hiss to Arc in Round, whose Jeff Zeigler mans the console on so many of these bands' recordings. It's often spacey and atmospheric — I mean The War on Drugs' last album was called Slave Ambient—and Lost in the Dream retains a lot of those airy and occasionally dark elements.
It's at its best, though, when it comes out of the dark and right at you. About halfway through "Ocean," the song takes off in this regard. "It never gets too dark to find anybody at anytime / I'm at the darkened hillside, and there's a haze right between the trees / And I can barely see you, you're like an ocean in between the waves," Granduciel sings, right before unloading on his guitar like a rock star.
But perhaps best encapsulating the climb from dark to light are the back-to-back tracks "Haunting Idle" and "Burning." The single standalone instrumental "Idle" recalls similar tracks from the previous two LPs and two EPs, an eerie synth-driven spaceout that pulses up and into a cheery '80s anthem that soars. As "Burning" builds, Granduciel pleads, "so as you find yourself flying high up there, will you release me from your heart again," amplified by an exultant, "WOO!," before finishing the thought with intensity, "I'm just a burning man trying to keep the ship from turning over … again!" I can only hope that Hartley joins him at the mic for a Bruce-and-Stevie rendition of these lines.
It's honest, it's straight ahead, and it rocks. Lost in the Dream is what The War on Drugs has been building toward, and it's finally here. And it's going to fill the room at Union Transfer before they take it across the globe to already sold out shows.
Lost in the Dream is out today on Secretly Canadian Records. The War on Drugs plays Union Transfer tonight, with White Laces and A.M. Mills on support. More info here.
---