Where to Live if You Love Nature (Hint: It's Still in Philly)
City living is great for a lot of things (high rises, quaint side streets and walkability are chief among them). But when it comes to finding apartments near lush trails and hiking paths, there are decidedly fewer options. And for people who like escaping Center City every once and awhile, proximity to green space is essential. The recently redesigned and revamped Alden Park offers the best of both worlds: a Philadelphia address (it's eight miles from pretty much everywhere) along with easy access to the Wissahickon Valley Park (it's smack in the center).
For residents, there are huge benefits to living in the Wissahickon Valley Park: namely, all of the options for hiking, biking and running (psst: here are five awesome routes). We don't think we need to underscore how convenient this is, but in case we do: just consider how nice it'd be roll out of bed, toss on your sneakers and hit the trails in the morning, rather than schlepping it to another generic gym class. The location is also ideal for impromptu picnics and exploring (for much-needed fresh air, of course).
Now, the Wissahickon is only steps away from Alden Park. But if you'd like to do some shopping, visit a coffee shop or make dinner reservations, you're also nearby East Falls (five minutes), the Main Line (seven minutes), the Art Museum area (eight minutes), Chestnut Hill (12 minutes) and City Avenue (seven minutes). All of which offer top-notch boutiques, restaurants and cultural institutions. Students, meanwhile, can get to LaSalle University and Philadelphia University in 10 minutes or less. In truth, you can get to pretty much anywhere without making any inconvenient treks.
For homebodies, there are also tennis courts, private community trails and an outdoor lounge area, and dog park available just steps from residents' apartments. Then, when you need to head to work, class, or just want to hit the town, you can hop on Regional Rail for a quick trip downtown — Center City is only 13 minutes away.
Built in 1926, Alden Park has a rich heritage, to boot; the grounds were once part of the Strawbridge Estate and the property counts Grace Kelly amongst its past residents. Since then, it's been named to both the National Historic Register and the Philadelphia Historic Register. Its latest achievement, however, is its $60 million renovation, which has brought about a lengthy list of upgrades to the community and grounds including: a new dog park, an updated an indoor pool, an outdoor pool and kitchen, renovated lobbies and hallways, a fitness center, club room and bike room. The units also received massive spruce-up by way of brand new kitchens, granite countertops, stainless steel appliances, new cabinets, hardwood floors, new light fixtures and renovated bathrooms.
Lucky for you, the 764-unit property is still being renovated, so there's still time to nab a lease! For more information about moving into Alden Park, click here, or check them out during Open House tours every weekend in April. In the mean time, click through the gallery below for a sneak peek:
---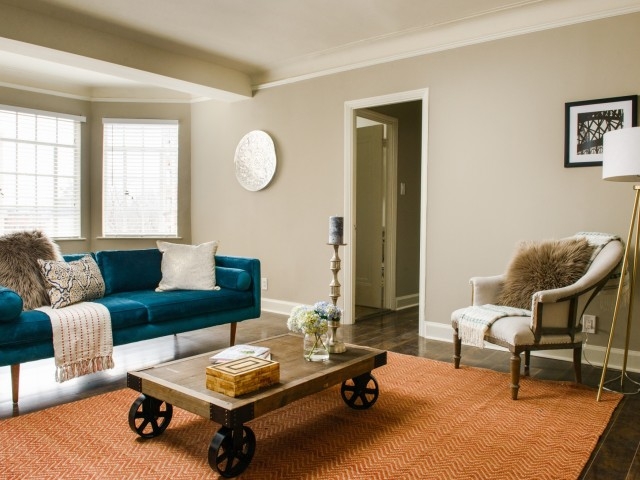 ---
This is a paid partnership between Open House and Philadelphia Magazine's City/Studio
---