These 5 Philly Offices Are Serious #DesignGoals
There's been a major shift in Philly's office style. Gone are the days of cookie cutter skyscrapers reigning supreme. Today, local businesses are investing their time and resources into making their spaces bigger, better, and more customized. Utilizing dilapidated but historic buildings to craft their one-of-a-kind workspaces, Philly brands are breathing new life into some of the city's most charming structures. Local JLL Philadelphia Market Director and expert in all-things-workspace, Mike Morrone says, "We're seeing a huge shift in the office category as businesses realize the impact these historic buildings have on their work, for the same or lower price than a traditional Center City high-rise."
But the benefits of creative workspaces go beyond the historic or aesthetic appeal. Research shows creative office spaces foster collaboration, culture, and creativity, boost retention rates, and can enhance overall office morale. "Today's workforce craves a live, work, and play environment," says Morrone. "Adding elements like more natural light, outdoor dining areas, and collaboration spaces can improve overall employee wellness and happiness, which improves productivity and keeps them at the company longer."
Curious to see a few examples of the awesome local offices he speaks of? Here are five of the most swoon-worthy workspaces in the area:
The Graham Building
"This is the poster-child for creative office space," says Morrone. "It checks all of the boxes—loft-inspired ceilings, alternative building materials, gathering spaces and amenities. A personal favorite of mine is the corner with the punching bag and bean bag chairs."
325 Chestnut
"A great example of a historical spot that's undergone renovations to become a creative hub is 325 Chestnut," says Morrone. "High ceilings and open layouts that extend to the outdoors make it a sought after, modern spot that doesn't have a hard stop between work and play; it's seamless."
The Bourse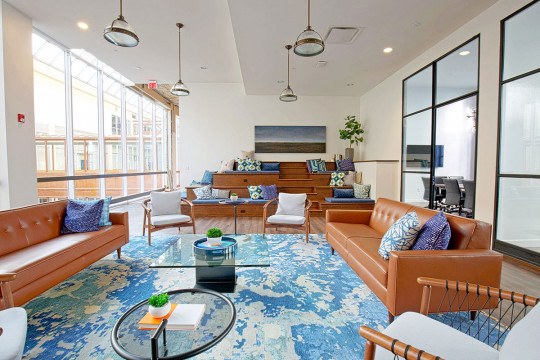 The redesign the whole city's been talking about—The Bourse— isn't just a foodie destination, it's an office space. "The Bourse office space is anchored by modern amenities including the historic artisan food hall below," says Morrone. "The high-quality food and public gathering space onsite is sure to draw in tenants to one of the most unique office buildings in the city."
1100 Ludlow
"By transforming a white brick and terracotta warehouse into a 200,000-square foot Class A creative suite, 1100 Ludlow perfectly exemplifies blending the old with the new," says Morrone. "Its wide-open layout, oversized windows, concrete floors, and 14-foot exposed ceilings are all super attractive to tenants."
The Swartz Building
The most exciting upgraded office space to come? "The Swartz Building is in the pipeline and has such a promising future," says Morrone. "The goal is to preserve historic details while upgrading it to a more modern, creative space that capitalizes on a lot of natural light and connects to the outdoors through a roof deck."
For more information about Philly's shifting creative office scene, check out this report.
This is a paid partnership between JLL and Philadelphia Magazine's City/Studio
---