This Sustainable Gardening Trend is Exactly What Your Backyard Needs
Philly Home + Garden Show vendor Scott Baldelli of Scott Baldelli Gardening & Design has been working in the horticulture industry for more than 14 years. His specialties include garden maintenance, design, edging, pruning, transplanting, deadheading, dry-set stone walls, wooden garden structures, composting, container gardening – his list is practically endless. However, one trend he's really excited about is edible gardening.
We sat down with Scott to talk about how edible gardening can be used in your own home.
What is an edible garden?
It's this idea of "food-scaping," a kind of landscaping design that incorporates herbs and vegetables to beautify your garden. Vegetable plants get a bad rap for not being very pretty, but when used the right way, they absolutely can be. Personally, it's such a passion of mine to grow my own food. I'd really love to see more people doing it.
Many people don't have a lot of outdoor space to grow a vegetable garden, especially in the city. Can people working with smaller spaces still do this?
Definitely. People have a misconception that you can't grow anything, especially vegetables, if you have just a small balcony, a little courtyard or even a sunny windowsill. That's just not the case. You absolutely can. We're going to try and show people as much of that as possible at the show with some small space container gardens.
What should homeowners who want to redesign their gardens look for in a landscaper?
Find a designer who has the same style and vision as you. There are a lot of different styles out there – modern styles, more structured styles or organic looking gardens. Look at the landscaper's portfolio and see if there's something you like. Second, you want someone you can trust. For me, being on someone's property and being charged with beautifying their outdoor space – a place that they take a lot of pride in – is kind of an intimate task. Lastly, communication is really important. Establish a relationship with your gardener so you're both on the same page.
How would you describe your style and philosophy when it comes to garden design?
I try and emulate nature as much as possible. That means using organic fertilizers and pollinators, but also incorporating the use of companion plants. Companion plants are plants that grow better together. For example, broccoli and oregano grow really well together, but beans and chives do not. That happens for a variety of reasons. Sometimes it's their chemical compounds; other times, plants need the same nutrients so they'll stunt each other's growth when they're together. It's all about picking the right plant for the right space.
What can visitors expect when they see you at Philly Home + Garden Show?
We're going to try and bring a traditional backyard space to the show. We'll also have different garden beds and, of course, we'll have vegetable plants to show how pretty they can be when used the right way. We'll also have some recipes so visitors can get an idea of how to use the vegetables in their gardens. We have a lot of small space ideas and we'll also give people tips and tricks on how to have a green thumb. We're really excited to show everybody what we have.
In addition to Scott's Edible Landscaping display, the Philly Home + Garden Show features 7,500 sq. ft. of inspirational gardens, including wine and beer tastings and live music.
---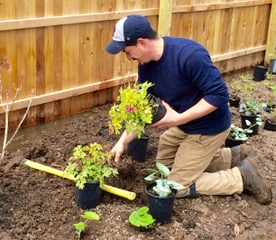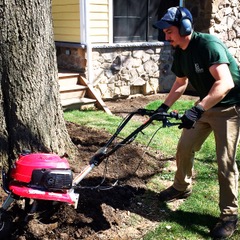 ---
For ideas on how you can improve the look of your own backyard, check out the Philly Home + Garden Show from February 16-18 at the Greater Philadelphia Expo Center at Oaks. Save $3 on tickets with promo code: PHILLYMAG by purchasing them at PhillyHomeAndGarden.com.
This is a paid partnership between Philly Home & Garden Show and Philadelphia Magazine
---