These Incredible Philly Area Gardens, Yards and Landscapes Will Inspire Your Next Home Project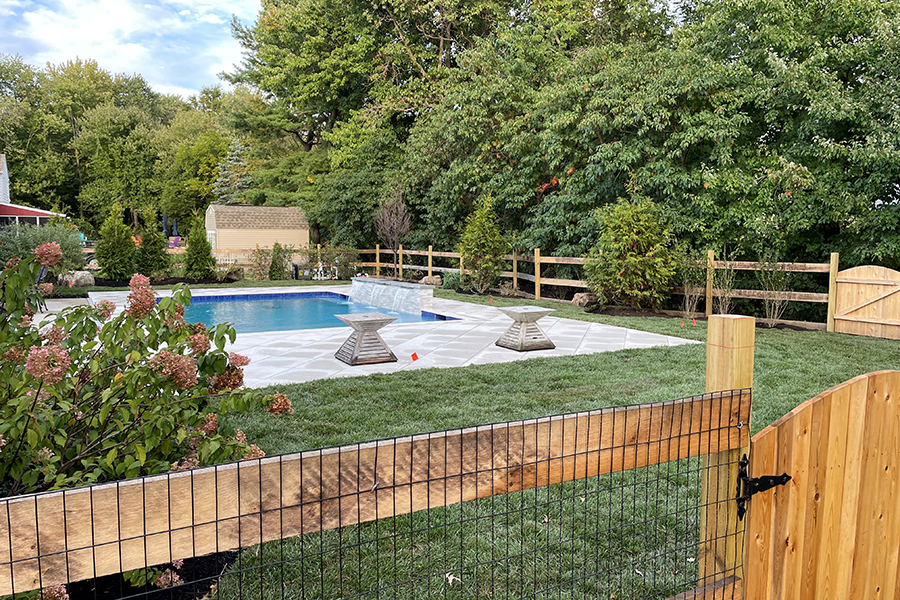 It's easy to see when your backyard landscape needs a makeover—maybe your pavers are overrun with weeds, your space lacks color and variety, or perhaps the garden feels like nothing more than a plant graveyard. The hard part is knowing where and how to begin fixing it.
The Philly Home and Garden Show is the perfect place to start gathering inspiration by seeing some of the area's most gorgeous gardens blooming in real life. From February 24 to 26 at the Greater Philadelphia Expo Center at Oaks, you can get tips from celebrity professionals, tour displays of gardens, learn planting techniques, and take note of floral trends (just to name a few).
To give you a sneak peek at some of those trends and how they're executed in the Philly area, Orbit Landscape and Design, whose work will be one of the Feature Gardens on display at the Philly Home and Garden Show, shared some insider tips inspired by their culminating work at this year's show. Here are five ways to give your space, big or small, that lush, well-balanced look.
Create Definition Within One Space
A backyard can be made into more than just a vast stretch of grass and a patio with just a little organization. "A lot of people don't really think of breaking up their outdoor space into separate spaces, like you would do inside of a house," says Leah Widmer, landscape designer at Orbit.
But Widmer says that backyards can benefit from some structure. The addition of organized spaces within the backyard creates a sense of variety and utility for entertaining, something they focused on in the Home and Garden Show display. To create a conscious layout and mimic the separation of rooms in a house, Widmer suggests using pathways to direct people from space to space within the landscape. Pathways like this add an inviting, interactive element to the whole space.
For example, in Moorestown, the team designed a patio that included a small circular area for a firepit on one side, which led to a rectangular area on the other side that provided a natural space for a table or sitting area. This is what Christopher Kendzierski, principal designer at Orbit, sees as a large part of their job as landscape designers—to direct people, through design, as to how to use a space.
"That's our job, and that's what we're good at," he says. "And that's what we've been doing for all these years."
Get Crafty With Your Driveway
The team at Orbit takes pride in making the most utilitarian parts of your outdoor scene into a natural element. They've proven it with their own display by including the company car in their design to show that you can integrate anything into the design of the garden—and make it look good.
"That's the beauty of it," says Kendzierski. For example: "If you wanted to make your driveway look like less of a driveway, maybe you didn't want it to feel so cold, there's so many different ways and concepts."
In fact, the Orbit team suggests that you can even do so while expanding the space you have to park your cars. Kendzierski explains that, for example, they use boulders to outline an additional space filled in with stones, and add plants like evergreens and perennials around it to disguise and spruce up the space (and appease neighbors).
"That space that would simply have been a piece of asphalt becomes multicolored pea-gravel stone enhanced with a few boulders and ornamental grasses," he says. "With our approach, when the car isn't there, it looks like a design element within the landscape."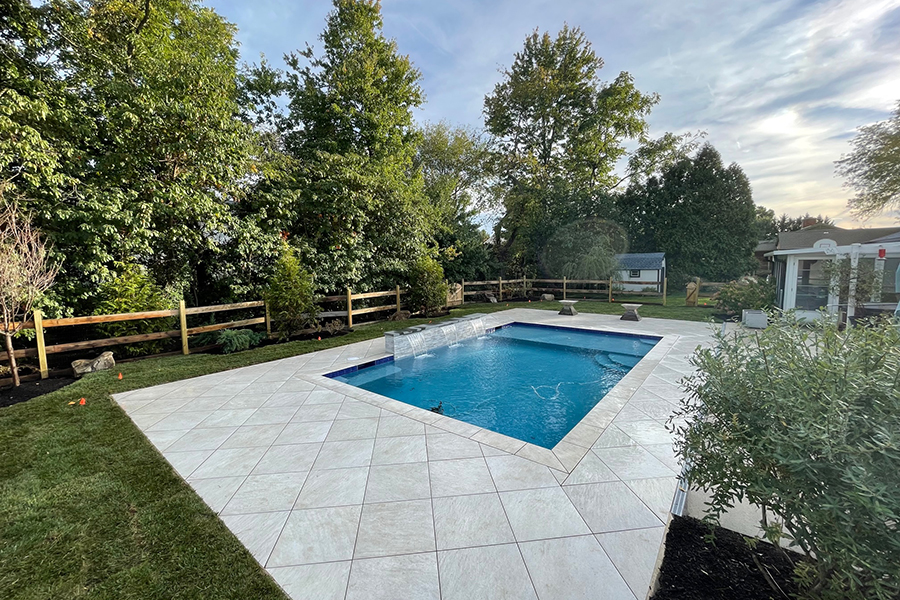 Work With the Seasons
One of the toughest parts about maintaining a garden in the Northeast is wrestling with the four seasons. When it gets cold, we want to avoid our gardens dying and having to rebuild them every spring. Evergreens are the obvious choice for winter plant life, but Widmer says to consider other varieties like the ones in Orbit's Philly Home and Garden Show display, which was designed to look good in cold weather.
"If you have too many evergreens in one place, it's going to look weird," she says. "They all have the same fine-textured leaves, so it doesn't give much variety."
Instead, she recommends trying a holly or a smaller blue evergreen shrub called a grey owl.
"They'll have leaves on them all year long, but they both have different textures," she says. You can get a sense for the overall look and feel of this textural variety at Orbit's garden show.
Create an Indoor-Outdoor Design
Creating a livable space outside the house can work to soften the transition between the indoors and the backyard. At the Orbit Philly Home and Garden Show exhibit, visitors enter the display with more intimate, conscious spaces upfront, which then transition to more free-flowing spaces. This was inspired by their work in Wilmington, Delaware, where Kendzierski's team completed a project where the client wanted a more fluid indoor-outdoor space for his parents to come visit.
The team reinstalled fencing, made a sitting area for a bistro table and chairs, and arranged pots around the space to add a dynamic and distinctive design element.
"All of a sudden you have a space that's an extension of the inside," says Kendzierski. "It's no different than walking from one room to the other—you just open the door, you walk out, and now you're outside in that room."
If you're stumped trying to connect the design elements of the inside to your patio outside, try Kendzierski's strategy instead: Think about how the space is going to be used inside and outside and tie those uses together.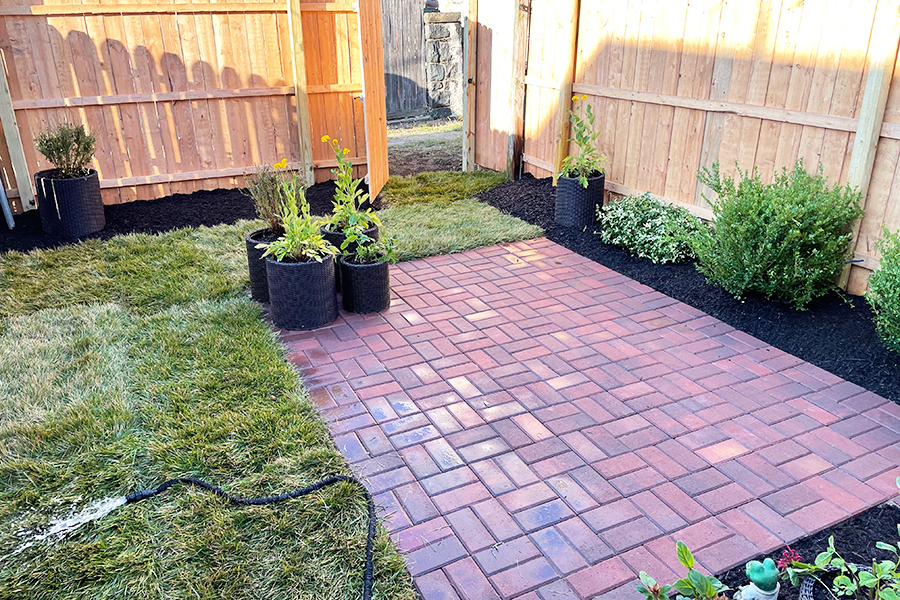 Choose the Right Plants for Your Area
Especially in the city, outdoor areas vary in size. But according to the team at Orbit, you can still make them into lush, natural spaces.
One way is to choose the right shaped plants for your outdoor plot. Smaller plots, according to Widmer, will have a harder time accommodating shade trees that grow outwards more than they grow upwards.
"The accolade elm, hornbeam, they have more of an upright, thin champagne glass [shape]," says Kendzierski. A smaller space will be able to accommodate the columnar shape because it grows up, not out. In a larger backyard, you'd be able to have all the shady trees you desired—with variety in leaf shape and color, of course.
Additionally, container gardening can be a great solution for smaller urban spaces. It also allows you to have more flexibility with the plants you choose.
"You can cater the soil to what the plant needs," says Leah. "If the plant you want needs more water, you water it more often. If it needs drier soil, use a sandy mix instead of clay or loam mix."
The flexibility of potted plants will give you plenty of design directions to go in for your backyard improvement project—and the Philly Home and Garden Show will be the perfect place to collect inspiration and start forming a more specific vision for your space.
This is a paid partnership between Philly Home & Garden Show and Philadelphia Magazine's City/Studio
---