5 Trend-Setting Weddings That Stunned Greater Philadelphia This Year
2022 has been a busy year for weddings after two years of delays and rescheduling due to COVID. As we've moved into a new decade and a new era, some of the most notable trends, ranging from virtual save-the-dates, to weekday weddings, to upcycled clothing and décor, reflect our rapidly changing and broadening culture.
With 2023 rapidly approaching, weddings are only going to get more interesting. To find the five major wedding trends you can expect to see everywhere in 2023, we took a look at the most stunning and innovative weddings hosted by one of the Philly area's leading wedding venues, Springfield Country Club, in 2022. Here's what we found.
Grand Entrances
Open and close your wedding with a bang with grand entrances and exits. Sonali and Rushil's wedding blends two trends at once with a modern, exciting, colorful ride in. It sets the tone for the rest of the wedding, so a playful entrance was perfect for their fun and whimsical day.
Grand entrances and exits open the door for creativity for the couple to incorporate their personalities into their ceremony. If you're planning on partaking in this trend, make sure to have fun with it!
Outdoor Wedding Ceremonies
Outdoor wedding ceremonies have been common, but are growing in popularity. Maybe it's the beautiful photography that comes out of outdoor settings, like this photo of Michelle and John, who chose to have their ceremony on the grounds of Springfield Country Club. The scenery, natural lighting, and fresh air that you get at outdoor wedding ceremonies are hard to beat.
Reception Entertainment
There can be more reception entertainment than just the DJ. Isaiah and Candice's wedding featured a themed dance performance, entertaining guests and bringing some creativity into their wedding celebration. What you choose for your wedding can be anything from a tap-dancing performance to a traditional music. If you can incorporate your family traditions into the mix, it makes for a special night, and adds a personal touch to your wedding that guests won't forget.
Floral Decor
Mona and Bryan's wedding showed us how a beautiful floral installation can make your big moment unforgettable to everyone watching. But unique designs incorporating flowers have been all over the wedding scene. Hanging florals, floral dresses, floral backdrops–you name it. Flowers are always a part of weddings, but the use of florals throughout the wedding from clothing to table-scapes will continue to change how weddings look into the new year.
Creative Signage
Signage is already a wedding necessity, so why not make it fun? Sarah and Matt's wedding used their last name to create beautiful and memorable signage that made for some amazing photos. Creative signage doesn't only have to be on a backdrop or dance floor, either. Get creative with the menu, table markers, and seating charts, too. Every creative decision leaves room for the couple to have fun with their wedding and make it their own. If you find the right venue that can support you in these kinds of creative decisions, there's really no limit to how personal and meaningful your wedding can be.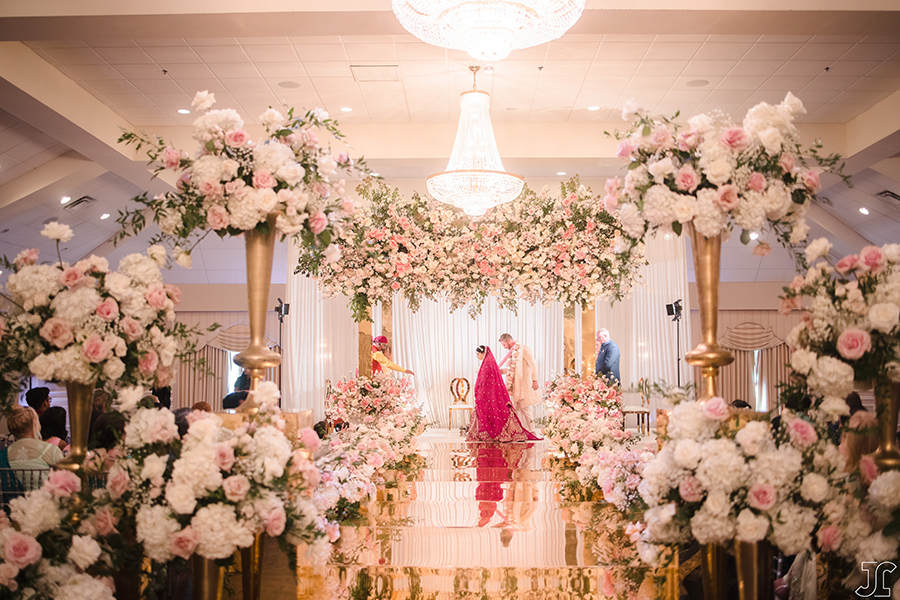 Finding an On-Trend Venue
These five trends show us that grand and creative weddings are what is "in" this upcoming wedding season. Remember, trends should be a fun opportunity to get creative and mix and match to find the right look for your own personal style. Whether you start off with a grand opening like Sonali and Rushil, go with a floral outdoor venue like Michelle and John, or take inspiration from all five of these weddings, with the right wedding vendor, you can make your own wedding just as stunning.
Try checking out Springfield Country Club for an unforgettable wedding venue that can bring your wedding to life.
This is a paid partnership between Springfield Country Club and Philadelphia Magazine's City/Studio
---