5 Fruit-Forward Mocktails You Can Sip at Home This Winter
Drinking less alcohol isn't just great for your heart, liver and immune system. It can also prevent anxiety from compounding—an important consideration given the stressful environment we're all living in right now.
Since alcohol functions primarily as a sedative, having a few drinks can temporarily create feelings of relaxation. In response, your brain begins revving up its stimulatory system to reestablish a balance—a process that can later leave you feeling unmoored and anxious after a night of drinking. Switching to non-alcoholic mocktails can help you avoid that next day anxiety without sacrificing any of the fun of sipping something flavorful.
Whether you're looking to finish out Dry January strong or simply have a fancy night in without the booze, these alcohol-free mixed drinks fit the bill.
The Hugo Mocktail
This light spritzer will make you think of spring—even when it's still 30 degrees outside.
1 ounce elderflower syrup
3 ounces sparkling mineral water
1 lime
Fresh mint
Muddle a few mint leaves and the juice from half a lime in the bottom of a tall glass. Add ice, then elderflower syrup and top with sparkling water. Garnish with more mint leaves and a lime slice.
Blood Orange Spritzer
Colorful winter citrus stars in a bubbly, booze-free drink.
4 ounces blood orange juice
2 ounces lime-flavored sparkling water
½ ounce agave syrup
Blood orange slices
Shake the blood orange juice with the agave syrup and ice in a cocktail shaker. Strain into ice-filled glass, top with lime sparkling water and garnish with a blood orange slice.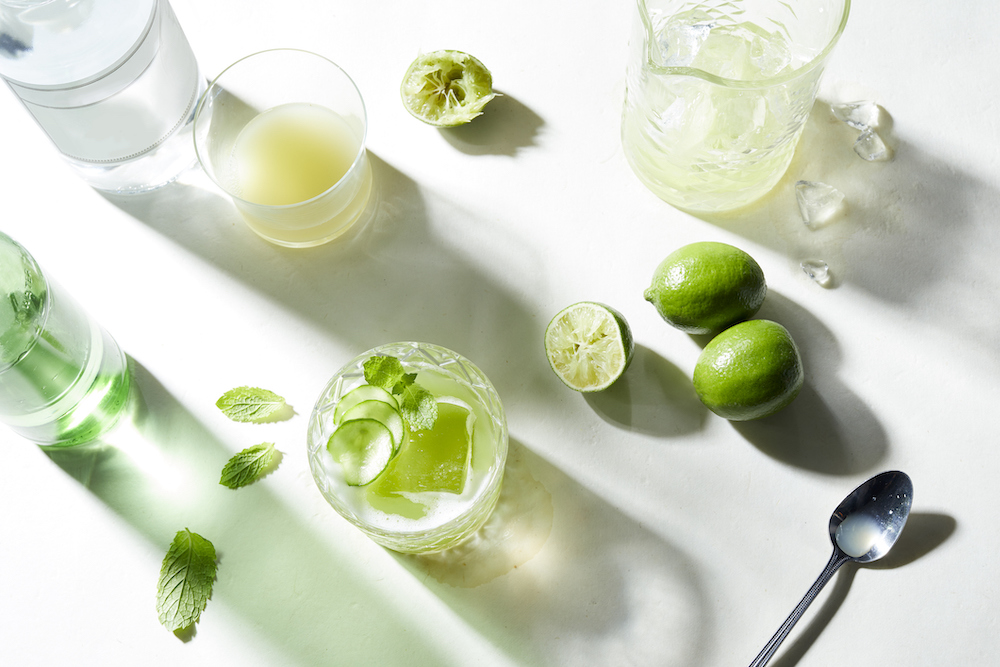 Lime Rickey
This perfectly tart thirst-quencher dates back to soda fountain days.
2 ounces fresh-squeezed lime juice (about 1–2 limes)
1 ounce simple syrup
3 ounces seltzer water
Mix the lime juice and simple syrup, and pour into a glass filled with ice. (For a Cherry Lime Rickey, add 2 tablespoons of cherry syrup to the mixture.) Top with seltzer water, stir and garnish with a lime wedge.
Sweet Sunrise
This tequila- (and hangover-)free version of a Tequila Sunrise features dramatic layers of color thanks to pomegranate-based grenadine.
4 ounces pulp-free orange juice
1 ½ ounces soda water
1 ounce grenadine
Fill a Collins glass with ice and add orange juice and club soda. Slowly pour the grenadine into the center, letting it sink to the bottom of the glass. Garnish with an orange slice and maraschino cherry. Use fresh-squeezed OJ if you can, or try subbing in an orange-pineapple juice for an extra tropical kick.
Winter Sangria
This big-batch punch, which yields about 4 servings, only gains more flavor as it chills.
1 orange, sliced
1 grapefruit, sliced
½ cup cranberries and/or pomegranate arils
1 cup pomegranate juice
½ cup orange juice
12 ounces (1 can) grapefruit-flavored sparkling water
Mix pomegranate and orange juices in a large pitcher. Add the fruit, stir together and refrigerate for at least 2 hours. Just before serving, pour in the grapefruit-flavored sparkling water. Garnish with fresh fruit slices and enjoy.
Get more information on how Independence Blue Cross can be a part of your plan for health and wellness this year.
This is a paid partnership between Independence Blue Cross and Philadelphia Magazine's City/Studio
---