An Exclusive Look Inside This Luxury Pennsylvania Resort's Breathtaking Transformation
On a sprawling property in Pennsylvania's Laurel Highlands—more than 2,200 acres—sits a getaway destination fit for royalty. The story of this place, Nemacolin, starts with the 1987 construction of The Grand Lodge, an impressive woodland hotel that charms visitors before they even step inside. As you approach its majestic, Tudor-style facade, you get the feeling that the guests behind its walls must have walked right out of a romantic fairytale—and, this year more than ever, that may well be how you feel the moment when you enter the lobby.
That's because Nemacolin's visionaries have just turned the next page in Nemacolin's story by revealing The Grand Lodge's enchanting makeover, which conveys both elegant ritz and a nostalgic charm. The Grand Lodge elevates Philly's wilderness getaway experience beyond our most extravagant fantasies, and has made it a must-visit for lovers of luxury the world over.
We spoke to founder Joe Hardy's daughter Maggie Hardy, owner of Nemacolin and the mind behind The Grand Lodge's transformation, to get a behind-the-scenes look at the makeover, from elite dining upgrades to new white-glove services. So, people of Philly: prepare to be spellbound.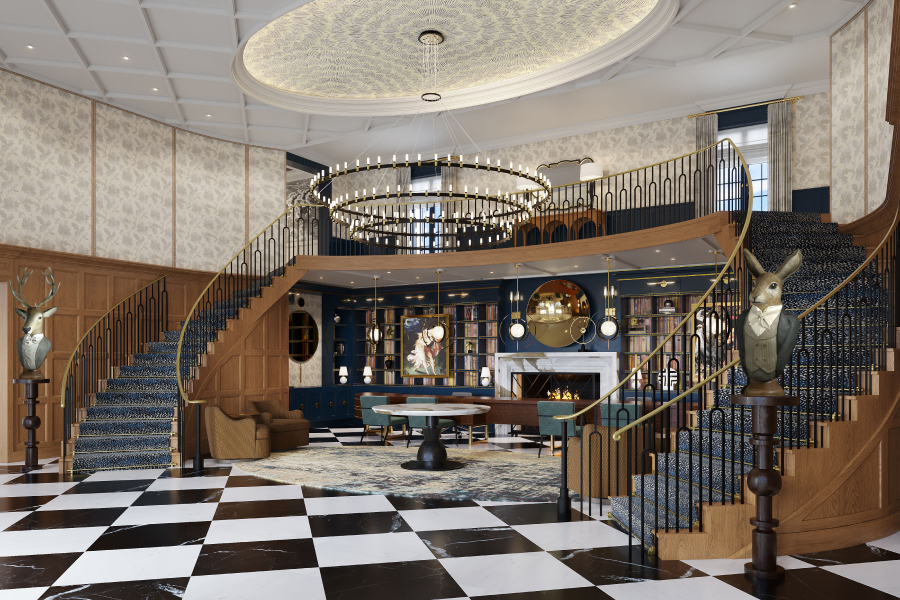 A Reimagined Grand Lodge
Over the past year, The Grand Lodge has undergone a miraculous transformation that would be hard for any guest, new or returning, not to notice. Even with The Grand Lodge's change, Hardy and the Nemacolin team started with the essential character elements of Nemacolin in mind: a long-held focus on top-tier service and an air of escapism. That meant adding to, not dismantling, the building's core historic structure.
"The original lodge was a piece of the property's history," Hardy says, "so we prioritized keeping the bones of the building while revitalizing its story and bringing it into the future with us."
To achieve this, Hardy says they infused the original personality of the original building, called The Lodge, with a modern look to bring it into the current aesthetic moment, weaving in characteristic whimsical touches. "​​We have a masterful team of designers, builders and associates helping to bring The Grand Lodge to life," Hardy says.
The genre-bending lobby beckons you in, with black-and-white checkerboard flooring and upscale decor that meets rustic natural wood everywhere you look. Make sure to take in the colorful details, including the two busts of debonair woodland creatures in three-piece suits standing sentinel on each side of a brand new split staircase.
Another reimagined element of old: The Grand Lodge contains the diverse collection of art that Hardy and her father curated. "The property's fine art collection holds a special place in my heart," she says, noting its range of mediums, eras, color palettes, artists and styles. With The Grand Lodge's modernization, the art collection also includes new pieces, as a younger Hardy generation joins in its curation–selections from Hardy's son, PJ.
Transportive Dining Experiences
With The Grand Lodge's opening, there are two new places to enjoy food and drink. The first: Fawn & Fable restaurant, overseen by Chef de Cuisine Tyler Hutchinson. The menu boasts a unique menu with locally inspired dishes, which Hardy says call to mind steakhouse classics—but with a modern twist.
"The restaurant will be an elevated experience that invites guests into a story to enjoy farm-to-table fare sourced from in and around the area," Hardy says. Some of the produce is even grown at Nemacolin, and the restaurant will use sustainable methods to execute its fresh-yet-indulgent dishes.
Fawn & Fable will have a storybook feel with allusions to the Laurel Highlands, consistent with Nemacolin's fun and whimsical spirit, while introducing an inventive new dining option for all travelers. "Guests will feel like they're dining in a fairytale brought to life," says Hardy.
The second opening will be Circle Bar, an elevated cocktail experience with more of a lavish and sensual atmosphere. Centered around a circular bar, the lounge has space for larger groups and people looking to mingle, as well as secluded areas for more intimate dining. Hardy says the cocktails will be inventive and unique, as bartenders hope to "take guests' senses on a journey."
Bespoke Service From Cover to Cover
If you book your Nemacolin stay at The Grand Lodge, you'll be cared for like never before by a team of Nemacolin specialists. First—in a service exclusive to only three lodging options at the resort—you'll be connected with your very own butler before you arrive. Butler teams and resort reservations specialists will get to know you so that your experience is tailored to your interests and preferences.
Your team will work with you to coordinate a personalized itinerary of meals, activities and leisure time, suggesting things to do that you may otherwise miss on the sprawling resort property. If you're an animal lover, for example, your butler may suggest you check out Wildlife Adventures for a trail ride or an animal meet-and-greet. Others who are feeling lucky may want to pencil in a night at the on-site Lady Luck Casino.
But Hardy says there's no pressure to stay consistent with your itinerary. "Once the vacation begins, itineraries can also be updated to reflect newly discovered wants and curiosities," Hardy says. And if you do change your mind about an activity, your butler will handle it for you.
When you finally arrive under the brand-new, glass-covered porte cochère, you'll be greeted by—and have around-the-clock service from—your butler team, who are prepared to handle all your needs.
"Service will take many forms depending on the guest," says Hardy. They can unpack your luggage and present bath and pillow menus, point you to shoe-shine, laundry, and dry cleaning services, and fulfill any other requests you have. Just like in a fairytale, every little detail ends up just right.
This is a paid partnership between Nemacolin Resort and Philadelphia Magazine
---