10 Reasons Longwood Gardens Is the Most Magical Place to Visit During the Holidays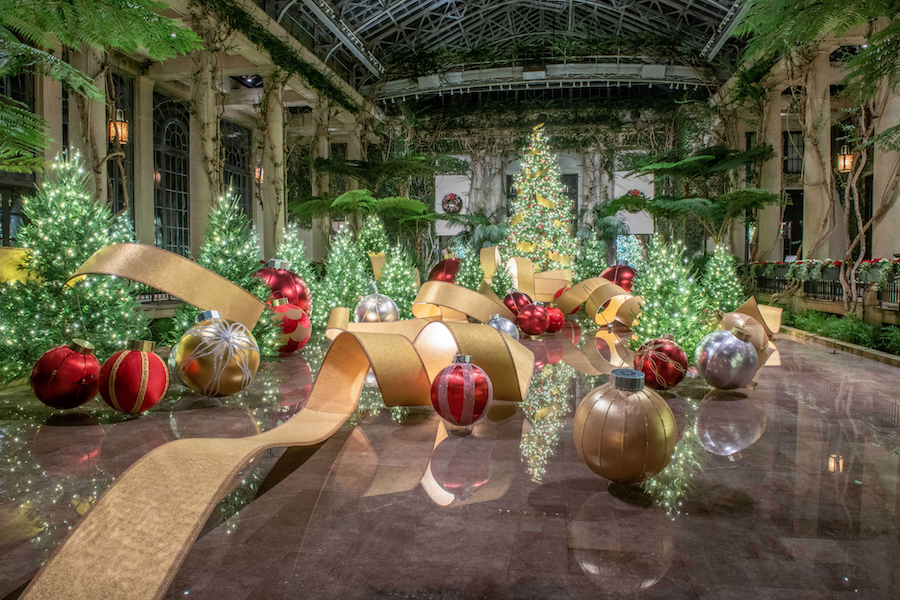 It took four days, hundreds of thousands of lights and countless ornaments, but a magical holiday wonderland has just appeared near Philly. From now until January 5th, Longwood Gardens is celebrating the "Shapes of Christmas" with its most festive, twinkly and flower-filled spectacle yet. Think frosty snowflakes, swirly lollipops, decked-out trees and more. There's no better way to get into the spirit of the season than by walking the whimsically decorated grounds — here's why a visit to Longwood Gardens should go straight to the top of your holiday wish list.
There's lots to see no matter the weather.
With miles of decorations both indoors and out, there's plenty to explore both in the heated greenhouses and the outdoor gardens. Duck inside the four-acre Conservatory to view a larger-than-life, handcrafted 350-foot long ribbon weaving amongst gigantic ornaments and an indoor forest of trees, or cozy up to one of three outdoor fire pits (weather permitting) to take in the surrounding scenery.
The old-fashioned candy shop will make anyone a kid again.
Get an instant sugar rush in the Music Room, where America's oldest candy store Shane Confectionary has filled counters full of seasonal sweets. Clear toy candies — a popular Pennsylvania German Christmas tradition — and vintage candy molds set a nostalgic mood. There's plenty for eating, too, with horticulturally themed treats and rich hot chocolate available throughout the Gardens to sweeten your trip.
You can enjoy the tallest Christmas trees (without trying to fit one in your living room).
Between the Ballroom's 18-foot Fraser fir dripping in crystals and the 24-foot, pinecone-themed masterpiece in the East Conservatory, towering pines stand almost everywhere you look. Don't miss another big beauty outdoors. The beloved Gardener's Tree — completely covered in ornamental gourds — stands more than two stories tall.
And see trees in almost every color — including pink!
That's right: Head to the Rose House (fitting, no?) to view a living tree covered in more than 150 'Christmas Joy Pink' poinsettias. Outside, twinkly trunks and branches glow in white, blue, purple, yellow, red and of course green.
There's an award-winning light show.
Speaking of lights, there are more than 500,000 of them outside this season — no wonder USAToday/10Best named Longwood Gardens the best botanical garden for holiday lights last year.
Expect to see dancing beams illuminate the Main Fountain Garden and watch as a continuous light show brightens the towering trees alongside the Large Lake in sync to holiday music.
It's not Christmas without a Christmas train.
The model railroad outside the Terrace Restaurant also received the holiday treatment, with festive decor added to the miniature scene. Each locomotive winds its way past diminutive Longwood landmarks — another chance to enjoy the gardens all over again.
Your kids will go nuts over the Wildlife Tree.
That's because it's quite literally covered in edible ornaments handmade for furry and feathered friends. The decorations function as a holiday buffet for the animals that call Longwood Gardens home.
The pine trees and paperwhites just smell like Christmas.
There's no shortage of botanical scents at this botanical garden. See (and sniff) thousands of lilies, amaryllis, paperwhites and other festive flowers throughout the Conservatory.
You can sing your favorite carols — accompanied by a 10,010-pipe organ.
Longwood's majestic Aeolian organ, a favorite of founder Pierre S. du Pont, adds a certain something to "Jingle Bells." And if you rather not sing, just enjoy the 62-bell carillon ringing out from the historic Chimes Tower or holiday serenades from the Strolling Olde Towne Carolers on select evenings.
The 140-foot light tunnel is Instagram heaven.
Stroll over to the Meadow Garden for a stunning photo-op to commemorate your visit. The archway, illuminated in 7,000 gold and white twinkling lights, is the perfect backdrop for your new favorite holiday memory.
Visit A Longwood Christmas now through January 5 in Kennett Square. Reserve your timed admission tickets now at longwoodgardens.org
This is a paid partnership between Longwood Gardens and Philadelphia Magazine's City/Studio
---