Floating Firs, Stained Glass Spruces & More—You Can't Miss A Longwood Christmas
It's that time of year again—when families and friends flock to Longwood Gardens to take in the magical creations their expert team of designers, decorators and gardeners have dreamt up. This year they've truly outdone themselves—creating a world of wonder through trees.
This year's theme, the Tree Reimagined, takes unconventional materials and transforms them into imaginative takes on the most iconic symbol of the season—the tree. To inspire a little Christmas cheer, they've shared a sneak peek of the incredible exhibit with us. But the best way to take in the showstopping spruce display is to see it up-close-and-personal now through January 6th.
A Wildlife-Inspired Wonder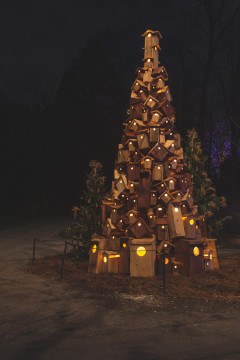 Visitors in search of the annual Wildlife Tree will surely delight in this year's reinvented shrub. The 13-foot conical tree is covered in 200 handmade birdhouses (in varied sizes to fit everything from owls to wrens), and edible ornaments—a welcomed gift for the local furry and feathered friends. Post-holidays, the tree will be dismantled, and the birdhouses distributed to local schools and conservancies.
Season's Readings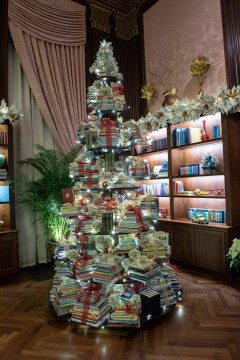 Tucked inside the Music Room you'll find the dream tree of any literary-lover. Next to an 18-foot Fraser fir draped in a garland of books, you'll find a creative take on a tree, built with bundles of children's books—all of which will be donated to local schools once the display is done. Decorative book art by Downingtown artist, Dannielle Vincent adds an extra special finishing touch to the space.
Pretty Floral Pines
Aside from the unorthodox materials used to make these pines, you'll spot several trees constructed with traditional forms of flora and fauna. Large and luscious poinsettias are scattered throughout towering trees in the Conservatory, while a vibrant tropical-inspired tree wows with its bold colors, textures and 100 cuts of unique flowers in the Palm House.
Stained-Glass Spruce
A short walk in to the Conservatory, you'll encounter an almost ethereal-looking tree crafted with 600 slivers of hand-cut glass in varying shades of green. Watch as the shards sparkle and shine over a meadow made of red and white amaryllis, hellebores and kalanchoe.
Traditional and Tumbleweed Trees
In the East Conservatory you'll uncover a traditional fir with a modern flair. Rather than evenly spread ornaments throughout the tree's branches, gardeners opted to group them together for a contemporary twist full of pops of color. In the Silver Garden, you'll find a whimsical 12-foot tree inspired by the Southwest, crafted out of tumbleweed.
Floating Firs
Although the entire Tree Reimagined display is an Instagram waiting to happen, the pièce de résistance has to be the floating fir forest, made up of 17 trees, embellished with crystals, glass ornaments and glittering baby's breath. Prepare to be wowed by the radiant glow it casts all over the Fern Floor.
Celebrate the magic of the season at a A Longwood Christmas.
This is a paid partnership between Longwood Gardens and Philadelphia Magazine
---