5 Habits That Can Decrease Your Breast Cancer Risk When You Live in Philly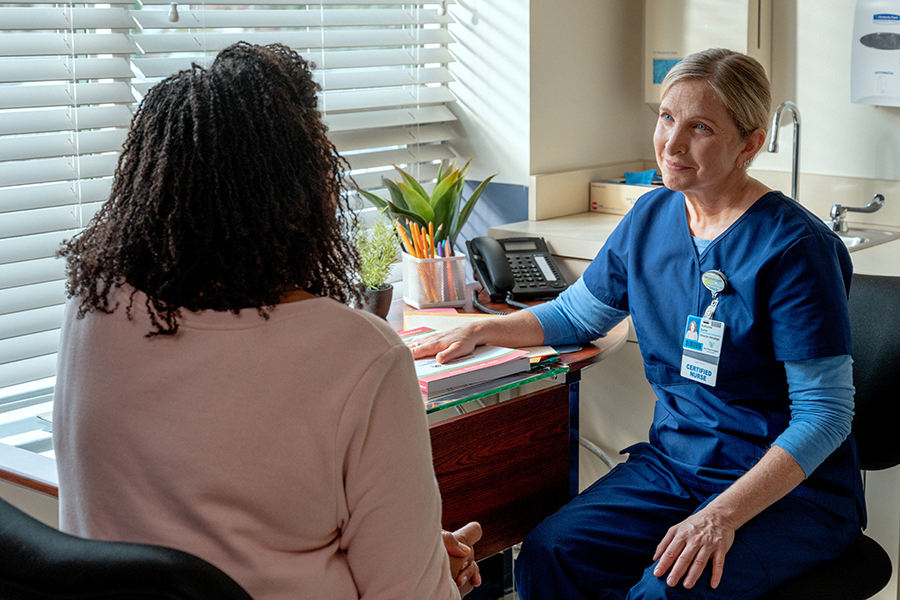 Breast cancer is one of the leading causes of death in women nationally, and Philadelphia, where the overall cancer rate is slightly higher than other large cities, is no exception. But Philly also provides lots of opportunities to build good habits that have the potential to decrease your risk of breast cancer. With world-renowned health care services and the wide variety of lifestyle choices presented by a big city, people from Philly and the surrounding suburbs can make the right choices and live the healthiest life they can.
To help you build a lifestyle that you can feel confident about, we spoke to Terri McHugh, DO, Medical Director, Cancer Risk Assessment & Genetics Program, Main Line Health, and Catherine Carruthers, MD, Main Line Health breast surgeon, about the choices that can make the biggest impact on lowering breast cancer risk. Here are five behavioral changes in Philly you can make, starting today.
Eat These Foods
Eating with your breast cancer risk in mind doesn't mean giving up eating at the Italian Market – as long as you limit the processed foods and choose the fresh ones. Studies have shown that eating the right kinds of fats from unprocessed sources like nuts, olives, fish and avocados, in place of processed ones, may help to lower your risk of breast cancer.
Other studies suggest that Vitamin D from natural sources like dairy, fruit and fish can be helpful. You can also talk to your doctor about taking a vitamin D3 supplement. We typically recommend 1000 units daily. And while there are some great bars in Philly, everything is best in moderation: if you really want to limit your risk, stick to one drink per day, and mix it up with Philly's growing non-alcoholic cocktail scene.
Take a Jog
It's not always easy to get some cardio in the city, but Philly is fortunate to have bike lanes throughout Center City, and a jogging and cycling path that goes on for miles in the Schuylkill River Trail. Even the Parkway makes for a scenic run in a pinch.
That's a good thing, because staying in shape can reduce your risk of breast cancer (as well as a multitude of other cancers and negative health conditions). Managing your weight is also important to your health. Your doctor can help you set a weight goal and create a plan to get there – for many of us, it can be as simple as two 45-minute workouts a week.
Get Some Sun
The other reason to get outside in Philly? Getting enough sun can actually be critical to reducing your breast cancer risk because, in addition to diet, sunlight is another important source of vitamin D. That means when you step out for a walk on a nice day, your body is fueling up on an important resource for cancer prevention.
Just make sure to keep it at the right level: no more than 15 minutes a day without sunscreen, as too much direct sunlight can cause skin cancer, so use sunblock, and take a break in the shade in one of Philly's many tree-filled parks.
Get a Regular Screening
The best way to stop breast cancer in its tracks is to catch it before it spreads, so getting a regular screening is one of the most direct and proactive ways to reduce your risk of advanced breast cancer. Most major health organizations recommend women start receiving regular mammograms in their 40s, but it's important to remember there are plenty of exceptions, such as a family history of breast or ovarian cancer. While getting that first test can feel intimidating, there are plenty of resources that can help you feel confident in taking the right step.
Check Out Genetic Testing
One other risk factor that can determine if you need early or more frequent screenings is your genes. If you want to take your preventive steps to the next level, the rapidly growing field of genetic testing to address cancer risk is worth checking out. While often people hear about the breast cancer genes called BRCA1 and BRCA2, there are many other genes that can also increase the chances someone can develop breast cancer. Any person who has had breast cancer themselves, or anyone with a family history of breast, ovarian, prostate or pancreatic cancer may have a higher chance of having one of these genes. Finding out if you do can help you lower your chances of cancer.
A genetic counselor can help walk you through the process and connect you with an increasing number of experts in preventive care for breast cancer—which can take the form of everything from regular screenings to revolutionary new technologies.
The Time Is Now
It's never too late to make a difference in your healthcare. Altogether, when you combine the right lifestyle with the right assistance from your health care providers, you can rest assured that you're doing what you can to prevent unnecessary risk and live healthy at the same time.
This is a paid partnership between Main Line Health and Philadelphia Magazine's City/Studio
---