Here's How Philly Could Become a Healthier City in 2023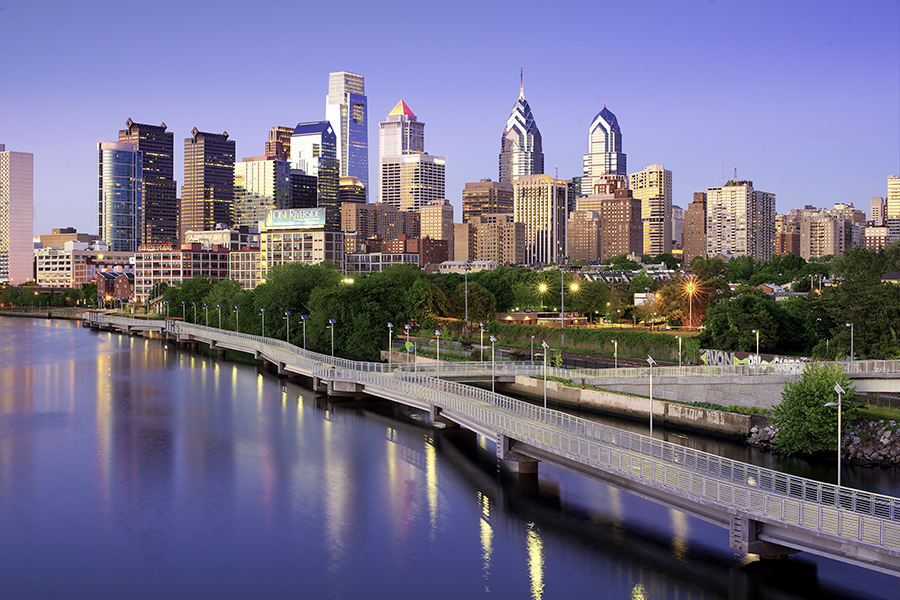 For years, Philadelphia has been seen as a growing health care capital of the East Coast. Our collection of world-class hospitals and research centers make it what some are calling the Silicon Valley, or "Cellacon Valley," of the health care industry.
At the same time, however, statistics tell us that not all Philadelphians are benefitting from those health care resources. Lack of insurance and inadequate access to primary care and dentists, as well as outcomes like low quality of life, put Philly in the lowest 25 percent of counties in the state for health, according to County Health Rankings.
Fortunately, since the pandemic, we've seen groundbreaking new ways to make health care more convenient and more effective for more people, ranging from telemedicine solutions to better options for supporting mental health. These new innovations and developments make it the right time for Philly to fully unlock its potential as a health care capital, and make sure more Philadelphians can feel their best in 2023.
To help make that happen, we took a look at the particular trends and opportunities that health care decision makers in Philadelphia, as well as Philadelphians looking for coverage, should take advantage of. Here's how the right health care innovations and programs could make Philly a healthier city as we move into 2023.
Telemedicine Visits
When it comes to health care in Philadelphia, some neighborhoods have easier access than others. Because doctors' offices are distributed unevenly throughout the city, people in certain neighborhoods (especially northeast and southwest Philly) have to travel further for routine appointments, or worse, opt out of care altogether.
During the pandemic, however, virtual doctor visits made it so that some patients no longer had to worry about the location of their preferred physician. As a result, the telemedicine revolution has helped Philadelphians across the city access the best care.
To maximize this effect, health care and health insurance providers should support a range of telemedicine services, from primary care to specialist care, to ensure that Philadelphians can benefit from our health care hub, no matter where they choose to live.
Better Networks
Prior to the pandemic, Philadelphians were accustomed to receiving great primary care: Thanks to its many health care providers, Philly had a larger than average number of PCPs. However, the stressful conditions of the pandemic led to burnout and created a shortage of physicians.
That said, Philly still possesses some of the top health care institutions in the country. That means health care insurance providers should try to provide access to broad networks, or networks that are optimized for our city, so that Philadelphians can take full advantage of the expert physicians that continue to serve in these challenging times.
Supporting Mental Health
Life in Philadelphia during and immediately after the pandemic has become more stressful. According to the Philadelphia Department of Behavioral Health and Intellectual Disability Services (which launched a mental health awareness campaign during the pandemic) increased stress factors in Philadelphia range from financial struggles, to isolation as a result of remote work and school, to increased gun violence.
In response to these stressors, Philadelphians have become increasingly aware and accustomed to the need for mental health services. So if providers want to address the particular health care needs of Philadelphians at this moment, it's critical that they support mental health tools, from programs that incentivize and reward activities that decrease stress, to digital therapy resources.
Insurance Through Small Businesses
Philly's economy is made up primarily of small businesses, which are now successfully rebounding from the pandemic. That presents an opportunity for more people to become insured through our small business economy, as 77 percent of workers who are eligible for health insurance through their employer in the U.S. choose to receive that coverage.
That means that great insurance options for small businesses could help ensure Philly as a whole has great health care. Health insurance providers should therefore support plans that are optimized for small businesses, to give more Philadelphians the best coverage they can get.
More Options for Care
As more businesses move into the health care space in our city, small businesses and their employees will have a greater ability to find a health insurance plan that works for them. In a significant development on that front, a major health insurance partnership, Cigna + Oscar, has announced that it will be expanding into Philadelphia in 2023.
It offers a new model for health care insurance in our city, as it's designed to work for small businesses by combining Cigna's nationwide and local provider networks with Oscar's innovative focus on customers' experiences. With a tech-driven approach and a behavioral health network for mental health resources, it enables businesses to offer great health care that's suited for Philly's most pressing challenges.
Cigna + Oscar high-quality plans can be a great option for small businesses in the Philadelphia metro area to consider. With more of these kinds of innovative options, Philly small business owners and employees can access the best of its health care resources and fully embrace its identity as a health care capital.
Cigna + Oscar offers small group health insurance plans and benefits that can have have an impact on staying healthy in Philadelphia. Learn more about how they can help you tap into Philly's health care resources.
Disclaimer: Cigna + Oscar coverage is insured by Cigna Health and Life Insurance Company. CA: benefits administered by Oscar Health Administrators. Other states: benefits administered by Oscar Management Corporation. Pharmacy benefits are provided by Express Scripts, Inc. Cigna + Oscar health insurance contains exclusions and limitations. For complete details on product availability and coverage, please refer to your plan documents or contact a representative.
This is a paid partnership between Cigna + Oscar and Philadelphia Magazine's City/Studio
---