7 Can't-be-Missed Festivals in Bucks County
Festival season is upon us, friends! To celebrate, we're calling out seven standout festivals in Bucks County. So gather your friends and family, and welcome the warm weather accordingly, this stellar lineup of events is only a quick drive or train ride away.
9th Annual Yardley Beer Fest: May 14 // It's baaack! Nab tickets to this brew-centric annual event where guests ages 21 and up can sample over 100 beers from 55 of the country's best brewers. Craft beer enthusiasts will also have a chance to visit the homebrewers' corner where they can learn to brew their own batch. Bonus: the event is tented, so it's happening rain or shine. // Yardley Bucks County, South Delaware Avenue, Yardley; 1pm to 5pm; admission: $50, pre-sale $40, VIP $75.
Moravian Pottery and Tile Works Festival: May 14 and 15 // Budding ceramicists and pros alike will enjoy this exciting event dedicated to all things pottery- and tile-work-related. Here, visitors will be able to scope out (and even purchase!) historic and contemporary ceramics brought by artists, collectors and dealers from around the country. // Moravian Pottery & Tile Works Park, 130 Swamp Road (Rte. 313), Doylestown; open Saturday 10am to 5pm, Sunday 10am to 4pm; admission: adult (age 18 and up) $6, under 18 and members are free.
Annual Spring Winery Tour: May 15 and 22 // It's always a fine idea to pencil in a visit to the Bucks County Wine Trail during the spring, but this mid-May event is especially enticing. Split up into two days, visitors will get to tour five wineries in the southern portion of Bucks County on May 15 and four wineries in northern Bucks County on May 22. Both events will offer an exciting array of programming courtesy of the local, family-owned wineries.
New Hope Pride Week: May 15 through 22 // A gathering recognizing history, diversity and inclusivity, New Hope Pride is a weeklong extravaganza featuring town-wide events, educational offerings, parties, arts and shopping experiences. The week culminates with a mile-long Parade & Pride Fair Celebration. Check out the day-to-day goings-on here. // Throughout New Hope; 12pm to 8pm; recurring daily.
Arts Alive!: May 21 (Rain date: May 22) // Swing by Broad Street in downtown Quakertown this May for a massive festival dedicated to artists, crafters, jewelers, musicians and food vendors. There, shoppers can scope out the wares of local vendors and take part in a bevy of special events offered by local merchants who will also be taking part in the festivities. // Downtown Quakertown, West Broad Street, Quakertown; 10am to 4pm; free to attend.
How-To Festival: Learn 50 Things on Our 50th: May 21 // Ever want to learn how to do calligraphy? Or how to change a tire? Learn how to do just that (plus 48 other things!) at the 50th anniversary celebration of the Margaret R. Grundy Memorial Library, where experts will be on hand to teach attendees 50 different worthwhile (and surprisingly practical) skills. // Margaret R. Grundy Memorial Library, 680 Radcliffe Street, Bristol; 10:00am to 4pm; admission is free.
Strawberry Festival at Peddler's Village: May 21 through 22 // Two days dedicated to all things strawberry is never a tough sell, but when you tack on live entertainment, tasty fare, children's activities, strawberry pie-eating contests and a swath of talented artisans, it's pretty much impossible to pass up. // Peddler's Village, Routes 202 and 263, Lahaska; 10am to 6pm; admission and parking are free.
Photo by Anthony Sinagoga, Courtesy of Visit Bucks County
Photo by Anthony Sinagoga, Courtesy of Visit Bucks County

Photo by Bob Krist, Courtesy of Visit Bucks County
Photo courtesy of Arts Alive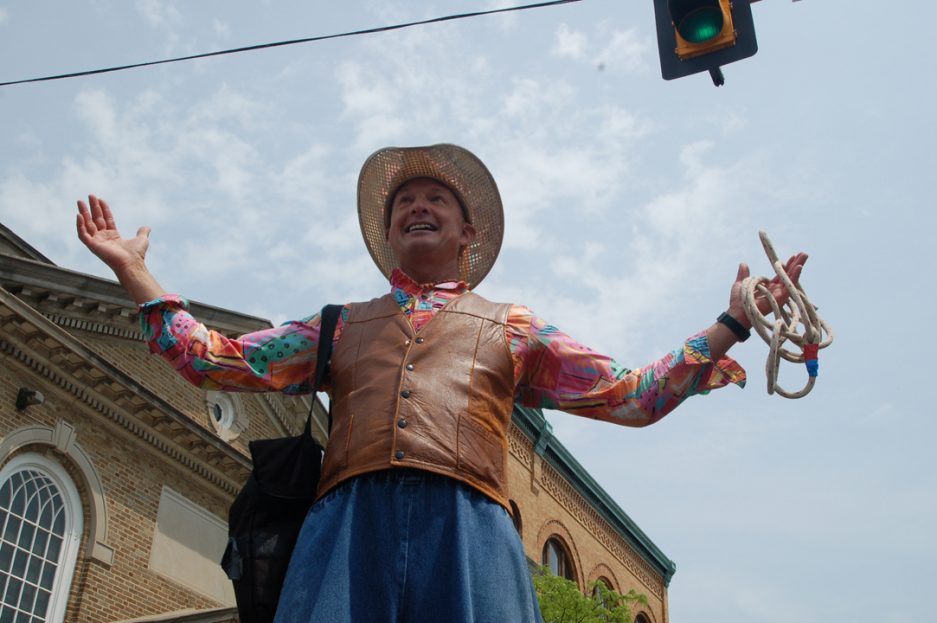 Photo by Anthony Sinagoga, Courtesy of Visit Bucks County

For more information about exciting spring and summer events in Bucks County, click here.
This is a paid partnership between Visit Bucks County and Philadelphia Magazine's City/Studio
---