4 Award-Worthy Dishes You Can Make at Home From Philly's Top Chefs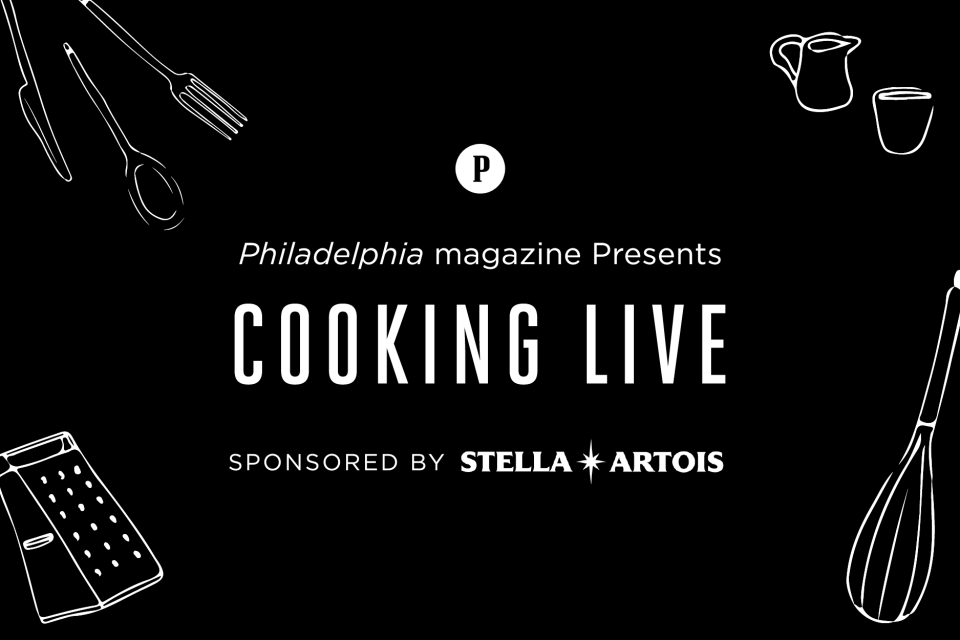 Your own kitchen may not have won a Best of Philly award, but now you can make the recipes from ones that have. Four local chefs—Ashley James of Di Bruno Bros., Nok Suntaranon of Kalaya, Dean Kitagawa of Wood Street Pizza and Justin Bacharach of Rouge—are sharing dishes from their award-wining restaurants that you can recreate at home. As part of our Cooking Live! series, each one is specially designed to pair perfectly with Stella Artois. So grab your apron, turn on the stove, and crack open a Stella to get a taste of the city's top cuisine—all without leaving home.
Moule Mariniere a la Stella Artois
Steamed fresh mussels and a splash of Stella Artois prove the perfect pairing in this recipe from Chef Ashley James, Managing Director of Culinary at Di Bruno Bros.
View this post on Instagram
Ingredients
1 Tbsp Di Bruno Bros Sicilian EVOO
3 large shallots, finely chopped
4 cloves garlic, finely chopped
2 oz butter
2 lb black mussels, cleaned and debearded
4 fl oz Stella Artois
3 oz Di Bruno Bros garlic and herb cheese spread
1 Tbsp chopped chives
2 Tbsp chopped Italian parsley
Instructions
Over medium heat in a 3-quart pot, add the olive oil and butter until melted.
Add the shallots and the garlic and sweat off for 2-3 minutes, without adding too much color.
Turn up the heat to full power, add the cleaned mussels, stir well and then add the Stella Artois.
Shake the pot, then add the lid to cover. Leave to steam for a couple of minutes until the mussels start to lightly open.
Remove the lid, leaving the heat on full, and add the Di Bruno Bros garlic and herb cheese spread.
Shake the pot to incorporate the spread. This will emulsify the sauce.
Finish with the chopped herbs and shake the pot to incorporate, reserving a few herbs for plating.
Place in two bowls, cover with the delicious sauce and top off with a sprinkling of the remaining herbs.
Green Curry with Chicken and Thai Eggplant
Thai eggplant stars in this must-try curry from Nok Suntaranon, chef and owner of Kalaya.
View this post on Instagram
Ingredients
16 oz coconut milk
12 oz coconut cream
1 lb chicken breast or thighs
1 lb Thai eggplant
50g palm sugar
6 oz fish sauce
200g green curry paste
2 red long hots
5 bird's eye chilies
1 bunch basil
Salt
Lime leaf
Instructions
In a medium-sized pot or saucepan, bring the coconut milk to a boil.
Meanwhile, de-stem and cut the Thai eggplant into quarters.
Place in acidulated water to prevent oxidation (browning).
Once the coconut milk has reached a boil, stir in the green curry paste. Reduce by half.
Add chicken and bring back to a boil. Add the remaining coconut milk.
Once the chicken is cooked, season the curry with salt, palm sugar and fish sauce.
Add Thai eggplant, cook until desired tenderness.
When Thai eggplant is cooked, add the coconut cream.
Finish the curry by adding basil, lime leaf, bird's eye chili and long hots.
Garnish with sliced long hot, chiffonade lime leaf and basil.
Meatball Special Pie
View this post on Instagram
Fire up the oven for a homemade pizza recipe courtesy of Dean Kitagawa, owner and operator of Wood Street Pizza.
Ingredients
1 ball proofed pizza dough
1 jar pizza sauce
8 oz low moisture mozzarella cheese
1/2 red onion, julienned
1/4 cup balsamic vinegar
5 meatballs (slightly larger than golf balls)
1 cup ricotta cheese
Dried herbs and seasoning (basil, oregano, salt, pepper, granulated garlic)
6-8 leaves fresh basil
Instructions
Slice meatballs 1/4-1/8 inch thick.
Sauté red onions in balsamic until translucent. (Do not let balsamic reduce.)
Mix dried herbs and seasoning into ricotta to taste preference.
Julienne fresh basil.
Cover a work surface with flour, softly stretch out the proofed pizza dough and shape the crust with your hand.
Cover the dough lightly with sauce and place in it oven at 500 °F for 3-4 minutes.
Remove pizza from the oven and add mozzarella cheese, meatballs, red onions and ricotta. Return the pizza to the oven and cook another 3-4 minutes.
Once done, top with basil.
Applewood Smoked Pork Chop with Charred Corn and Tomato Salad, Yellow Peach Salsa, and Barbecue Sauce
Served with a fruity salsa, these pork chops from Justin Bacharach of Rouge are anything but basic.
View this post on Instagram
Ingredients
1 bone-in pork chop, 8 oz
1 cup kosher salt
1 cup granulated sugar
1 tsp pink curing salt (available at high-end grocery stores or online), optional
1 cup applewood chips (available at high-end grocery stores, online, or hardware stores), optional
2 ears yellow corn
1 semi-ripe tomato
1 shallot
2 scallions
1 tsp ground cumin
Pinch cinnamon
2 Tbsp red wine vinegar
1/4 cup olive oil
1 semi-ripe yellow peach
3 leaves basil
1/8 cup white distilled vinegar
1 bottle barbecue sauce (or homemade sauce)
kosher salt, granulated sugar, and canola oil for seasoning/sautéing
Instructions
Liberally cover the pork chop with a cure mixture that is equal part salt, sugar and pink curing salt (optional). Leave the cured pork chop uncovered in the refrigerator overnight.
Add applewood chips to the bottom of deep pan and turn heat to medium, then cover with aluminum foil and wait for it to start smoking. Once ready, add pork chop and smoke on the stovetop for 10 minutes, then move to oven for 15 minutes.
While porkchop is smoking, heat and oil a pan and add corn and salt to taste for 4-5 minutes.
Thinly slice the shallot into a bowl, then mix in the corn, chopped tomato, scallions, red wine vinegar and olive oil. Set aside.
In a separate bowl, mix chopped peach, basil, white distilled vinegar, olive oil, salt and sugar.
Heat and oil a cast-iron pan and sear the pork chop on both sides until brown.
Season to taste and serve with charred corn and tomato salad, yellow peach salsa, and barbecue sauce.
Serve your award-worthy dish with Stella Artois for the perfect pairing.
This post was produced and paid for by Stella Artois
---